Dabo Swinney worked 1-on-1 with Clemson WR, has him ready for big season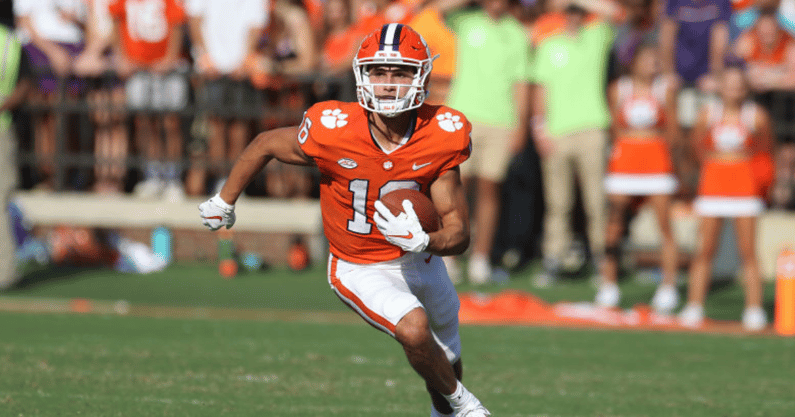 Clemson and its coaching staff spent plenty of time preparing for Iowa State leading up to the Cheez-It Bowl matchup in December, but Dabo Swinney and company also had an eye on 2022 following last year's regular season.
Swinney revealed at a Prowl and Growl event last week that he worked one-on-one with Tigers wideout Will Taylor a good bit during bowl prep.
Taylor suffered a torn ACL in Week 5 last season and missed the remainder of the year, but Swinney believes he has an incredibly bright future at Clemson.
"We spent a lot of one-on-one time together during the bowl prep, he and I, just doing some drill stuff and technique stuff and really trying to teach him as we transition him to receiver," Swinney said. "He's got a good foundation of our offense and got a bright future for us."
Taylor opened last season as a punt returner and wildcat quarterback and was the Tigers starting punt returner in Week 1 against Georgia.
He rushed for 20 yards, had two receptions and averaged 11 yards per punt return prior to the injury.
Taylor's most impressive play of the season came in Clemson's game against South Carolina State when he had a 51-yard punt return, bouncing off defenders as he made his way down the right sideline.
The plan was to transition Taylor from quarterback to slot receiver as last year went along, and he was just starting to see more work in the slot before the injury.
He's now a full-time receiver for Clemson moving forward.
"I don't know the last time I started a true freshman as a punt returner, on the road, in a game like that [against Georgia]. That may be a first. But that's how confident we were in him," Swinney said. "He's a unique competitor and really, really talented. It's a shame he got hurt when he did, because we were just starting to transition him. But he's in a good spot. He mentally continued on through the season and built a good foundation from a receiver standpoint."
Taylor, who is also a star on the baseball diamond, is back healthy now and made his debut for Monte Lee's Clemson baseball team on May 6.
He has started all eight games he has played in and is batting .324 with one home run and two RBIs.
"Really just supporting him in his baseball role right now. But he'll be ready to roll once baseball's over and can't wait to get him back out there," Swinney said.
"It's fun. It's fun to see him back out there. Awesome to see him make a contribution right away. I think baseball sees exactly what we see in football. That's why you saw us put him out there right out of the gate."