Anthony Richardson addresses citation, vows to represent UF the right way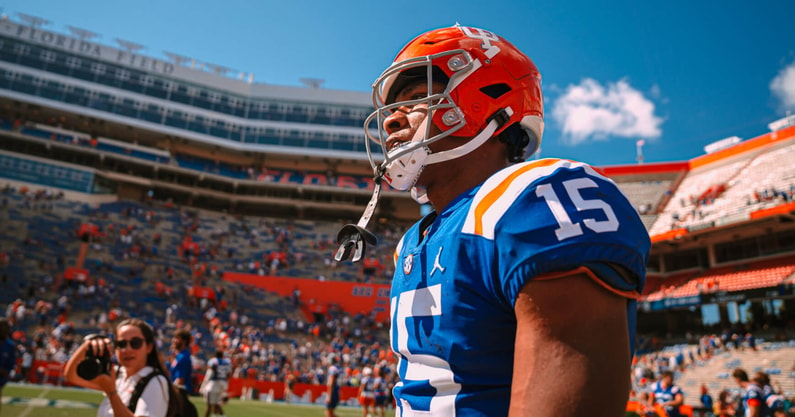 GAINESVILLE, Fla. — Anthony Richardson was the story of Florida's spring game Thursday night, eclipsing 200 passing yards and scoring three touchdowns. 
But just 14 hours after leading the Blue team to a 34-0 win, Richardson made headlines for the wrong reasons. 
News broke about his traffic stop 10 days prior to the game. Richardson received a citation on April 4 at 4:11 a.m. for doing north of 100 miles an hour.
It's the first-ever speeding ticket for Richardson, who grew up in Gainesville, Fla. The UF quarterback spoke exclusively with Gators Online to discuss the situation. 
"I know I'm not perfect, but it was a mistake," Richardson told Gators Online. "I was speeding. My mom always tells me to drive safe because I can not only hurt myself but I can hurt other people. I shouldn't have done it and I can definitely say I learned my lesson."
Richardson said he and his family reached out to the coaching staff to make them aware of the ticket and began the process to handle it. His court date is scheduled for May 25. 
After his citation was reported Friday, Richardson addressed his teammates about the incident. 
"I talked to the team today," Richardson said Friday night. "I let them know I'm gonna handle my business. I'm going to do everything right from this point forward. Doing something like that makes the team and the organization look bad and I don't want that."
The face of UF's football program 
Billy Napier's comments about Richardson after the game only reinforced that notion. The first-year Florida coach praised him for his "first-class approach" and work ethic in spring camp.
Napier added that Richardson's position requires him to set the right example. 
"I think Anthony is a product of a lot of hard work," Napier said Thursday night. "When I think about a quarterback we think about a person who represents everything of what the organization is about. 
"Certainly at the highest level of football, the quarterback is the face of the organization. They set the greatest example with their work ethic, their attention to detail, their self-discipline, their approach. He's a product of his work."
As Napier made his comments, Richardson was sitting on the side of the room — still in his full uniform — locked in and listening to those words. They impacted him more than ever Thursday night. 
Anthony Richardson making it right 
While Richardson will be fine after attending traffic court, he realizes how a lapse in judgment can poorly reflect on him, his family, and his football team. 
Richardson didn't feel angry about the news coming out, but ashamed. 
"When I saw the story I wasn't mad because I was in the wrong. I did feel bad because that makes my name look bad. It makes my family's name look bad," Richardson told Gators Online. "Following what Coach Napier said (Thursday) night, about me being the face of the team and the organization, it makes it seem like he's lying or contradicting himself. I don't want anyone to feel like Coach is lying to the team or about myself." 
The 19-year-old learned a hard lesson this month.
The quarterback at the University of Florida will be held to a higher standard, and Richardson is keenly aware of his new status. 
He will be scrutinized and examined closely, but he embraces it. He wants the spotlight on him. 
"Honestly, I'm glad I've got people watching me. It keeps me on the right track and keeps me focused. Sometimes I can make mistakes but I'm going to try to fix that as time rolls forward," he said. "It only helps me become a better person and a better man. A better teammate. It just helps me overall."
A mistake does not make a man. Richardson is determined to learn and grow from this experience.