BT Riopelle walk-off blast caps historic Florida Gators rally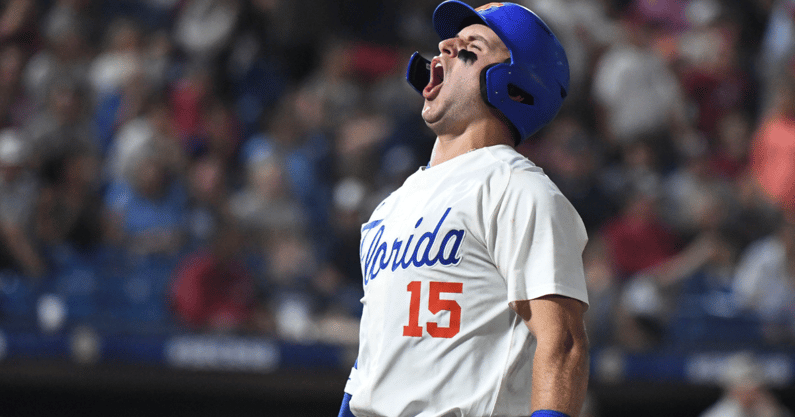 HOOVER, Ala. — The stage and setting were familiar. The Florida Gators trailed late in a ballgame. The only difference Wednesday night was the extra innings twist. Florida had played in 55 games heading into the SEC Tournament and hadn't needed extra innings once. Making matters worse, no team in the storied history of the SEC Tournament had ever overcome a three-run deficit in extra innings and the Gators trailed 6-3.
"You very rarely come back from a three-run deficit in the 11th and have the ability to bounce back from a tough top of the 11th," manager Kevin O'Sullivan said. "Obviously, all the momentum was in their dugout."
But these are the cardiac Gators. Seventeen of Florida's wins this season have been in comeback fashion (40.5%). After going 0-20 last season when trailing after six innings, Florida has three wins in that scenario in 2023 and is 5-1 when tied after six. Even more impressively, the Gators are 14-6 when the opponent scores first this season, compared to 11-15 last year. 
You could say the stage was set.
Wyatt Langford kicked off the bottom of the ninth with a single, chasing Aidan Moza from the game in favor of freshman left-hander Alton Davis II. Davis has an eclectic arm with a fastball that touched 97 on Wednesday. He jammed Jac Caglianone but the 6-5, 240-pound first baseman muscled it into no-man's land in right field.
Senior Josh Rivera, a home run to his credit already in the game, singled home Langford, to cut the Tide lead to 6-4.
That brought up Riopelle. The fifth-year senior hit a home run off of a 103-MPH Ben Joyce fastball in this very park a year ago. Riopelle swung through the first two offerings from Davis. He wouldn't miss another.
Davis left a 96 MPH fastball just a hair too much over the plate. Riopelle extended his arms, the barrel of the bat caught the baseball, and Alabama's outfielders were turned into spectators. Florida's 18th come-from-behind win of the season came off the bat of Riopelle, who is playing out the final days of his baseball career.
"It means the world to me, but it definitely means the world to our team," Riopelle said after the game. "That was an ultimate team win. You look at the last inning, we've talked about before how your best players have to play the best to win."
BT Riopelle calls game
"They've been in those situations before, so they kind of, their heart rate slows down, they've been through the ups and downs, they've been through situations very similar to that throughout their careers," Florida coach Kevin O'Sullivan said. "You can see sometimes really good players, even though they're really talented, in those situations they kind of get sped up.
"But when you have that many college at-bats underneath your belt, it just allows you to many times have success because you've been there and done that."
"You have to have those experiences throughout the season to believe that you can do it," O'Sullivan said. "It's one thing as a coaching staff to sit there and say, we can do this, we can get back in this thing, but when you do it numerous times throughout the year, the belief becomes real, and that's what happened tonight."
Next up for the Gators
The Gators (43-13) face the winner of Wednesday's late game between Auburn and Vanderbilt in the late game on Thursday night, which is scheduled to start 30 minutes after the conclusion of the 5:30 p.m. ET game.