Date set for when Gators will debut black uniforms, other home game designations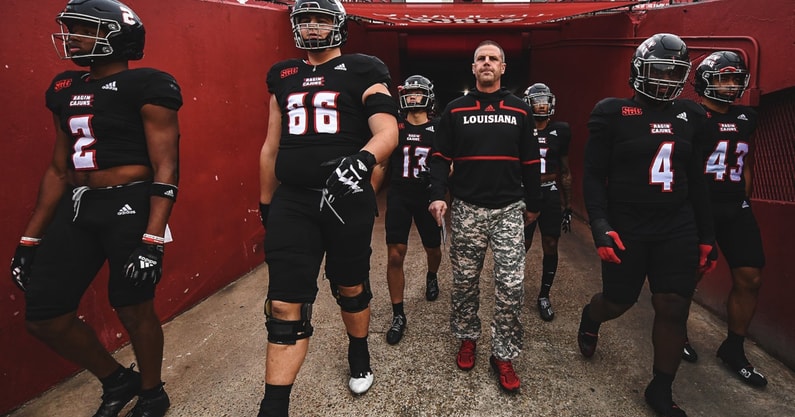 GAINESVILLE, Fla. — A date has been set for when the Gators will "Black Out The Swamp." The Florida football team will debut its black uniforms on Nov. 4 against Arkansas, Gators Online has learned.
On Thursday, the University Athletic Association announced themes and designations for all six home games of the 2023 football season, including the Saluting Those Who Serve & UF Family Weekend.
Last May during his first spring speaking tour, Florida coach Billy Napier revealed that his team would be wearing black uniforms this year in honor of military appreciation.
"We will do it in the 2023 season," Napier said during his speech in Pensacola. "This will be become a little bit of a tradition. We'll do it one time a year. It will be the next to last home game and it will always be around Veterans Day, that part of the year, for military appreciation."
Veterans Day is on Saturday, Nov. 11, but the Gators play at LSU that weekend.
Napier started the tradition with black uniforms at Louisiana, building his team's theme of the week around Veterans Day and bringing somebody from a different branch of military to talk to the players after each practice.
"It's a win-win for everybody. We get to Black Out The Swamp. We get military appreciation," Napier said. "We get to create some awareness and education so we can be grateful for these freedoms that sometimes I think we take for granted."
Here's more info about the Saluting Those Who Serve & UF Family Weekend on Nov. 4 against Arkansas, as well as the themes and designations for Florida five home games in 2023.
Nov. 4 | Arkansas | Saluting Those Who Serve & UF Family Weekend
The University Athletic Association will honor members of the armed forces, veterans and local first responders as part of Florida's annual 'Saluting Those Who Serve' game against Arkansas, presented by VyStar Credit Union. For each ticket purchased, the UAA will donate an Arkansas game ticket to a local military hero, up to 2,000 tickets. Additionally, the UF campus will be transformed into Orange & Blue in celebration of UF Family Weekend. Events—from lectures to performances—will take place across campus leading up to the game at The Swamp.
Gators other home game designations
Sept. 9 | McNeese | Home Opener in the Swamp
Football is back and you won't want to miss the Gators' Home Opener in the Swamp, presented by GFL Environmental. Enjoy the pre- and in-game traditions that make Gator Nation one of the most exciting fanbases in college football. Welcome back Mr. Two Bits and the Gators Marching Band and join in honoring Gainesville, Florida, native Tom Petty in between the third and fourth quarters by singing "I Won't Back Down."
Sept. 16 | Tennessee | Championship Reunion Weekend
Each football season, the UAA invites members of UF championship teams celebrating 10-, 25- and 50-year anniversaries back to campus to be remembered, saluted and cheered. The 2023 Championship Reunion Weekend game, presented by T-Mobile, will feature the Gators and the Tennessee Volunteers in the first SEC game of the year at The Swamp.
Sept. 23 | Charlotte | Tom Petty Day at The Swamp
It will be Tom Petty Day at The Swamp when the Gators host Charlotte, presented by UF Health. The 2023 football season will mark the sixth anniversary of 'I Won't Back Down' being played at the end of the third quarter and UF will be celebrating the Gainesville native all day long. A special, co-branded line of merchandise in tribute of music icon Tom Petty and the Florida Gators will be available online and on game day.
Oct. 7 | Vanderbilt| Homecoming & GatorMade Week
As previously announced, the Gators will host Vanderbilt on Saturday Oct. 7 for its annual Homecoming Game, presented by the Florida Farm Bureau Federation. The UF tradition was first celebrated in 1916 and it continues to bring Gator Nation back to Gainesville year after year. Around campus, the festivities will kick off during the days leading up to homecoming with events such as the Gator Growl pep rally, Gator Gallop and Soulfest among others. The Gators own a 71-26-2 record in Homecoming games all-time, including a 29-5 mark since 1989. In addition to Homecoming, the Gators will also celebrate GatorMade Week to raise awareness and promote the initiatives of the GatorMade program. GatorMade is a player-led and purpose-driven initiative that empowers its football scholar-athletes with opportunities to learn, serve, and lead.
Nov. 25 | Florida State | Senior Day
Join the Gators in celebrating our seniors and thanking them for their contributions to the program during this year's Sunshine Showdown, presented by Fresh from Florida. Fans are encouraged to arrive early as Senior Day ceremonies are set to take place prior to kickoff.

Click here for more information on the 2023 Theme Days.
Florida football season tickets
After four sold out games in 2022, fans can now secure 2023 season seats for the six home games in The Swamp with matchups including Tennessee (Sept. 16), Arkansas (Nov. 4) and Florida State (Nov. 25).

New 2023 season ticket packages are available for only $390 per ticket, plus a required Booster Contribution based on seating location. All current UF faculty & staff and recent UF graduates are entitled to special season ticket pricing. Click here for more information and to reserve your seats today.
Single-game tickets
Individual tickets for all six 2023 home games will go on sale to the general public on Thursday, June 22 at 10 a.m. Click here to be included in a special pre-sale opportunity earlier in June.  
Click here for more info on a variety of ticket options.