Five storylines to follow in Florida's matchup with Tennessee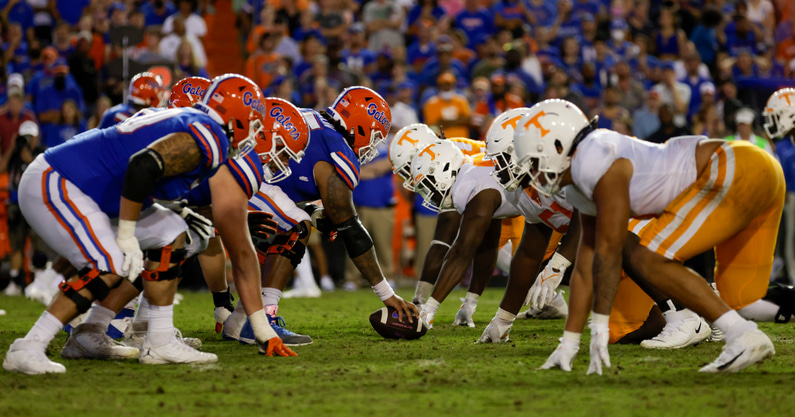 Before every Florida game, Gators Online Senior Writer Zach Abolverdi comes up with five pertinent questions for the matchup. Here's Week 4 against Tennessee:
Can Anthony Richardson avoid turnovers and/or throw a TD?
Heading into his first SEC road start and fourth game of the season, Florida quarterback Anthony Richardson has yet to throw a touchdown pass. His turnovers, however, have been even more concerning. Richardson has thrown four interceptions in the last two games, including a pick-six against Kentucky and a goal-line INT last week vs. USF. And after rushing for 106 yards and three touchdowns in the opener, he's totaled just 28 yards in the last two games and has been reluctant to run the ball. The Gators need Richardson to be special with his arm and legs in Knoxville and, most importantly, take better care of the ball.
Will the Gators be able to run the ball well against the Vols?
The Gators' rushing attack has been the focal point of their offense through the first three games, led by Montrell Johnson with a team-high 240 yards. Florida has delivered two 200-plus yard rushing performances and boasts the fifth-best rushing offense in the SEC. UF also ranks second in the SEC, fourth in the Power Five and fifth in the FBS with 6.4 yards per carry. That production will be tested Saturday by Tennessee. The Vols have been stout against the run this season with a top-20 rushing defense nationally, allowing just 83.3 yards per game.
Is UF able to get more plays and limit Tennessee's offense?
Finding success on the ground and moving the chains will be key for the Gators, who need to sustain longer drives and try to control the time of possession in Knoxville. They were unable to do that last Saturday in the win over USF, finished with just 48 total plays. That marked their fewest number of offensive plays in a game since 2018 against Colorado State. Florida must pick up more first downs and eat up some clock against the Volunteers and their up-tempo offense. They have the second-most total plays (233) in the SEC. "I think the issue when you play these teams is simulating it in practice," Billy Napier said. "We've done our very best and we look forward to the challenge."
Will Ventrell Miller play for Florida, and if so, how much?
Sixth-year senior Ventrell Miller linebacker did not play Saturday with a foot injury and was missed mightily in the middle. Without Miller making the calls and directing traffic, the Gators had trouble getting lined up on defense and USF gashed them on the ground for 305 net yards. His injury status was upgraded to questionable this week, and he practiced on Wednesday and Thursday. Napier said Miller is a game-time decision and his availability will be based on his pain tolerance. "He kind of has a pulse on where he's at and what he needs to do to get ready to play."
How does the Gators defense fare against Hendon Hooker?
Tennessee has dominated through the air behind quarterback Hendon Hooker. The Vols are averaging 371.3 passing yards per game, which ranks No. 5 in the country. The Gators have been able to limit opposing quarterbacks this season with a top-30 passing defense nationally, holding opponents to 178 yards per game. Turnovers will also be crucial in this matchup. Tennessee has not had a pass intercepted, while the Gators are among the top 20 in the FBS with four interceptions. "Coach [Patrick Toney] is gonna have a great game plan for him. I can't really give y'all too much detail, but we're gonna have a really good game plan."