Good Morning Gators: Billy Napier's speaking tour resumes in Pensacola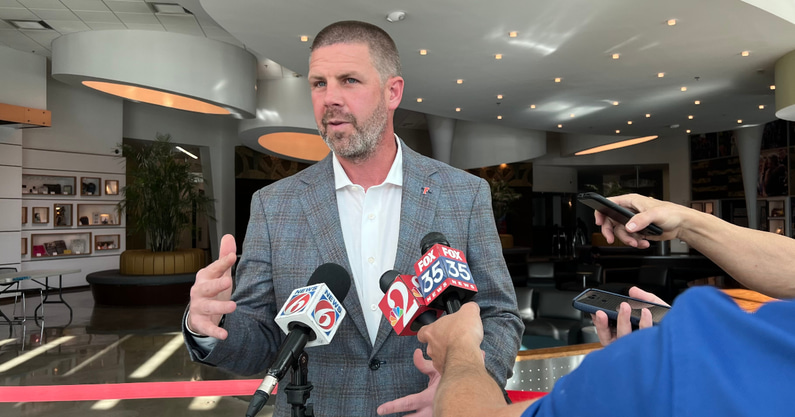 Florida Gators football is the No. 1 topic in Good Morning Gators every day — but we cover news, notes and analysis from across the Gators sports world. Join us each morning to get caught up on everything in the world of Florida football, UF recruiting, Gators basketball, Florida baseball and more.
Following a two-week break, Gators coach Billy Napier will be back on the road Thursday for his spring speaking tour.
After five stops in April, including his last in Lakeland on the 28th, he's making a trip to the Panhandle to kick off the month of May.
Napier will address Florida fans in Pensacola on Thursday night at the Sanders Beach-Corinne Jones Resource Center. Doors open at 5:30 p.m. (CT) and the program begins at 6, with Napier's presentation scheduled to begin at 6:45.
Tickets to the event, still available for $10, can be purchased here. Napier has enjoyed connecting with Gator Nation on his tour through the state.
"It's been first class," he said in Lakeland. "It becomes very apparent the passion, the history, the tradition. They've had success, they know what it looks like, and they want more of it. So, it's been awesome. Met some great people.
"And I think the unique thing is these people have passion and care about a place that made a significant impact on who they are, the life that they have, what they're about, what they believe in. So, it's always good when you're able to connect with people that care about the University of Florida."
In addition to Pensacola, Napier will make three more stops on his spring speaking tour. Check out the full schedule below:
April 12: Gainesville (Quarterback Club) – Best Western Gateway Grand
April 19: Tampa – Amature Works (sold out)
April 21: Jacksonville – TIAA Bank Field
April 27: Orlando – Full Sail University (sold out)
April 28: Lakeland – Polk Theatre (sold out)
May 12: Pensacola – Sanders Beach/Corinne Jones Center (tickets available)
May 16: Atlanta – City Springs Theatre (tickets available)
May 18: Fort Lauderdale – Signature Grand Davie (tickets available)
May 26: Gainesville – Gary Condron Family Indoor Practice Facility (tickets available)
In other Florida football news
UF recruiting roundup
Gators sports roundup
Let's keep talking
Want to keep the conversation going? Head over to our Florida message board, Swamp Talk. Sign up here and join the discussion.
Gators Twitter updates
Florida is offering three-game mini plans for the 2022 football season.