Florida Gators tight end Kemore Gamble enters transfer portal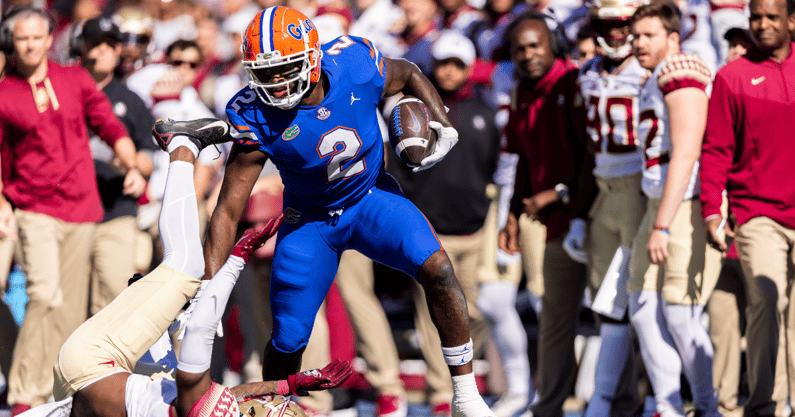 Kemore Gamble will take advantage of his free COVID year but it won't be with the Florida Gators.
The redshirt senior announced his decision on Twitter.
"It's been a blessing to attend the University of Florida to play football and receive a degree from this special place," Gamble wrote.
"I have a huge opportunity to enter the 2022 NFL Draft. But after lots of prayers and talking with my parents and loved ones, I have decided to enter my name into the transfer portal for my last year of eligibility."
Gamble is coming off of his best season with the Gators. As a redshirt senior he hauled in a career-high 31 passes — good for third on the team. He also notched career-highs in yards (414) and touchdowns (4). Gamble's senior season at Florida saw him become a prominent fixture in the passing game.
He arrived at Florida in 2017 but didn't see any action while redshirting. In 2018 Gamble played in every game, mainly on special teams. He did haul in seven passes for 58 yards. Gamble played in every game in 2019 but didn't record any offensive statistics.
In 2020 he had a breakout game against Georgia. After Kyle Pitts went down with a concussion, Gamble hauled in three receptions for 51 yards, including a career-long 24-yard catch and his first collegiate touchdown.
Outlook for Gators tight ends in 2022
The Gators still have four tight ends already on the roster. Keon Zipperer and Jonathan Odom will be a senior and a redshirt sophomore, respectively, in 2022. Redshirt freshmen Nick Elksnis and Gage Wilcox also return. Florida will also start Tony Livingston at tight end when he arrives on campus.
Zipperer returns as the most productive player. He has 25 receptions for 309 yards, and three touchdowns.
Elksnis is the most intriguing prospect. At 6-6 and 243 pounds, Elksnis has a great mix of size and speed, harkening comparisons to a young Kyle Pitts. The Gators will miss Gamble's senior leadership but have enough talent on the roster to absorb the departure.