WATCH: Gators arrive in Knoxville for the Florida-Tennessee game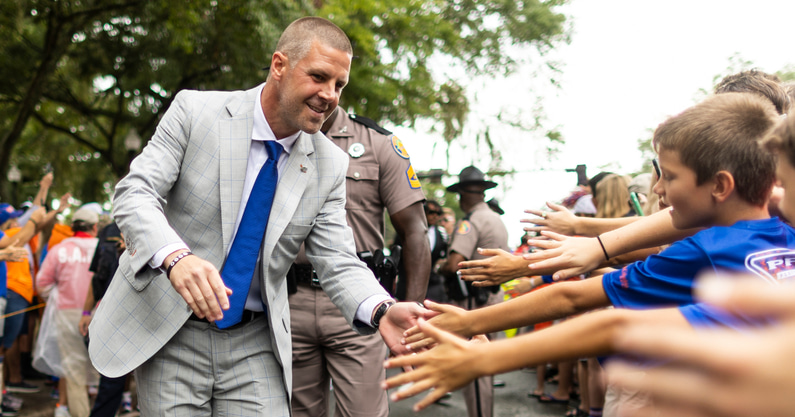 KNOXVILLE, Tenn. — The No. 20 Florida Gators have arrived at Neyland Stadium for their first road game against the 11th-ranked Tennessee Volunteers.
College Gameday was in Knoxville for the first time since 2016, with Kirk Herbstreit picking the Gators, who are 10.5-point underdogs, to beat the Vols.
Florida (2-1, 0-1 SEC) has won five straight in the series and 16 of the last 17 games. The Vols (3-0) haven't beaten UF since 2016, which is the last time they were favored (by five points).
In the past 25 years, Florida was an underdog against Tennessee just six times and won four of those games. UF has been the favorite in 19 games and won all but one (2003).
Kickoff is set for 3:30 p.m. ET on CBS from a sold-out Neyland Stadium. Watch UF coach Billy Napier and his football team go through Gator Walk below.
Florida arrives at Gator Walk
Storylines
Gators looking for more offense while trying to stop Hooker, Vols
Five storylines to follow in the Florida Gators' game at Tennessee
Florida and Tennessee are back in the National Spotlight, where they belong
Brenton Cox playing with a new effort, hustlin' to hit Hendon Hooker this Saturday
Billy Napier embraces the importance of the Tennessee Rivalry
Ventrell Miller was updated to questionable on Wednesday
Scouting Tennessee quarterback Hendon Hooker
Jaydon Hill is close to returning from ACL surgery
Jack Miller is not ready to come back, Napier names a backup quarterback
Five Tennessee Volunteers to know
Quarterly Report: Grading the Gators' offense
Quarterly Report: Grading the Gators' defense
Billy Napier has Tennessee fans in his family, but they're Gators this weekend
Napier's wife jokes that his team needs to pass the ball better
Depth in the quarterback room has changed the way the Gators use Anthony Richardson