Gators seeking their first SEC win at South Carolina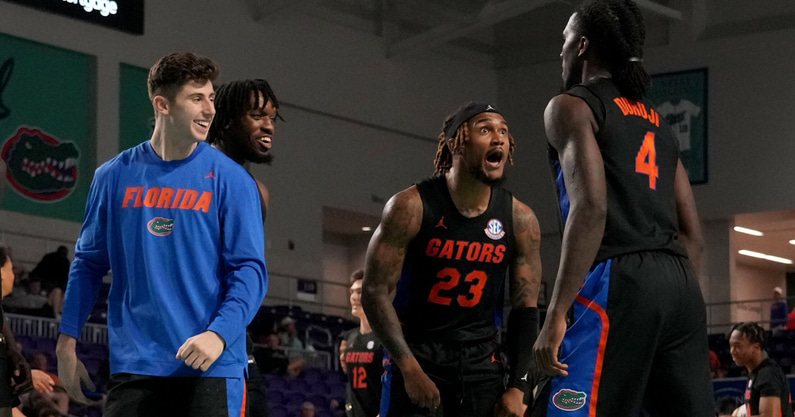 The Florida men's basketball team will be back on the road Saturday to take on South Carolina at Colonial Life Arena.
The Gators are in a must-win situation as they look to avoid an 0-4 record in SEC play. Wednesday's loss to LSU gave them their worst league start since the 1981-82 season. 
UF holds a 46-28 all-time record against the Gamecocks. South Carolina won last year's matchup in Gainesville, 72-66.
"One of the deepest teams in our league," Florida coach Mike White said of the Gamecocks. "I think they're a very good team. That's got a chance to win a number of games in this league. They've got some experience. They've got talent, they've got length and size. They've got guys that are making shots."
South Carolina players to watch
The Gamecocks are heavily reliant on their backcourt, and that starts with guard Erik Stevenson. He leads the team in points per game (11.3), assists per game (2.6) and steals per game (1.3).
Stevenson is not scared to shoot the basketball with a team-high 160 field-goal attempts. He's yet to miss a free throw this season (28-28), so the Gators need to avoid sending him to the line. 
South Carolina guards James Reese V and Jermaine Couisnard are also productive shooting the ball. Both are making over 40 percent of their shots, with a 10.2 scoring average from Reese. 
The Gamecocks' most reliable forward is Wildens Leveque, who leads the team with 5.9 rebounds per game and 1 block per game. He's hit 68.5 percent of his field-goal attempts this season.
"Leveque's having a great year, of course," White said. "In Reese and Stevenson, they've got some high-level shot-makers. Cousinard of course, a veteran that's been at it for a while. Physicality, tempo, those are the things that jump out the most."
How Gators leaves Columbia with a win
South Carolina lacks size outside of Leveque, so Florida forward Colin Castleton should have yet another big performance on the scoreboard and off the glass.
With that, the Gators need to attack the rim at all positions. Guard Brandon McKissic and forward Anthony Duruji are players to watch when it comes to utilizing their athleticism to drive to the rim.
White kept Tyree Appleby on the bench in the Gators' loss Wednesday, which hurt their offensive rhythm. UF lacks depth at the point guard position and Appleby best commands the offense. 
"Point guard play, it has to be better. We've all got better," White said. "It's not just Tyree or [Myreon Jones] or BMac, and all three of those guys will get reps tomorrow at the point. 
"We all got to make better decisions. … Overall, our ball-discipline, our decision-making, our carelessness at times, really throughout the roster, has got to improve." 
When Appleby doesn't run the floor, the Gators often become trigger happy from beyond the arc and they are not a three-point shooting team.
Overall, Florida has to find consistency shooting the basketball from everywhere on the court — especially the foul line — after its poor outing against LSU.
WHO: Florida Gators (9-6, 0-3 SEC) at South Carolina Gamecocks (10-5, 1-2 SEC)
WHERE: Colonial Life Arena
WHEN: Saturday, January 15, 1 p.m.
WATCH: SEC Network
RADIO: Gator Sports Network from Learfield