In-state 2023 OL Bryce Lovett joins forces with Florida, talks commitment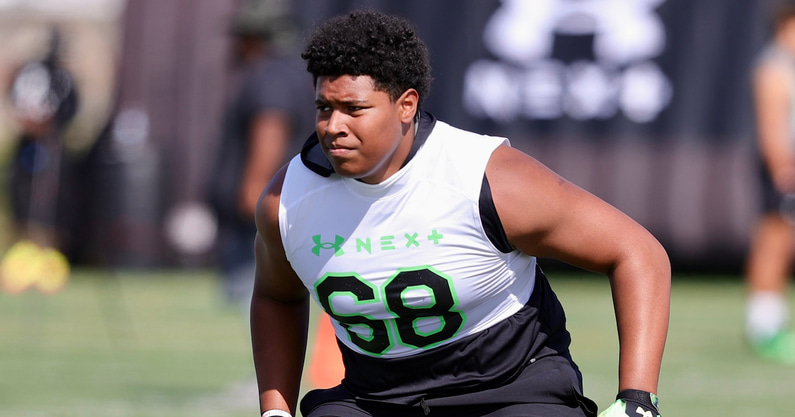 The University of Florida has landed its fifth commitment for the class of 2023, as Bryce Lovett pulled himself off the market moments ago.
Lovett, a 6-foot-5, 325-pound offensive lineman from Rockledge (Fla.) High, committed to the Gators over additional offers from Missouri, Iowa State and Louisville.
Roughly a month ago, Lovett silently committed to UF while in town for the Orange and Blue Game and then made his decision public this morning. Today is also his birthday, so this is a day he will certainly never forget.
When speaking with Gators Online, the three-star prospect opened up about why Billy Napier's program received the nod in his recruitment.
"Basically, it's my relationship with all the coaches and what they have planned for the program and everything they are doing. That's just where I feel at home," Lovett told GO.
"I have a good relationship with everybody there, but I talk to (offensive line assistant) coach (Cheston) Blackshear and (offensive coordinator) coach (Rob) Sale the most. I also talk to coach Napier a lot too, but it's pretty much the whole coaching staff, honestly."
Lovett is comfortable with several faces in the trenches
As of now, Rob Sale envisions Lovett suiting up at offensive tackle. That is where the Gators plan on inserting him upon arriving on campus, but they also covet his versatility and are open to moving him to guard.
That straightforward and consistent approach from Sale is another box UF checks off for Lovett.
"He's a really cool dude. He keeps it real," Lovett said of Sale. "He always makes sure I'm good and gives me tips on what to do during practice. Even though I'm not even there yet, he's always trying to better me."
Darnell Stapleton, the other offensive line coach in Gainesville, continues to push all the right buttons as well.
"Coach, Stapleton, we have a good relationship," Lovett said. "He was the one I talked to first before I went up on a visit; he was the one I was talking with the most. We have a good relationship and talk all the time."
A true players' coach is running the show in Gainesville
Since the beginning of this year, the 6-foot-5, 325-pound Lovett has visited the Gators five times. He has an official visit booked for June 3 as well.
During his time on campus, he has been able to get accustomed to UF's on-field blueprint but also learn about each coach on a personal level. The majority of his time will be spent with the offensive line coaches, but it starts at the top and that was another major reason why UF held such a strong lead throughout the spring.
Billy Napier made his presence felt from the jump and played a pivotal role in Lovett's decision to shut it down early.
"He is all about the players. Everything he's doing, it's for the players on and off the field. How can you pass that up?" Lovett said of Napier. "He is looking out for them for now and the future. Everything he's doing, he's doing it for them.
"Every time I go up there, I just get more and more comfortable. It's so nice there," Lovett added. "Before they were getting new stuff, I still loved all their facilities and now they're getting a brand new one.
"Everything there, it just feels like the right place to be. I like it a lot."
Recruiting is now an afterthought for Lovett
As we noted above, Lovett is returning to the Swamp in June for his official visit. That will be the only OV he takes going forward, as the recruiting process is now shut down.
If all goes as planned, Lovett will also be signing in December and then enrolling on campus just weeks later. The Sunshine State native is all Gators and eager to join the program less than a year from now.
According to On3's 2023 rankings, Lovett is the No. 67 interior offensive lineman in the 2023 class. He is also the 118th-ranked junior in the state of Florida.
Stay tuned to Gators Online.