Making sense of the SEC Tournament bracket for the Florida Gators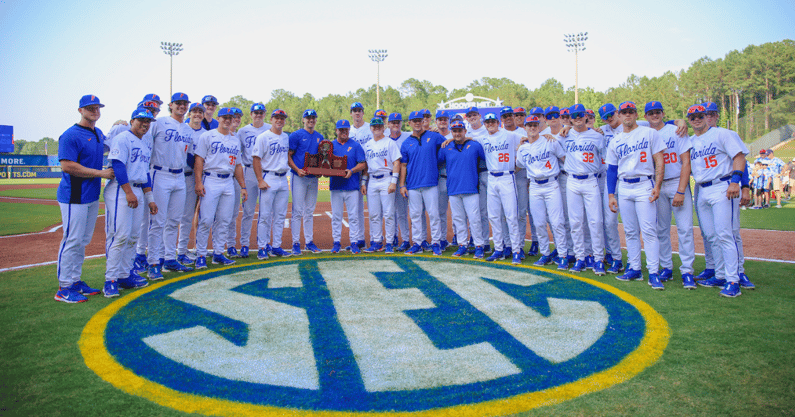 HOOVER, Ala. — The SEC Tournament bracket can be a bit daunting to even hardcore baseball fans. The Florida Gators earned the No. 1 seed in the SEC Tournament, an advantageous spot considering the No. 1 seed has won the tournament every year since 2018.
Florida was pushed to the limit in their first game of the weekend. Catcher BT Riopelle ended that scare in dramatic fashion with his three-run, walk-off home run in the bottom of the 11th inning. That sets up a rematch with the Vanderbilt Commodores. The two teams will meet late Thursday night in the 12th game of the tournament.
First and foremost, we need to look at the bracket and take in its intricacies and oddities. The tournament starts, essentially, with play-in games. The first four games of the tournament were all single elimination games that were held on Tuesday. The top four teams earned byes and didn't have to go through the hassle on Tuesday.
The tournament then becomes double-elimination. That's where we currently are. It won't stay that way, however. Once the tournament reaches the weekend for the semifinals and finals, the games are back to single elimination.
Are you confused yet? What does this mean for Florida?
Let's break it down.
Scenarios for the Gators
The easiest path. If Florida wins on Thursday night they are in the semifinal. That means the team will get an off day to rest and relax as four teams duke it out in elimination games on Friday.
So, beat Vanderbilt, and advance to the weekend.
Things get trickier if the Gators lose on Thursday night.
Being that this portion of the tournament is double elimination, the Gators would not be out with a loss to Vanderbilt. If Florida loses to Vanderbilt they would play on Friday night against the winner of Alabama-Auburn, which will be played on Thursday afternoon.
Make it even easier
IF FLORIDA BEATS VANDERBILT
They advance to the semifinal on Saturday (the tournament goes back to single elimination at that point).
IF FLORIDA LOSES TO VANDERBILT
Florida would play on Friday afternoon against the winner of Alabama-Auburn. That game would be an elimination game. The winner would advance to Saturday's semifinal.
Remaining schedule
Friday, May 26
Game 13 (4 p.m.) – Texas A&M vs. LSU
Game 14 (TBD) – Alabama vs. Vanderbilt
Saturday, May 27 (Single elimination for the duration of the tournament)
Game 15 (1:00 pm) – Texas A&M 13 vs. Arkansas
Game 16 ( TBD) – Vanderbilt vs. Florida
Sunday, May 28
Game 17 (3 p.m.) – Vanderbilt vs. Texas A&M [ESPN2]