O'Cyrus Torrence questionable for LSU game, complete depth chart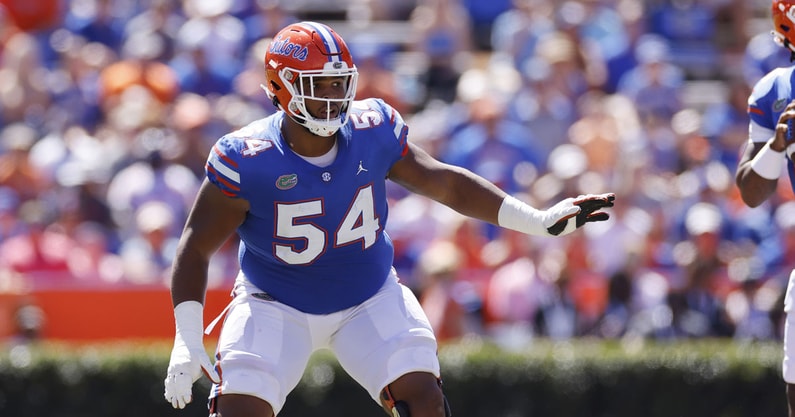 GAINESVILLE, Fla. — The Florida Gators will host the LSU Tigers this weekend, looking for their second SEC win over the season. They may be without their best offensive lineman on Saturday. Senior right guard O'Cyrus Torrence was listed as "questionable" for the game.
"I think we'll be OK," coach Billy Napier said on Wednesday evening. "We're just telling you the truth. He's a guy who hasn't participated 100% in practice and we'll make some decisions over the next couple of days."
On Wednesday, Gators Online witnessed Torrence on campus with his right knee in a brace.
Torrence has been the Gators' top-rated player in 2022, according to Pro Football Focus. Florida currently ranks 19th nationally in rushing offense, averaging 213.0 yards per game.
In addition to Torrence being questionable, freshman tight end Arlis Boardingham has also been listed as questionable with an upper-body injury. He has yet to appear in a game this season.
Other depth chart notes
After being listed as the starter in the first six weeks, running back Nay'Quan Wright is now third on the depth chart behind new RB1 Montrell Johnson and Trevier Etienne.
Quarterback Jack Miller III and right tackle Michael Tarquin are both back on the depth chart and no longer on the injury report.
Meanwhile, a handful of players have already been ruled out.
Among those who will not play against LSU are freshman cornerback Devin Moore (upper body), junior linebacker Diwun Black (lower body), junior starting long snapper Marco Ortiz (upper body) and redshirt freshman tight end Nick Elksnis (upper body).
Moore was a late scratch prior to the Gators' game against Missouri with an upper body injury.
"Got a little banged up late in practice on Wednesday. Nothing major there," Napier said on Monday. "He'll be kind of a work in progress this week, but re-aggravated an injury from the past and one that made him unavailable for the game."
Florida and LSU are set to kick off at 7 p.m. ET on Saturday with a national broadcast on ESPN.
Florida Gators depth chart