Top-50 recruit Riley Kugel commits to Gators over Georgia, LSU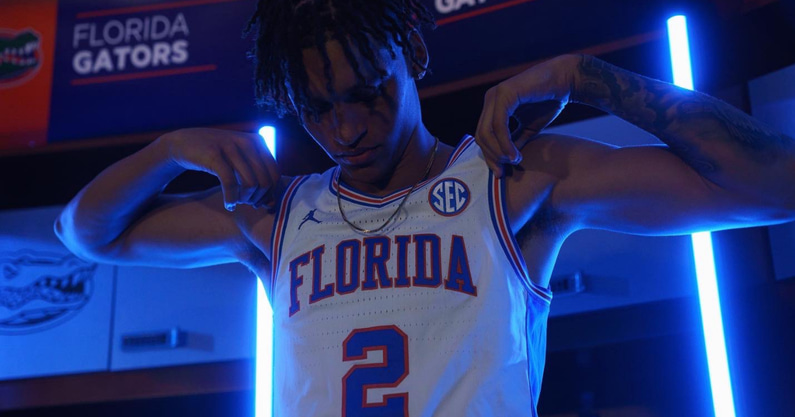 Riley Kugel announced his pledge to Florida on Monday, marking the first commitment from the high school ranks for new men's basketball coach Todd Golden.
And Kugel is a big one for the Gators, whose roster is almost full for the 2022-23 season. The top-50 overall recruit chose UF over Georgia and LSU.
He announced his decision Monday on Instagram Live with On3's Joe Tipton, becoming the second member of Florida's 2022 recruiting class.
Kugel will continue to be teammates at the next level with signee Denzel Aberdeen, who attends Dr. Phillips High School with him in Orlando.
The 6-foot-5, 175-pound Kugel is ranked the No. 46 player nationally and the No. 5 shooting guard in the On3 Consensus. He previously signed with Mississippi State but reopened his recruitment March 22.
Florida hosted Kugel for an official visit on April 15, two weeks after Korey McCray joined Golden's staff as associate head coach. McCray served as the primary recruiter for Kugel when he was committed to MSU.
"Just the whole coaching staff," Kugel said when asked why he picked UF. "Coach Golden, Coach McCray, the whole coaching staff. They just showed love constantly, every day. On my bad days, they're there for me. They just want to get me to the NBA and develop me.
"And obviously, I'm home. I'm here with my family and friends. Everybody can watch me play. They don't gotta travel across the world just to watch me play. And of course, Zel. The dynamic duo is back again."
With the addition of Kugel, the Gators now have 12 scholarship players. Golden landed four transfers this offseason in forward Alex Fudge (LSU) and guards Trey Bonham (VMI), Kyle Lofton (St. Bonaventure) and Will Richard (Belmont).
Teammates Aberdeen and Kugel, along with the four transfers, will join a half dozen returning players: forwards Colin Castleton and CJ Felder, center Jason Jitoboh and guards Myreon Jones, Kowacie Reeves and Niels Lane.
Scouting Report on Riley Kugel
On3 national recruiting analyst Jamie Shaw recently saw Kugel at the Montverde Academy Invitational Tournament and gave the elite guard some high praise:
"This type of dominating performance has become one we expect from Kugel each game," Shaw wrote. "Even in the games where he faced off against the nationally ranked players, Kugel has routinely been the best on the floor."
Here is Shaw's full evaluation on Kugel:
"At 6-5, Kugel has long arms and a physically developed frame. He is comfortable on the ball, showcasing great vision to set up his teammates and his jump shot extends well beyond the arc. His explosion has become a weapon as he gets past his man and is a threat to get on the rim when he touches the paint. Plays with a competitive fire. Good in the passing lanes. Three-level scorer."