SEC suspends three Gators, one Vols player for late-game scuffle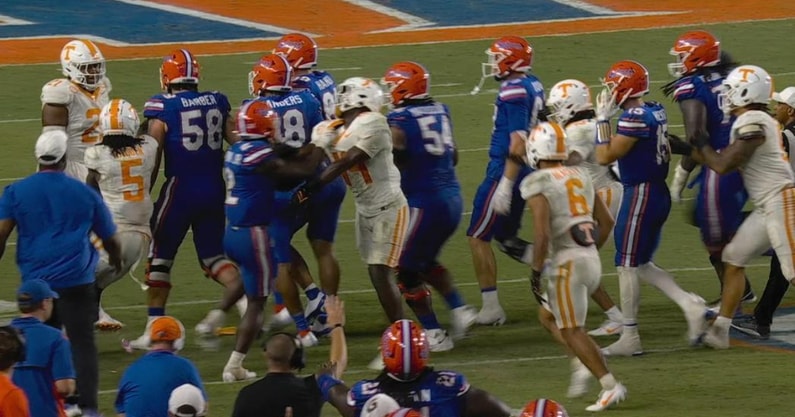 GAINESVILLE, Fla. — The Southeastern Conference announced the punishments Monday for players involved in the scuffle at the end of the Florida-Tennessee game. The Gators were hit the hardest.
Three Florida football players and one Tennessee football player will be suspended for the first half of their next respective games for flagrant unsportsmanlike actions on Saturday night.
The suspensions were determined after video review and consultation between the SEC Office, the University of Florida and the University of Tennessee.
Florida redshirt sophomore offensive lineman Damieon George Jr., junior offensive lineman Micah Mazzccua and redshirt senior tight end Dante Zanders will be suspended for the first half of the Gators' game with Charlotte on Saturday. The Vols, meanwhile, will be without defensive lineman Omarr Norman-Lott for the first half of their game against UTSA on Saturday.
How the scuffle started between Gators and Vols
On Florida's final offensive play, UF redshirt junior quarterback Graham Mertz ran around before taking a knee and was hit late by Vols senior DL Omari Thomas.
Florida's players immediately stepped in to defend their quarterback, including redshirt sophomore offensive tackles Austin Barber, who was not punished.
Mazzccua squared up against Vols senior DB Kamal Hadden and took a swing at him, while Norman-Lott ran into the scuffle and threw a punch at Barber.
Napier was asked Monday about Mazzccua's status prior to the announced suspensions.
"Nothing yet. Just in-house discipline. Outside of that, look, it's not just Micah. We got staff members that probably need to be disciplined as well," Napier said. "I think ultimately, that's a teachable moment. It's an opportunity for us to talk about composure and poise, ego, temper. Look, football presents an opportunity to teach some of those things, right? It's not going to be the first time you're going to be in an altercation.
"Look, you make a decision like that, we had multiple players that screwed up. They compromised the entire team because you may not be available in the future, whatever the case may be. No different than some guy calls you a name at the local bar on Friday night. Are you going to compromise your wife and kids, make a poor decision?
"These things are teachable moments. Ultimately hopefully we do enough on our part to teach 'em."
SIGN UP FOR THE GATORS ONLINE NEWSLETTER AND GET BREAKING NEWS SENT TO YOU FOR FREE
.