Signing Day Capsule: Gators OL commit Christian Williams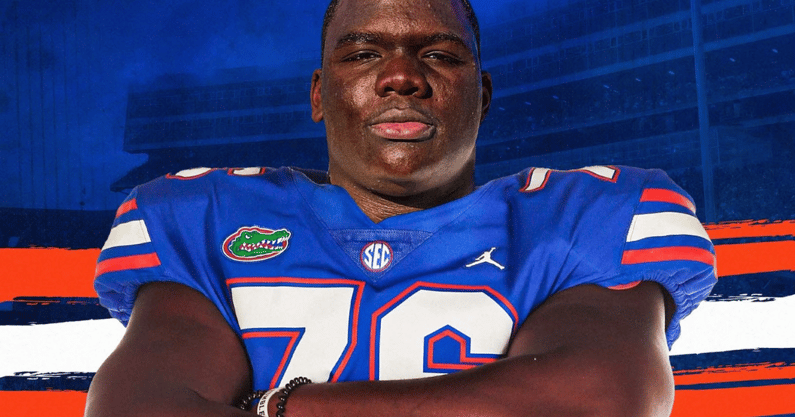 Checking in
Name: Christian Williams
Class: 2022
Position: Interior Offensive Lineman
Height/Weight: 6-foot-3, 310 pounds
Location/School: Missouri City (Texas) Fort Bend Marshall
Signed to: Florida Gators
Additional Scholarship Offers: University of Louisiana at Lafayette
On3 Consensus Ranking: 1,315th-ranked prospect | 108th-ranked interior offensive lineman | 201st-ranked prospect in Texas
Why the Gators received the nod in Williams' recruitment
"It was kind of a no-brainer because I was already committed to coach Napier at UL, so as soon as he moved to the SEC, he still kept that trust in me and said, 'Hey, I still want you to come here and I still believe you can be an SEC product.' I was all ears and ready to go," Williams said.
"We had been talking about (officially visiting UF) during the week and then we finally got it scheduled. I was supposed to be going to UL this weekend, but then we switched it at the last minute to come out here to Florida.
"It makes you feel a little bit more relaxed because you still know some of these people instead of being in this new environment and all these different things. Once you start seeing the people that you already know and already have communication and a relationship with, then it starts to get better and easier."
Inside the Film Room
When watching Williams' film, the first thing that grasps my attention is his ability to play under control. The three-star prospect plays with a solid base and does a nice job of not overextending. He also shows good hand usage.
Although he needs to get much stronger, Williams does a good job of putting defenders on their back. If he does not record a pancake block, the Texas native pumps his legs until the whistle is blown, but that part of his game will improve as he progresses through Florida's strength and conditioning program. He is aggressive once engaged in those one-on-one battles.
You also have to take notice of Williams' physical upside. He does not possess much bad weight and should fill out nicely over the next couple of years. As he continues to get stronger and more explosive, I could see him shifting out to right tackle from time to time as well. He has limited pass blocking film but does a good job of sliding his feet and reacting to the defensive front.
Williams is far from a finished product and will need time before transforming into a potential starter in the trenches. The upside is there though.