Three Florida Gators make On3's NIL 100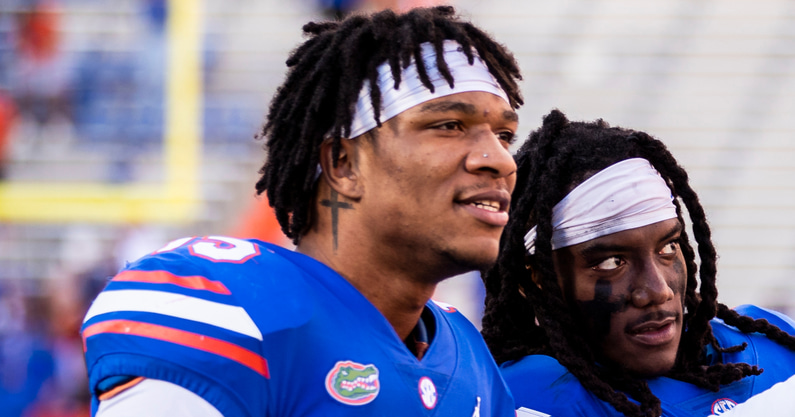 Three Florida Gators were named to the first On3 sports College Football NIL 100.
Zach Carter (85), Emory Jones (87), and Anthony Richardson (99) were all added to the list. The first list was published Friday, January 7. The On3 NIL 100 will be a continually updated list.
Score for all the Gators
No. 85 Zach Carter – $112,000
No. 87 Emory Jones – $111,000
No. 99 Anthony Richardson – $107,000
On3's NIL platform provides guidance for what athletes should charge per post for each of their respective social media platforms. Per Post Value is determined by several key factors and is heavily influenced by the athlete's overall NIL Valuation.
Carter has already declared for the NFL, so his time as a student-athlete is done. Emory Jones and Anthony Richardson have each already acquired lucrative NIL deals. Both quarterbacks are sponsored by Outback Steakhouse and have done numerous events with the brand.
Richardson, just a redshirt freshman, stands to have the most to gain with NIL. The quarterback had an up and down season in 2021 due to injuries. He underwent surgery to repair a torn meniscus prior to the Gasparilla Bowl.
When he returns from injury, Richardson will compete for the starting job. That will help his overall NIL value.
What is the On 3 NIL 100 and valuation?
Name, Image, and likeness is changing college football and On3 sports is providing a first-of-its-kind service to change with it.
The On3 NIL Valuation is an index that looks to set the standard market value for athletes. The NIL valuation does not act as a tracker of the value of NIL deals already completed. Rather, it signifies an athlete's value at a certain moment in time.
The valuation will take several factors into consideration.
A base valuation generates from the number of followers on each social media platform an athlete has (Instagram, Twitter, and TikTok). Brands and advertisers view each social media platform differently from a dollar and cents perspective. Therefore, On3 weighs each platform differently when calculating.
After the base valuation is calculated the score/ranking will continue to be adjusted. The athlete's engagement on various social media platforms, college prestige, individual player rankings, their position, individual performance, legacy, media opportunities, and existing NIL deals will all help or hurt their score.
Gators will be more proactive with NIL
New head coach Billy Napier has made it a point to get more active with NIL. New legislation waiting to be voted on could allow for institutions that will provide more help than previously.
In his introductory press conference, Napier spoke about the importance of NIL.
"As an organization, we have a very specific plan for our players. It starts with us as staff educating our players about all the things that come with name, image and likeness. Once we educate them, we will be able to help them navigate through it.
"At the University of Florida, it's going to be a strength. We have more than 450,000 alumni, we have a very passionate fanbase, and we will have a meticulous NFL strategy. When you combined these factors, I think we will be able to take advantage of this new era of college football. As competitors, we recognize that NIL is a big component relative to having success going forward. If we can develop a really smart strategy within the rules, we can position ourselves for success."