Todd Golden: Gators have the makings of NCAA Tournament team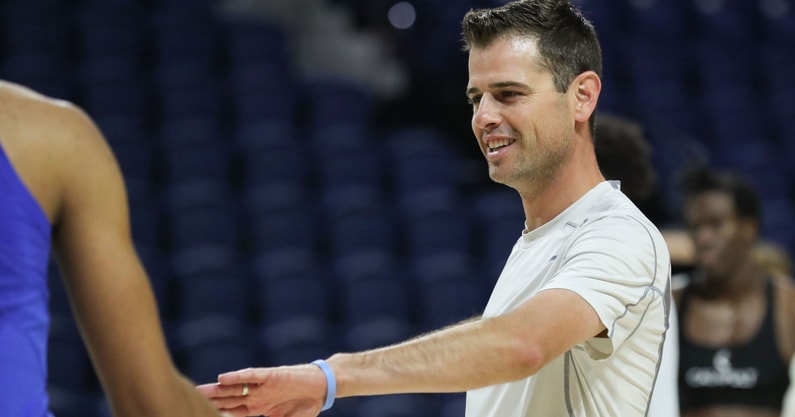 GAINESVILLE, Fla. — Inside the newly-named Hugh Hathcock Basketball Complex, the Florida Gators men's hoops team opened preseason camp this week under first-year coach Todd Golden and his staff.
Golden and some players met with reporters Tuesday before the first official day of practices, all of which will be open to the media. The Gators hold the Orange & Blue scrimmage Nov. 1 in the O'Dome (free admission) before opening their 2022-23 schedule on Nov. 7 against Stony Brook.
Florida missed the NCAA Tournament last season for the first time since 2016, while Golden led San Francisco to its first postseason appearance in 24 years. Heading into his first season at UF, he was asked Tuesday how he will define success with this year's team.
"That's a fair question," he said. "I think this team has the makings of an NCAA Tournament team, so that will be a simple barometer that we can use once we get to March to see if we've had a successful season or not."
Florida's chances to make the Big Dance have been bolstered by the return of two-time All-SEC selection Colin Castleton, who Golden recruited back for a fifth season, and the addition of impact players via the transfer portal. Golden returns six scholarship players from last season in Castleton, center Jason Jitoboh, foward CJ Felder and guards Myreon Jones, Kowacie Reeves and Niels Lane.
Florida's 2022-23 roster also features seven new players: four transfers in forward Alex Fudge (LSU) and guards Kyle Lofton (St. Bonaventure) Trey Bonham (VMI) and Will Richard (Belmont), along with a trio of freshmen in forward Aleks Szymczyk and guards Denzel Aberdeen and Riley Kugel, a top-50 recruit.
Despite the roster turnover, Golden is already pleased with the team chemistry.
"They've been fantastic," he said. "It's kind of a new age and way in college basketball to have a lot of new guys in your program every year with the transfer market and everything. Last year at San Francisco we had six or seven new guys.
"This year at Florida we have seven new guys, but we've been with them eight weeks in the summer and now four or five weeks in the fall. So, it feels like we've been together a long time now, but the guys have been great in terms of being team-first guys and supporting each other."
No egos with Gators
Jones echoed Golden's comments on Tuesday, adding that he and his teammates are always hanging out in the facilities or going out to eat together. Jones appreciates how "there's no egos" between the returners and newcomers on the roster.
"We just all connect real well and that's what I like about this team," Jones said. "Everyone just wants to have fun. I think that really comes from the staff. They chose people that just want to have fun, and it makes basketball more fun when you have people like that around you."
What Golden likes most about his team is how coachable and receptive they have been with him and his staff. During his first head coaching stint at San Francisco, it was a smooth transition because he had been an assistant there for three years before being promoted.
At Florida, however, Golden had to start from scratch and build a rapport with the players.
"We've got great dudes. They've been super coachable," he said of the Gators. "This has been a complete transformation in regard to implementing what we want to do. You always think about what if guys aren't as responsive as you want them to be or not as willing to be coached, but every guy to a man has been awesome that way.
"That's been kind of, I shouldn't say pleasant surprise, but the most pleasant thing about it. We've asked a lot of these guys and they've been really, really receptive to the coaching and so it should give us a chance to have a pretty good season."
The Gators plan to practice five times per week throughout the preseason and will return to the court on Friday. What does Golden still need to learn about his team in camp?
"We've got to figure out which guys play best with each other," he said. "We obviously have a lot of talent on the wing, so we have to sort out some stuff there. But the good thing is all these guys bring different things to the table. I think they're all different strengths. If we as a coaching staff can manipulate that well, we'll be in good shape."