Top-50 defensive lineman T.J. Searcy is a Florida Gator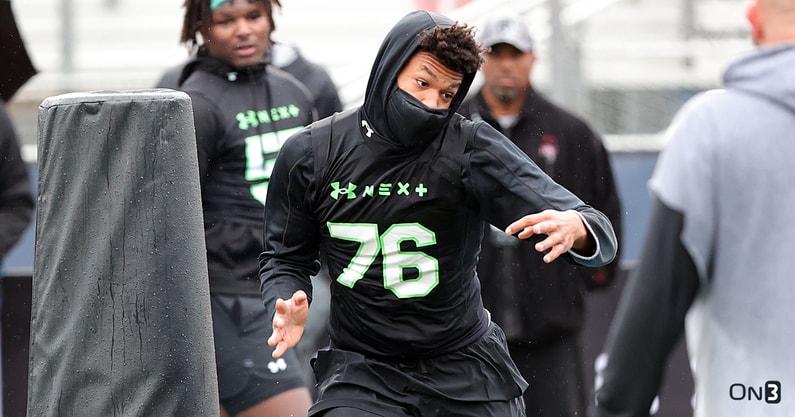 The University of Florida just hit the jackpot on the fourth of July, as top-50 prospect T.J. Searcy announced his commitment to Billy Napier's program.
Searcy, a 6-foot-5.5, 243-pound rising senior from Thomaston (Ga.) Upson-Lee, checks in as No. 6 defensive lineman and No. 49 player overall. He is also the No. 3 rising senior in talent-Georgia. That is all according to On3's 2023 rankings.
Clemson, South Carolina, Georgia and Tennessee were additional finalists in Searcy's recruitment.
The Gators have hosted Searcy three times this year, including for an official visit on June 10. They are welcoming the four-star prospect back to Gainesville at the end of this month for the recruiting cookout as well.
I've been hinting at UF's strong standing with Searcy for a number of weeks, and now it's official.
Relationships played a major role in today's fireworks
There is a whole lot of familiarity in Gainesville and much of that can be credited to outside linebackers coach, Mike Peterson, who previously recruited Searcy on behalf of South Carolina as well.
"He was pretty much letting me know I can come into their defense and make an impact right away," Searcy previously told Gators Online. "Mike P. is a great dude. He knows so much about the game. He's an actual legend in Gainesville. It's great to be around him.
"The atmosphere and my relationship with coach Peterson has Florida high on my list."
The Gators covet Searcy's versatility in the front seven but are primarily recruiting him to wreak havoc on the edge.
"They pretty much want to use me to go get sacks. They don't really want to drop me a lot," Searcy said.
Florida's head man is playing a pivotal role in Searcy's recruitment as well.
The 2023 prospect has full trust in Napier's plan for on-field development but believes he would reach his full potential off the field as well. That message was echoed during his latest trip to campus.
"He's a great guy for sure. He's definitely one of the best head coaches I've talked to," Searcy said of Napier. "He was pretty much just telling us Florida is about the people. It's not just football. I can come to Florida and be a great football player, but then I'll also get developed after the game and off the field."
With Searcy on board, the Gators hold commitments from nine prospects in the 2023 class. The Peach State native is also the third defensive lineman to announce for UF, joining fellow four-star prospects Gavin Hill and Isaiah Nixon.
Searcy's scouting report from UA Next Camp Series: Atlanta
T.J. Searcy immediately caught our eye in going through drills with the defensive line group. The Thomaston (Ga.) Upson-Lee standout stood out from a frame and stature standpoint at 6-foot-6 and around 240 pounds. He is very flexible and fluid for his size. He was easily able to sit on his feet in flexibility drills. The coordination continued to show up in drills.
In 1-on-1's, Searcy showed some of the best bend and curvilinear movement of the group. He dipped his shoulder in getting around the edge for what constituted a win in 1-on-1's. Searcy is currently ranked as a defensive lineman, but he could easily end up an EDGE at the next level. Florida State and South Carolina are among the programs in pursuit. The top 100 prospect also holds offers from the likes of Florida, Georgia, Michigan and Tennessee. — Charles Power, On3's Director of Scouting and Rankings