Ventrell Miller set the tone, Gators send him out with a win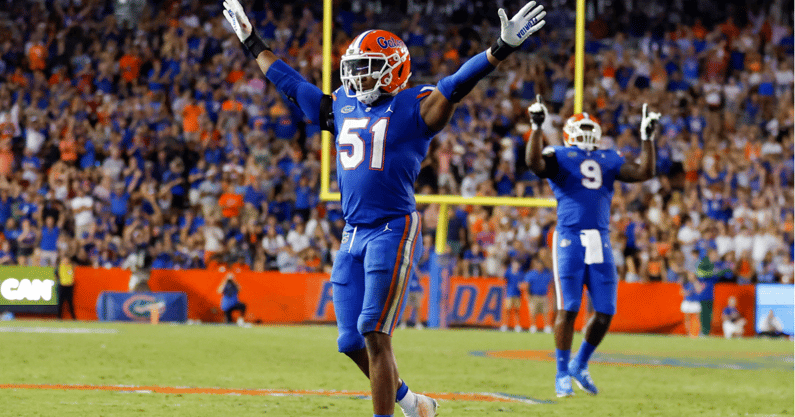 GAINESVILLE, Fla. — Far too often athletes are compared to soldiers or warriors. On a day when the Florida Gators took time to salute the men and women that serve our country in the military, there was no comparison but senior linebacker Ventrell Miller embodies the principles the military instills.
This week, Billy Napier had several members of the military speak to his team. Monday Marine Corps Gunnery Sergeant Trey James addressed the players after practice. The next day Air Force Captain Tom Rich had his turn. Thursday sixth-year senior linebacker Ventrell Miller stood in front of his team.
A member of the 2017 signing class, Miller has their attention. He's been through three head coaches, battled through injuries and he's earned their respect, but they probably weren't ready for the delivery.
"We had a little team meeting Thursday, let the guys know how I felt about this game, how this game is really emotional for me. I broke down and all that there, Thursday to them boys," Miller said after his final home game. "I was just happy to see how they came out and dominated on defense, especially."
Miller's last home game
Miller committed to Jim McElwain, that's just to say he's been around a while. The linebacker from Kathleen has been through a lot during his time in Gainesville. He was suspended as a freshman and has dealt with broken bones and torn tendons.
This season he's playing through a foot injury that kept him out of the third game of the season. When Billy Napier said the injury was more about "pain tolerance" there wasn't a person that knew Miller who thought it would keep him off the field.
"When you see a guy like that who gives, I mean you can tell the type of energy and passion he plays with. It uplifts everyone around him," tight end Jonathan Odom says. "When a guy like that opens up to you, you call tell emotions are high. It makes you want to play that much harder. Today, no one was playing for themselves. Everyone was playing for the seniors and the guy to the left and the right. That's the biggest part that has really elevated our team the last few weeks." 
When the new football facility opened up, Odom found his locker next to Miller. He's relished his time with Miller, and when it was brought up that that time is coming to a close, he quickly cut off the question.
"We still got four more weeks together and all the bowl practices," Odom said. "So, I'll really be able to cherish all of that."
Every team needs a player like Ventrell Miller. He's second on the team with 62 tackles, sure, but more than that he's a coach on the field. Miller is the wifi that connects Florida's defense to the internet.
When the wifi was down against USF, the Gators struggled to stop a Bulls' offense that eventually got its coach fired on the way to a 1-9 record.
More important than Miller the player was Miller the person.
Miller the leader
Billy Napier was the new guy in town. As a first-year head coach, he told his players he would need to and aimed to earn their trust. He really only needed to earn one player's trust. Ventrell Miller would do the rest.
"Ventrell Miller is as good of a human being as I've been around in my career. I can't compliment him enough," Napier said of Miller last Saturday. "His ability to affect the other players, his consistency as a person. There's no wavering on his words, his actions, his care for other people. He's an old soul. He has the ability to see the big picture and really care for other people. Very unique player, and he's a heck of a football player. He in particular is one I will remember for sure."
Napier has been asked and joked back that he'll try to figure out a way to get Miller back for an elusive seventh year. Miller shot that down with his trademark crest-white smile that spans from ear to ear.
Miller has three more opportunities to put on that orange helmet with Gators' script. Three more opportunities to impact Napier's program with his play. However, his actions, his leadership, and his personality have helped shape the foundation that the program will be built on for years to come.