What top-50 recruit Riley Kugel brings to the Gators roster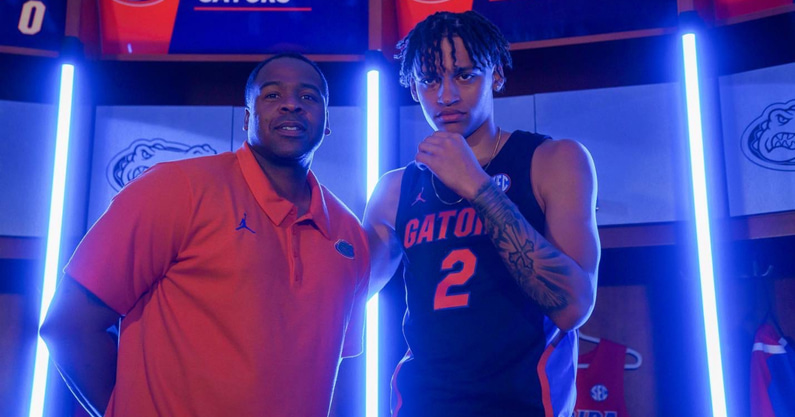 UF men's basketball head coach Todd Golden added to his team's backcourt depth on Monday evening when Riley Kugel made his commitment to the Gators.
The Orlando native joins his Dr. Phillips High School teammate Denzel Aberdeen as Florida's second high school commitment of the 2022 class.

Kugel chose UF over SEC rivals Georgia and LSU after he had originally signed with Mississippi State. He was released from his letter of intent after MSU head coach Ben Howland was fired.
Former Bulldogs assistant Korey McCray was hired by Golden shortly after the former San Francisco head coach arrived in Gainesville, and they made it clear they wanted Kugel in Gainesville.
Considering Kugel's style of play, he fit the mod the mold of what Golden is looking for.
"Offensively, we're going to play fast but not in a hurry," Golden told Gators Online and others. "We're going to try to push in transition, score early in the clock, hunt rim twos, catch and shoot threes."
Simply put, Golden's offensive system and Kugel go hand in hand.
Taking a look at Riley Kugel on film
The 6-foot-5 shooting guard does everything the two position is expected to do and then some.
He's going to take and make the big-time shots from all over the floor, but there's no doubt that he feels comfortable running the floor himself. The Gators have not seen that from a shooting guard in quite some time.
Kugel's bounce is impressive to say the least. He's already made it on ESPN's YouTube page with a posterizing dunk.
Kugel plays the game with a killer mindset, and it seems that he and Aberdeen both play with a certain mental toughness that proved to be unmatched at the high school level against the nation's elite.
"I just go out there and give it my all every time I step on the court," Kugel told On3's Joe Tipton on Instagram Live just before his commitment. "No matter what spot I'm in any rotation in the lineup, I'm gonna just go out there and give it my all. I'm gonna just be a dog and just play the game I know how to play."
Despite his talent, Kugel may not make an immediate impact as Florida boasts multiple players with college experience at his position including Myreon Jones, Kowacie Reeves and Niels Lane and Will Richard.
Regardless, the addition of Kugel is huge for the Gators. He'll either get serious minutes right away or compete with Florida's best guards on a daily basis in practice, which will help him develop for the future.