Corey Clark: Ta'Niya Latson is a superstar and a potential program-changer for FSU women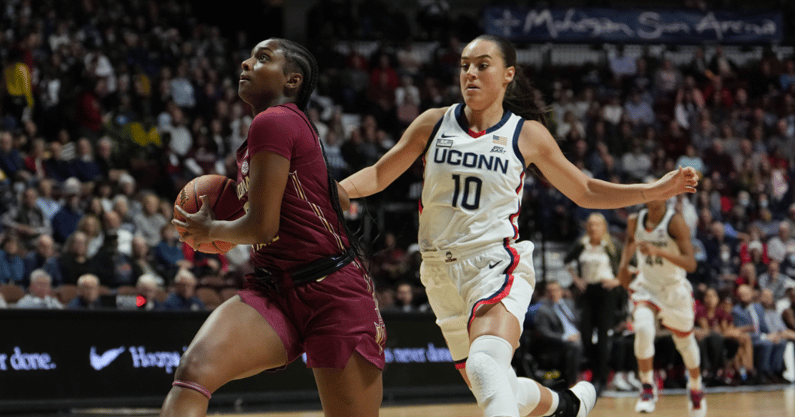 Everyone knew Ta'Niya Latson was going to be good. She was a McDonald's All-American after all, and one of the highest-ranked recruits to ever sign with the Florida State women's basketball team.
But I can't imagine anyone was expecting this.
The freshman phenomenon — and trust me, folks, she is a phenomenon — is just built different. She plays different. She finishes at the rim different. It's just not normal what she does on a basketball court.
It's not hyperbole to say, after just 22 games in her Florida State career, that she's the best player FSU has ever had. She could also go down as one of the best in the history of the Atlantic Coast Conference.
Heck, if she keeps it up, maybe one of the best in the history of planet earth? Who knows? She's a freshman averaging almost 24 points per game, in one of the best leagues in the country. So who knows what her potential truly is?
All that's for certain, right now, is she's the best player on a really good team — one that is challenging for an ACC regular-season title and should be ranked in the Top 25.
Latson's story is a unique one, not just because she has lived in Texas, Missouri, Hawaii, Atlanta, Miami and now Tallahassee, but because she says she didn't even get serious — like really, really serious — about basketball until she was a junior in high school.
"That's when I started really locking in and appreciating the grind," Latson said. "I couldn't shoot, so I needed to implement that in my game. So, I shot a lot of free throws with my trainer. Every time we train, just to get repetition, and I feel like that really helped me. Especially for the next level."
Latson said she had to make 100 free throws every training session.
"And they had to be all net," she said with a smile.
Well, the repetition worked. Latson is currently shooting 87.1 percent from the free-throw line for the Seminoles, and she had a stretch where she made 37 straight.
Don't get the wrong idea. It's not like Latson wasn't already a star before her junior year. She started for Westlake High in Georgia as a freshman and helped that school win three straight state titles and a national championship.
*** Sign up for premium access to Warchant.com and the On3 Network for only $29.99. ***
She was an AAU star in Hawaii as well, where she dominated poor middle-schoolers out there with her ridiculous athleticism.
Her father was in the military, which is why Latson has lived in so many different places, and her face lights up when she thinks about her time in Honolulu.
"It's so surreal," she said. "The basketball court in the neighborhood, there were mountains in the background. Like literally a movie every day."
As good as she was back then, though, Latson also admitted she didn't have the best mindset. She wasn't sure if basketball was the right fit, because she didn't like being told what she wasn't good at. Especially as she consistently dominated — she scored 52 points in one AAU game — her opponents.
"I just didn't like the critiquing part of it," Latson said. "I didn't think I did anything wrong, even though I couldn't even shoot. I had a lot of flaws in my game around that time, and I just thought I was the best and nobody could tell me anything. And I didn't like that part of it. I didn't like the constant grind."
She does now.
What's interesting about Latson is that even though she came up through the AAU ranks as one of the top guards in her age group, even though she won a gazillion trophies and a national title, even though she was a McDonald's All-American, she admits she wasn't quite sure how good she was, how good she could be, until she got to Florida State.
"Now, I'm like maybe I can stick with the best or I can go pro," Latson said. "Now, I'm really sure of it. Back then, it was just a dream. But now it's like I can maybe work towards becoming pro."
She won't say it this way, of course, but now she knows she's awesome.
We all do.
Latson already has set the school mark for the most 30-point games in a season with six, and we've still got two months left to go. She's been the ACC Rookie of the Week NINE times already this season; that's a record. It will be double-digits soon.
She's also been the National Freshman of the Week twice. She's currently averaging 23.6 points, 4.9 rebounds, 3.3 assists and 1.8 steals for the Seminoles, who are 18-4 on the season after Sunday's blowout win against Pitt.
If she stays at FSU for her entire college career, she's going to shatter the record books. Last week, she became the quickest Seminole to 500 career points. Again, she's 22 games into her career. Imagine what number she'll hit if she's here for three more years.
And that's what everyone wants to know, right?
In this age of college athletics, with the transfer portal and NIL deals dominating the landscape, will Latson be here her whole career?
Granted, we're only in January of her freshman year, but it sure sounds like she wants to build something special in Tallahassee instead of going somewhere that's already been built. She wants to hang banners in the Tucker Center.
"That's just the dream. You want to start your own legacy, you want to make a change in the community," Latson said. "I really feel like we can. And that will be amazing, just for me and I know for the coaches and the community. I plan on sticking out the rest of my three years here."
It helps that her team is very good, and that her teammates were so welcoming right away. It's not always easy for older players to accept that a freshman is going to get the most shots and the most shine, especially when they're pretty good in their own right. But according to Latson, that hasn't been an issue at all.
"That's such the beauty of this team," she said. "They really support me and I support them. We love each other on and off the court."
It also helps that Latson really isn't a selfish player. At all.
Yes, she has taken the most shots on the team, but that usually happens when you're the best player and you can go get your shot any time you want it. What makes Latson unique is that she's not a high-volume shooter. She's not routinely putting up 25 or 30 shots a game.
In fact, she averages 16.7 attempts.
Which, let's be honest, if most of us had her ability, we would be shooting it every time we got it.
Heck, my goal would be to lead the nation in field goals attempted.
And if a teammate complained, my response would be, 'Have you seen how awesome I am? If you want the ball, go grab a rebound."
It seems Latson is a much better teammate than I am. She's also been a 4.0 student her whole life. So, she's smarter that most of us, too.
And she understands that if Florida State is going to accomplish something great, something that's never been done in program history, it won't be with her shooting 40 times a night.
"I just want to play the right way, and that's always something that's been in my game," Latson said. "Like no matter how much I score, I still want to get my teammates involved, because it is a team sport. And that's going to win championships. I'm just not going to be able to drop 40 every night or take a million shots every night. That's just looking bad on me and bad on the program.
"Like I said, I've just got to get my teammates involved, because that gives us all confidence."
She didn't choose Florida State because she wanted to score 40 a game.
She chose Florida State because she wanted to leave a legacy. She wanted to go a place that was already good, and maybe make it great.
"I knew this was a place that I could play, for one, as a freshman," Latson said. "And I could make a change. Like just turn around the program and lead them to a national championship. I wanted to start my own legacy and be somewhere where we can really make a dynasty."
Contact senior writer Corey Clark at [email protected] and follow @corey_clark on Twitter.
***Talk about this story with other die-hard FSU Basketball fans on our Seminole Hoops Message Board.***