Florida State looks for 10th straight win tonight vs. No. 20 Miami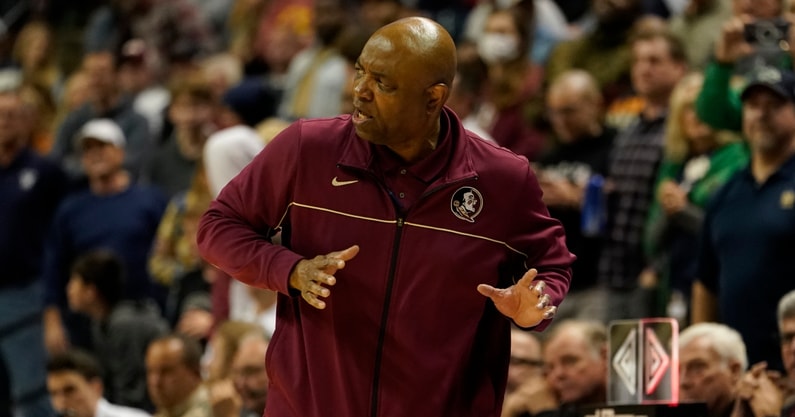 Leonard Hamilton is not glossing over the challenge his Florida State men's basketball team will face tonight at the Tucker Center.
He didn't do it with the media when he spoke with reporters on Monday, and he certainly hasn't done it with his team.
After reeling off nine straight victories against the rival Miami Hurricanes — a streak that dates back to January 2018 — Hamilton has a keen understanding of just how motivated and determined the in-state rivals will be when tonight's game tips off at 7 p.m. (ESPNU).
It will be similar to what the Seminoles experienced when they traveled to Gainesville last season and tried to defend a similarly long winning streak against the Florida Gators.
"We had beaten Florida seven times in a row," Hamilton said. "We went down to Florida last year, and they were breathing smoke and fire out of their nose. The energy that they played with … they actually played harder than us. They actually played with more determination. And that just gives us a little taste."
Hamilton and the Seminoles hope to learn from that experience — a 71-55 defeat — and enter tonight's game with the proper amount of energy.
Miami's veteran players could be especially fired up after what happened in FSU's eighth and ninth straight victories in this streak. The Seminoles won last year in Tallahassee by one point, 65-64, and they won in Coral Gables by one point, 61-60.
And that was in a year that saw the Hurricanes advance to the Elite Eight of the NCAA Tournament.
*** Sign up for premium access to Warchant.com and the On3 Network for only $29.99. ***
"We blew them out last year, I believe, by a total of two points," Hamilton said. "I would venture to say that they don't want to pick up the paper on Wednesday … and see that they've lost 10 straight times to Florida State — especially in a rivalry. So they're gonna have exceptional motivation."
Fortunately for Florida State, the Seminoles appear to be playing their best basketball of the season.
The arrival of freshman forward Baba Miller has made a significant difference, as the Seminoles have won two of three games with him in the lineup. They went on the road to Notre Dame last Tuesday and picked up a double-digit win; then they scrapped their way to a 71-64 victory at Pitt on Saturday.
Those were Florida State's first two wins away from the Tucker Center all season, but Hamilton isn't about to let his players feel as if they have turned the corner. Even with those victories, the Seminoles are still just 7-13 overall and 5-5 in the Atlantic Coast Conference.
Miami is 15-4 and 6-3.
"They realize when you look at our record, we can't take any bows now," Hamilton said. "We're still trying to dig out of this ditch."
Having Miller in the lineup, though, has certainly helped change the complexion of Florida State's team.
He is 6-foot-11, so he can help on the boards, where he is averaging 4.3 rebounds per game. He is extremely athletic for his size, so he can help close passing lanes and also run the floor in transition. He also has a high basketball IQ, handles the ball well and possesses the ability to shoot from the perimeter, which puts additional pressure on defenses.
"He's definitely affecting the game," Hamilton said of Miller, who missed 16 contests due to an NCAA ruling and another game due to illness. "His length on the floor, he's handling the ball, he contests shots … he's only scratching the surface of his potential."
Miller also is another capable body, which allows the Seminoles to play a deeper rotation.
In the Pitt game, Florida State didn't have to use any starter for more than 34 minutes, which Hamilton says allowed each player to give maximum energy without trying to pace themselves on the court. And the Seminoles actually claimed a 17-4 edge in bench points in that game; that's an advantage that has been a staple of Hamilton's teams but a rarity this season.
"To get those positive minutes off the bench, and us being able to get guys spelled a little more, is something that we've been missing that seems to be coming around at the right time," Hamilton said.
In the Hurricanes, Florida State will face a team that is dynamic offensively and is led by 6-4 veteran guard Isaiah Wong. The Hurricanes average nearly 78 points per game, which ranks third in the ACC, and Wong averages 16.2.
Miami lost several key players from its Elite Eight team a year ago, but the 'Canes have been buoyed by impressive newcomers like Kansas State transfer Nijel Pack and Arkansas State transfer Norchad Omier. Pack is averaging 11.9 points per game, and Omier is scoring 13.7 points and grabbing 10.4 rebounds.
Omier, who is an imposing figure at 6-7 and 248 pounds, ranks third in the ACC in rebounding and first in field goal percentage (60.1).
"He's a very strong, tough, physical player," Hamilton said. "And I'm starting a 6-10 freshman (center Cameron Corhen) that's just straight from the prom. So I expect that there will be an experience factor there."
Along with the Hurricanes' well-publicized losing streak in this series, they also likely will be eager to turn things around after two recent heartbreaking losses. Miami lost Saturday at Duke, 68-66, just one week after falling by two points in overtime at N.C. State.
"We believe that this will be our biggest challenge up until this point of the season," Hamilton said.
***Talk about this story with other die-hard FSU Basketball fans on our Seminole Hoops Message Board.***