Florida State pummels BC, 19-8, to get back on track; Ben Barrett goes 5-for-5 with 2 HRs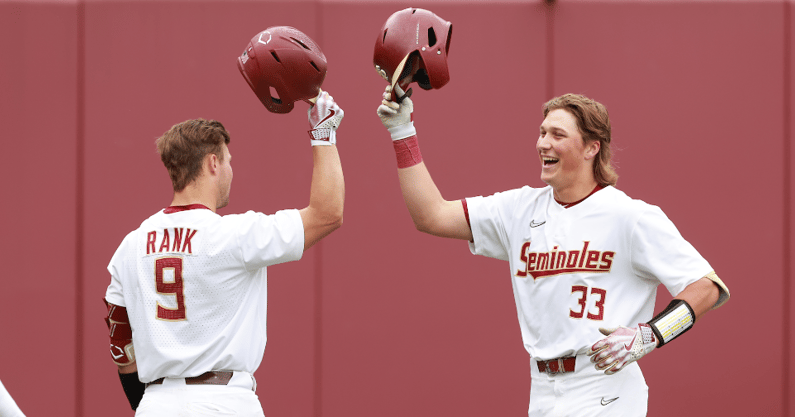 After a back-and-forth battle in the early innings, the Florida State baseball team erupted for 10 runs in the sixth and cruised to a 19-8 victory Friday against visiting Boston College.
With the win, the Seminoles snapped a three-game losing streak and knocked off an Eagles team that had been one of the country's surprising teams in the first month of the 2023 season.
Florida State improves to 12-6 overall and 3-1 in the ACC, while Boston College falls to 12-3 and 2-2.
The Seminoles were propelled by a slew of impressive offensive performances, but none bigger than that from freshman designated hitter Ben Barrett. The Orlando native came into the game hitting .385 but had recorded just one extra-base hit in 26 at-bats.
On Friday, he blasted a pair of home runs — including a grand slam in the sixth — and finished the day 5-for-5 with 6 RBIs. He also ripped a double and scored three runs.
The Seminoles got additional home runs from sophomore James Tibbs and freshman Titan Kamaka, and Tibbs finished with three hits and 4 RBIs. Kamaka went 2-for-5 with 2 RBIs.
Freshman Lance Trippel went 3-for-4 for Florida State, and sophomore Jaime Ferrer and senior Nander De Sedas each went 2-for-5 as the Seminoles pounded out 22 hits on the day.
Sophomore right-hander Conner Whittaker (3-0) earned the victory by pitching four innings of relief. He allowed just one run on five hits after starter Jackson Baumeister was knocked out after three innings.
The Seminoles will go for the series victory on Saturday; first pitch is scheduled for 7 p.m. Florida State will start junior left-hander Wyatt Crowell (3-0, 0.87) against Boston College grad transfer Chris Flynn, who is 4-0 with a 0.79 ERA.
Notes from FSU:
Freshman Ben Barrett had a career game Friday; he was 5-for-5 with the first two home runs of his career, including FSU's first grand slam since March 8, 2022; his six RBI were the most for a Seminole since Robby Martin in 2019 (also six). He finished a triple shy of the cycle and tallied 12 total bases. He is the second FSU player with a multi-home run game this season (Jaime Ferrer at TCU). Barrett has a hit in all seven games he has started this year; the last 'Nole with five hits was Tyler Martin at Virginia Tech in 2021 (the last true freshman was Tyler Holt – BC's third-base coach – in 2008).
Florida State's first 10 batters of the sixth inning scored, FSU's first 10-run inning since 2017 at NC State. In the game, all nine FSU starters had at least one hit and scored at least one run (eight had multiple). Titan Kamaka and Lance Trippel both had two hits in the inning; the last Nole with two hits in an inning was Elijah Cabell vs. Mercer in 2021.
Kamaka's second hit in the sixth inning was a two-run home run, his second of the season. Trippel's three hits were a career-high…James Tibbs and Treyton Rank had three hits for the second consecutive game.
The 'Noles topped 10 runs for the ninth time in 18 games; FSU reached double-digits 10 times in 59 games last season. FSU's four home runs were a season high.
Nander De Sedas made his first career start at third base, with a diving stop-and-throw in the first inning. He has made 185 career starts.
De Sedas got FSU on the board with an RBI triple in the first inning. It was his first of the season and fourth of his career (third at FSU). As a team, FSU now has 10 triples, matching its combined total from 2021 (3) and 2022 (7). The Noles have a triple in three straight games.
Tibbs hit a three-run home run in the second inning. Tibbs leads FSU with seven home runs this season and 17 for his career. It was FSU's 21st home run of the season, but just the second three-run blast. Tibbs leads FSU with a .409 average, 27 hits, 24 RBI, 30 runs, 7 home runs and 17 walks. He has a four-game hitting streak and team-high 11-game on-base streak; his four RBI tied a career-high.
Treyton Rank singled and matched his career-long hitting streak of three…Ferrer extended his hitting streak to nine games, one shy of his career high (10 games, twice in 2022).
Reliever Conner Whittaker improved to 3-0 with one run allowed in 4.0 innings. He matches Wyatt Crowell for the team lead in wins, and has surpassed his two wins from a season ago.
FSU's 19 runs are its most in an ACC game since beating Virginia Tech, 19-9, in 2015. Its 22 hits are the most in conference since having 26 vs. Maryland in 2007.
Stay connected with Warchant.com for coverage throughout the weekend.
***Talk with other Seminole fans on the FSU Baseball Forum***