Florida State's pitching will try to silence UGA's hot bats in NCAA Super Regional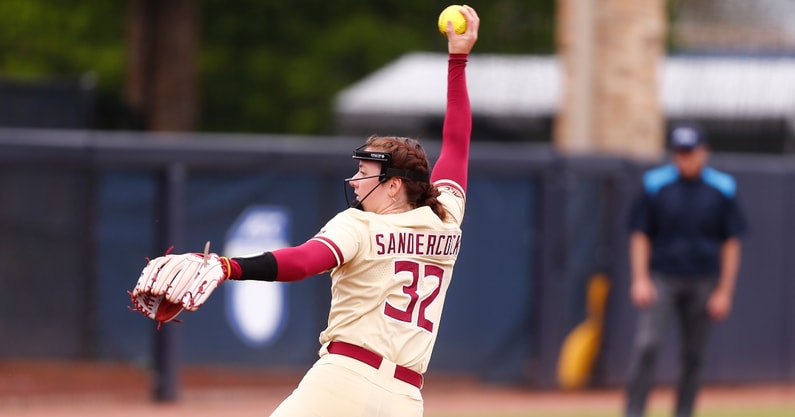 The Florida State softball team is two wins away from a return trip to Oklahoma City.
But those two wins — like the Seminoles' two victories last Sunday — don't figure to be easy.
The Seminoles (53-9) welcome the University of Georgia (42-13) for an NCAA Super Regional showdown that starts Thursday night in Tallahassee. Game 2 will be Friday night, and Game 3, if there is one, would be played on Saturday.
Thursday night's game will be on ESPN2, and Friday night's game is set for ESPN.
"They swing the bats pretty good," FSU head coach Lonni Alameda said of the Bulldogs. "They do a really good job of (hitting) home runs. I think we faced that with [Virginia] Tech, we got that a little bit with Oklahoma. So, we have a taste of it as a defense and a pitching staff right now, with what we're going into and the way they swing it.
"They've got really good different looks pitching-wise. … But again, nothing we haven't seen in 60 games. It's just a matter of execution right now."
The Seminoles' offense struggled mightily in the final day of the regionals against South Carolina, scoring one run in two games. But because Kathryn Sandercock delivered a historic performance in the circle, throwing the first postseason perfect game in FSU history, the Seminoles are still playing in 2023 and are two wins away from the Women's College World Series.
Georgia, meanwhile, steamrolled past Virginia Tech in its regional last weekend. The Bulldogs scored 20 runs in two games, including a 12-3, six-inning win in the regional championship. They hit seven home runs in the two wins, and they rank third in the nation (behind Virginia Tech and No. 1 Oklahoma) in home runs this season. They are second in slugging percentage (behind Oklahoma again).
Florida State's pitching staff ranks eighth in the country in earned-run average.
And the Seminoles have a whole bunch of arms, including — but not limited to — ACC Pitcher of the Year Sandercock.
"Nothing is more important right now than just competing in the circle," Alameda said. "They've got to compete. And I think having your defense behind you and selling out for what we've been doing all season long is hugely important. We've got to give different looks. When you have a home run team, and a team that scores a lot, you've got to give different looks and be able to expand your zone as a pitcher, but then utilize your pitching staff.
"And we've been able to do that all season."
Obviously, Alameda is hoping for a better offensive showing from her team than the one she saw in the regionals against South Carolina.
But she knows, either way, there are going to be a whole lot of Florida State fans at JoAnne Graf Field this weekend, watching her team once again try to earn a berth to the World Series. And there will be plenty of other FSU fans — and just sports fans, in general — watching the Seminoles around the country on ESPN.
Yet another sign of just how far this sport has come.
"I always joke that I think I have one VHS tape of me playing for like two innings from way back in the day," Alameda said. "It's super cool to see the game grow in all levels, because that only benefits our sport to want to be a (Devyn Flaherty) or want to be a (Jahni Kerr), right? And they get to see that.
"So, I'm really proud of it. I push it as much as I can. (The players) push it as much as they can, to give younger girls in the sport an opportunity to grow."
Talk about this story with other die-hard FSU football fans on the Tribal Council.