FSU QB commit Luke Kromenhoek previews weekend visit, excitement around Seminoles' 4-0 start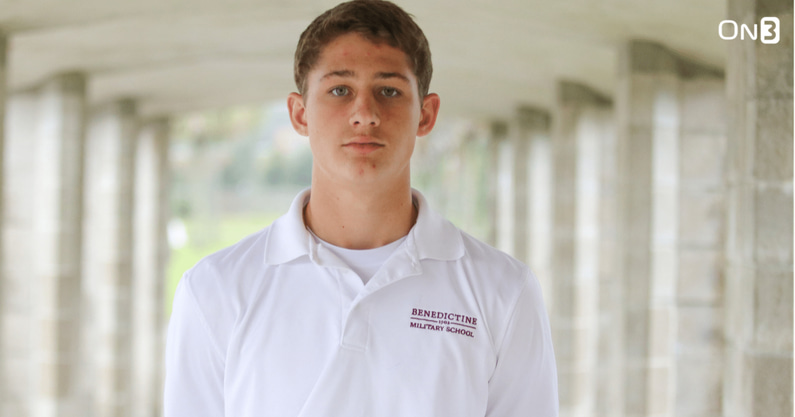 Ahead of his visit to Florida State's campus this weekend, 2024 three-star quarterback commit Luke Kromenhoek detailed his excitement around the Seminoles' undefeated start to the season, shared his message to 2023 and 2024 prospects across the country, and more.
With an important top-25 matchup on tap between FSU and Wake Forest this Saturday, Kromenhoek previewed his visit and looked back on a promise FSU head coach Mike Norvell made to him before he committed to the 'Noles earlier this year.
"I'm super pumped, I can't wait to see this team live and in action," Kromenhoek said. "Everything I have seen on the TV, I've just been super impressed. Coach Norvell made me a promise and said he was going to get Florida State back on track, back on the rise. He's kept his promise to me. What he's doing with this team, taking them from where they were last year to being undefeated through the first four games this year is unbelievable."
*** LIMITED TIME OFFER: Sign up for one year of premium access to Warchant.com and the On3 Network for only $1. ***
An On3 Consensus top-500 prospect out of Savannah, Ga., Kromenhoek committed to the 'Noles in March and is part of a 2024 FSU recruiting class that currently ranks No. 5 in the nation. He said he's "excited" to see an FSU win against the Demon Deacons.
"I think it's a great matchup against Wake. I think it's going to be a great game — two top-ranked teams both ranked in the top 25," Kromenhoek said. "They're a great team, we're a great team."
ALSO READ: Warchant Report: Breaking down FSU Football's top-25 showdown with Wake Forest
Kromenhoek continued on about Norvell, quarterbacks coach Tony Tokarz, and the strong product FSU has shown on the field so far in 2022.
"I mean, I am wowed to be honest with you. He made that promise to me and I definitely believed it — that was one of the reasons why I committed, when he and Coach Tokarz told me they were getting this thing back on track and they were going to be back on the rise. And I believed them, and I just loved that type of energy that Coach Norvell has," Kromenhoek said. "Seeing the team and how they're playing, I think it's a whole different team, a different program. I think he is finally getting his chance to show what he can do as a coach, and he's finally starting to get all the pieces together. …
"I'm just super happy for him and that whole coaching staff. As a recruit and committed, I am so happy to be a part of this program. Just continue to support this program and support him. What I think he's doing there is amazing."
Kromenhoek added that Tokarz, the first-year quarterbacks coach who was promoted in December after two seasons in an off-field role, checks in with him at least a few times a week.
"Our relationship, we're real close. … Actually, last week, we were down in Jacksonville playing Bolles High School, and he came and watched me play. That was just great seeing him there, him showing up was awesome," Kromenhoek said. "I would say our relationship, we're super close. We have a pretty good connection. We both want to see Florida State winning. He's passionate, and I'm passionate about it."
Kromenhoek has also taken notice of the recent successes of FSU starting quarterback Jordan Travis and backup Tate Rodemaker who was key in FSU's 35-31 win at Louisville.
"Coach Norvell is calling the plays this year, and I am just super-pumped. I think Coach Norvell knows what he's doing when he's calling his plays," Kromenhoek said. "I think that Jordan is having a phenomenal year. I really do believe that he is the most improved player in college football. Coach Norvell calling those plays, I think he just sets his quarterback for success. When Jordan went down and Tate [Rodemaker] came in, I feel like Coach Norvell, he set up Tate real well to succeed.
"He played to Tate's strengths. I think that was a big reason why we ended up winning that game. … I just think that's awesome, and I'm real excited to be a part of that offense and succeed."
*ALSO SEE: Expected visitors for the FSU-Wake game
Kromenhoek said he "definitely" plans on coming down to visit the 'Noles a few more times and "being around the staff a lot more" soon, with his eyes set on visiting again for the huge rivalry Florida State-Florida matchup, a prime-time game on Friday, Nov. 25.
Five games into his junior season, Kromenhoek recapped how things have gone for him at Benedictine Military School.
"If you're playing quarterback, you kind of have to be confident in yourself. There's definitely a little bit of confidence gaining any time I throw a touchdown pass or make a good play. It kind of builds me up to be that confident player and leader out on the field," Kromenhoek said. "A lot of people don't really realize, it's hard to play quarterback. It's not an easy position at all. When things don't go right, that's always the first player to be blamed. I'm just trying to stay positive and confident in my game, block out all the criticism, and be the best player I can be."
Finally, Kromenhoek said, FSU is "one of the top five fan bases" in all of college football, while explaining to all 2023 and 2024 prospects why FSU is a program they should consider.
"It's the place to be, just look at it. They're on the rise again, 4-0, that's huge. This coaching staff, they're unbelievable. Working on new facilities, and one of the most important things is the fan base is truly involved with the team. They really do love Florida State and they're all about it. So that's a huge part," Kromenhoek said. "It's a family over there. Everybody always cares about each other, they're always looking out for each other. I've got coaches and players already there right now reaching out to me, making sure I'm all good and stuff like that. Asking about how my family is every time we're on a phone call.
"They just do everything right, and they really, truly are on the rise again. I think Coach Norvell is going to bring us back to one of the top teams in college football, and I really do think that Florida State is going to be back in its prime very soon."
***Discuss this article with FSU fans on the Premium Recruiting Board.***