No. 3 seed FSU Softball slams Georgia, 8-1, in opening game of Super Regional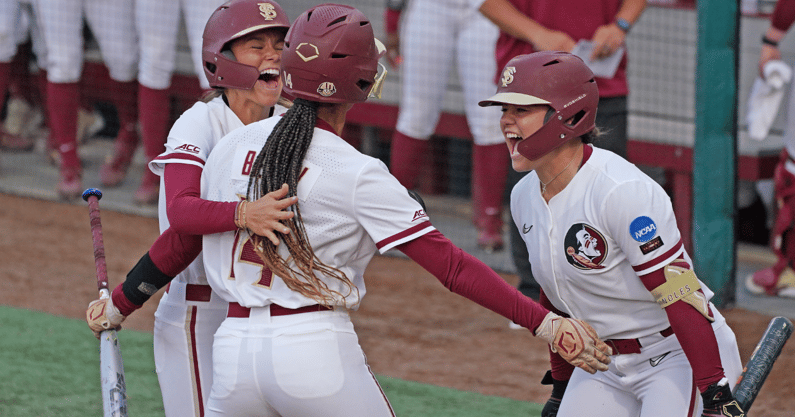 Kathyrn Sandercock wasn't quite perfect. But on this night, she didn't need to be.
Four days after pitching the Florida State softball team into the NCAA Super Regionals by delivering the Seminoles' first perfect game in NCAA Tournament play, Sandercock again was outstanding Thursday night against visiting Georgia.
After giving up a solo home run in the second inning, Sandercock kept the Bulldogs scoreless for the next four frames before leaving with two outs in the sixth. By that point, the No. 3 seed Seminoles' offense had generated four runs in each the third and fifth innings, and they would end up cruising to an 8-1 victory.
If the 'Noles (54-9) can knock off the Bulldogs (42-14) one more time on Friday night (8 p.m., ESPN), they will advance to the Women's College World Series in Oklahoma City.
If Georgia wins the rematch, the teams will meet again for the Super Regional title on Saturday.
"Really proud of the team," FSU coach Lonni Alameda said. "That was a really good team win. It was awesome. Kat did her thing. Defense did their thing. Offense started coming together. And our dugout was on fire coming off the bench."
The victory improved Sandercock's record to 26-3 on the season, and it came on a night when she scattered six hits and only allowed one for extra bases — the solo homer by UGA second baseman Sydney Kuma. Everything else was a single, and Sandercock and reliever Ali Dubois proved to be unhittable when Georgia got a runner on base.
The Bulldogs, who boast one of the nation's top offenses, went 0-for-12 with runners on base, and 0-for-4 with runners in scoring position.
"I'm definitely a competitor, so I don't like giving up runs," Sandercock said of her mindset after the early home run. "My freshman year … really throughout my entire career, just working on not letting stuff like that get to me."
Florida State's offense, meanwhile, capitalized on opportunity after opportunity.
The Seminoles' four-run third inning materialized when four of the first five batters recorded hits off of UGA starter Madison Kerpics (19-7). Shortstop Josie Muffley started the rally with a single, then Kaley Mudge and Kalei Harding both doubled, and catcher Michaela Edenfield singled.
FSU extended its lead to 8-1 in the fifth off of three hits, three walks and an error.
"Georgia has a great defense and pitching staff as well," Mudge said. "So just being able to compete — postseason softball is so fun because it's everybody's best at every single pitch. I'm really excited for our hitters to make some adjustments and get after it tomorrow as well. It's definitely going to be a fight."
It was a very productive night for a Seminoles offense that scored just one run in two games last Sunday against South Carolina.
Mudge went 3-for-3 with 3 RBIs, Harding went 2-for-2 with a pair of doubles, and the Seminoles pounded out nine hits as a team. They also drew four walks while striking out twice.
It was a picture-perfect night for the Seminoles, who were playing before 2,002 fans — the third-largest crowd in school history. The atmosphere should be outstanding again on Friday night, but the 'Noles are expecting a greater challenge from the Bulldogs.
"Always nice to get the first win, but it's gonna be a fight here for the next two" Alameda said. "We know that there's a cool opportunity ahead of us, but we've got to stay grounded."
Talk about this story with other die-hard FSU football fans on the Tribal Council.