Arian Smith suffers leg injury, potentially ending 2021 season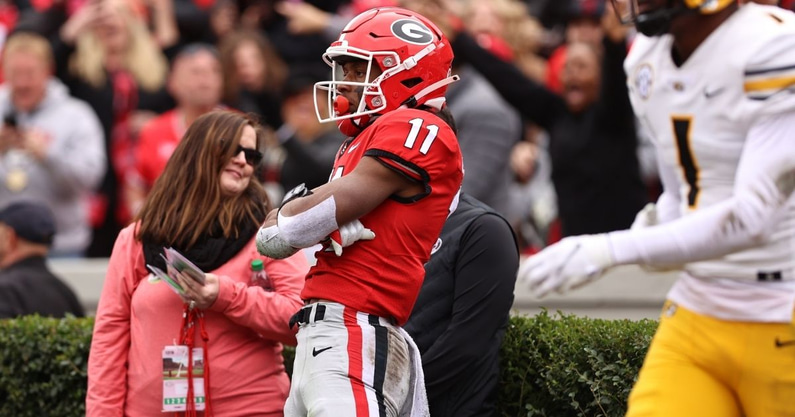 Georgia wide receiver Arian Smith suffered a broken leg Wednesday during the Bulldogs' practice ahead of this weekend's Tennessee game and is going to have surgery. According to sources with knowledge of the situation, the injury will potentially end his 2021 season.
Smith's injury would be the latest of the season-ending variety, joining Tate Ratledge (foot), Jalen Kimber (shoulder), Rian Davis (leg), Trezman Marshall (knee) and Tykee Smith (knee).
Injury History
It's been a rough go for Smith so far in Athens with injuries plaguing both of his first two seasons. The Bradley, Fla. native had surgery on his wrist during the summer before his freshman season. About a month later, he was under the knife once again, this time for a torn meniscus. That caused him to miss all but four games during his first season.
Then, this year, the injury bug has hit Smith once again. He injured his wrist once again during the Bulldogs' spring practice in 2021, was shut down during summer workouts, battled turf toe during fall camp all before missing a period of time during the season following a lower-leg contusion suffered in Week 2 against UAB.
Playing Production
Smith was back on the field and close to 100 percent for the first time since that shin injury this past weekend against Missouri. He hauled in one catch for 35-yards and a touchdown, getting Georgia on the board. He also took a handoff 15 yards in the 43-6 win over the Tigers.
All in all, playing in eight career contests, Smith has caught five passes for 188 yards and three touchdowns with an average reception of 37.6 yards. This season alone his three catches have gone for two touchdowns. Needless to say, Smith is capable of scoring almost any time he touches the ball.
Smith also runs track for the Bulldogs during the spring and earned All-SEC honors there. He finished 8th in the 100 meters (wind-aided 10.18) and ran leadoff on the 4×100-meter relay team, which set a school-record time of 39.02. The 4×100 team would later break that record, finishing second at the NCAA outdoor meet with a time of 38.54.
What It Means
Georgia being banged up at wide receiver has become a theme to the 2021 season. The Bulldogs saw George Pickens go down with a torn ACL in the spring, and Dominick Blaylock has yet to return from a pair of ACL injuries, among other lesser setbacks, he has suffered since the last time he took the field. Meanwhile, other wide receivers including Jermaine Burton, Marcus Rosmey-Jacksaint and Justin Robinson have all been forced to miss at least one game this season due to injury. Arik Gilbert, who Georgia added in the transfer portal during the offseason, has been away from the team since near the start of fall camp.
"I thought this game was the closest," Georgia head coach Kirby Smart said earlier this week when asked about his wide receiver room's health and how close they were to full strength. "With Arian we had a full week. we met on Monday and said you're getting the full quota, you gotta go. Get your reps to be able to play. We said to Jermaine, hey you getting your full reps. Coming off of Florida, I feel like they were both healthy but they weren't healthy for the full week of practice. I feel like they were both healthy for this week of practice, which helped us from a depth standpoint."
Georgia travels to Knoxville this weekend to take on Tennessee, looking to wrap up SEC play undefeated. Kickoff time between the Bulldogs and Volunteers is set for 3:30 p.m. ET on CBS.
Are you subscribed?
Ready to get all your latest Georgia football news in one place? Become a member of DawgsHQ today. With your DawgsHQ/On3+ membership, you'll not only have access to the goings on in Athens, but you'll be able to peruse other fan sites within the network to hear just how rivals are feeling about the Dawgs, as well. Make sure to follow along on Twitter (@DawgsHQ), on Facebook, and on YouTube for all the Dawg news you need now!