Georgia working to better utilize Branson Robinson's skillset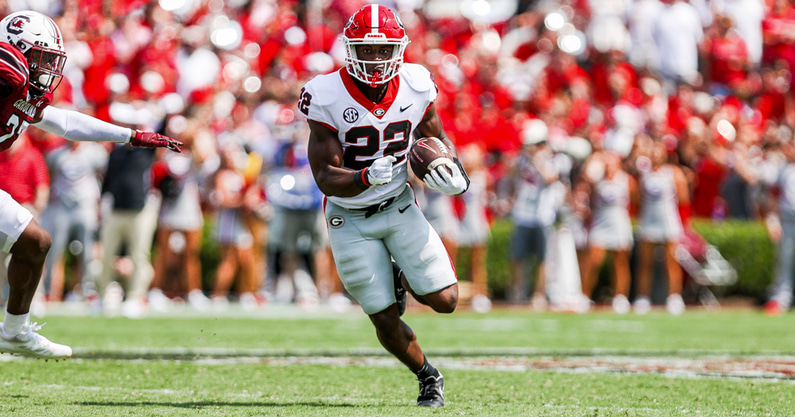 Georgia's run game, at least as it relates to the tailbacks, hasn't yet hit its stride in 2022. We've seen glimpses from a couple of ball carriers, but no one has taken the bull by the horns and Branson Robinson out of the picture.
Robinson is behind Kenny McIntosh, Kendall Milton and Daijun Edwards. Each of those Bulldog tailbacks are getting carries ahead of the bruising true freshman. Kirby Smart indicated on Monday that he doesn't feel like that has to be the case for the entire season.
"…Branson, we've got to keep trying to bring him along and get him ready because he's got a physical skill set that we need," Smart said of his freshman tailback.
That skillset Smart speaks of is an impressive combination of power and speed. At 5-foot-10 220-pounds, Branson Robinson is the type of back who can pick up the touch yardage, power through tackles, and gobble up a lot of yardage once he reaches the open field.
So far he has only had a chance to show glimpses of that ability. Branson Robinson has appeared in each of Georgia's four games this season, primarily in mop-up duty with teams knowing that the Bulldogs are trying to run the football. Robinson has 15 carries for 67 yards, displaying some quickness and burst.
As a prospect, Robinson was highly-regarded. He finished the 2022 recruiting cycle ranked as the nation's No. 73 overall prospect and No. 2 running back per the On3 Consensus. He was also the top player in Mississippi.
We've also seen flashes from Georgia's other three tailbacks. McIntosh was Georgia's leading receiver through the first two weeks and posted over 100 receiving yards against Oregon. Milton was Georgia's leading rusher in each of the first two games, posting 135 yards and a touchdown on just 18 carries. Edwards burst onto the scene in UGA's 39-22 win over Kent State with 12 carries for 73 yards.
So what is it keeping Branson Robinson from breaking into a rotation that the Bulldogs have allowed to run four deep in the past? Smart was specifically asked if it was Robinson's ability to pass protect on Monday, but that's not it.
"It's not that. It's the barriers of the three guys in front of him that have a lot of playing experience, have a lot of availability, understand things," Smart said. "I mean, I think we do a good job of putting the best players on the field. And as he continues to grow and get better and understand things, then he gets more opportunities. You earn that by what you do in practice. And the biggest thing Branson has jumped up in is special teams. He's taken on a more serious role in regards to those and continuing to get better as a back."