Daylen Everette a snap away from playing major role for Georgia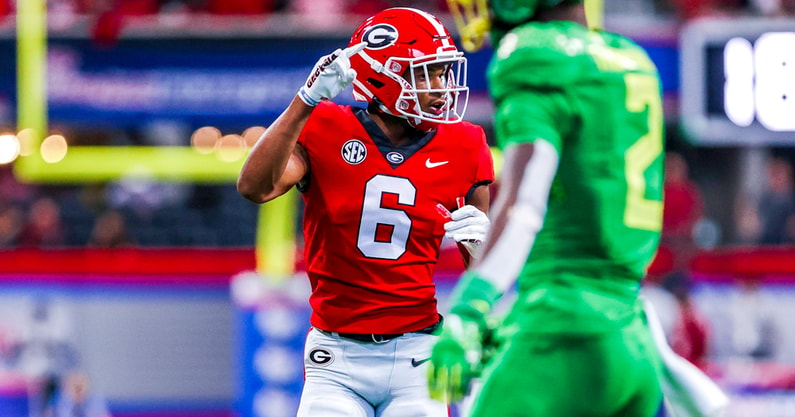 If you've ever heard a coach or player say "stay ready so you don't have to get ready," they're talking about a guy like Georgia cornerback Daylen Everette. Just one year ago the true freshman was just a few games into his senior season of high school ball and now he's one injury away from becoming a starter.
Daylen Everette wasn't mentioned much this spring and summer when it came to the starting cornerback spot opposite of preseason All-American Kelee Ringo. Kamari Lassiter won the job and Nyland Green appeared to be his primary competition.
Green is currently battling a hamstring injury and Smart listed him as doubtful earlier this week. William Poole, who has primarily played STAR but has worked at cornerback, was missing in action last week. That pushes the inexperienced Everette into a next-man-up role.
"Daylen has done a good job," Smart said of the talented freshman. "He needs to play. He is a talented young man. He's a really good corner because he's physical and a great tackler. He really just needs experience. He hasn't gotten much."
When the 2022 recruiting class was finalized, Everette was on the cusp of five-star status according to the On3 consensus. He finished the cycle ranked as the nation's No. 33 overall player and No. 5 cornerback. He was also the No. 7 prospect in Florida.
He enrolled at Georgia in January, allowing him to go through spring drills with the team. Everette's spring mirrored the experiences of most true freshman. There was a lot to learn and not much time to learn it.
Speedy UGA wideout Arian Smith beat Everette for a long gain in the spring game, but he was impressive otherwise. He put that play behind him and finished the G-Day contest with an overall strong performance.
After that game, Smart spoke about the lack of depth in the defensive backfield and how he needed some players to step up and get ready to contribute. He also pointed to how Everette had approached things the right way from the start of spring drills.
"The thing about Daylen Everette, we learned in the spring he can tackle you," Smart said back in April. "He's not afraid of contact.  He's going to be a good football player.  We've got to get better in the secondary to go where we're going to go, and we've got some guys coming, but we've got to get the guys that are here to go to here, and that's our job as coaches." 
Georgia hasn't yet been tested at the cornerback position through two games. Oregon's passing attack never really got going. The Bulldogs made the Ducks one dimensional with haste by scoring touchdowns on their first seven drives. Samford struggled to move the ball at all, gaining just three first downs all game. South Carolina might present a different challenge on Saturday in UGA's SEC opener. Kickoff is set for 12 p.m. ET on ESPN.