Future of Georgia Baseball to be discussion for Josh Brooks, Scott Stricklin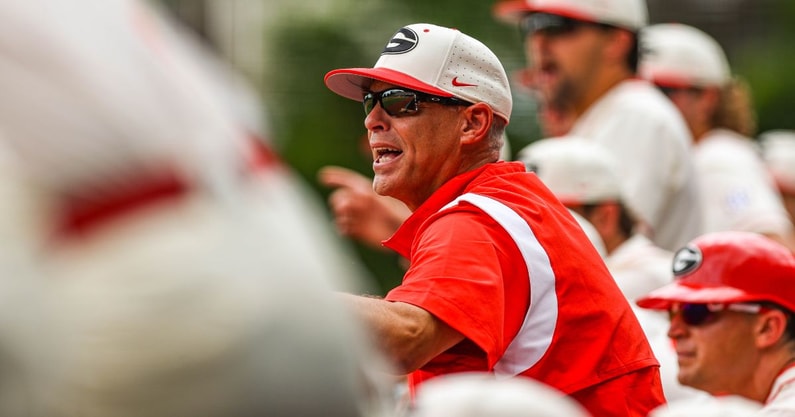 GREENSBORO, Ga. — Georgia baseball season came to a close on Tuesday with the Bulldogs being bounced in the first round of the SEC Baseball Tournament in Hoover. It ended what head coach Scott Stricklin could only describe as a "disappointing year" that came up short of expectations.
With 19 of 21 teams throughout the athletics program qualifying for postseason play – baseball being one that did not – athletics director Josh Brooks has high expectations for coaches. He plans to meet with Stricklin in the coming days to discuss the direction of the program as a result.
"I have not had a chance to meet yet with Scott. These last few days have been very busy. I look forward to meeting with him soon and talking about the direction of our program," Brooks said.
"Look this is not the standard that coach wants, and I guarantee you that there's no one more disappointed than Coach Stricklin in the season," he continued. "We want to be in regionals and moving on. And it's been a tough year. There's been a lot of injuries. I am proud of the way they fought through and won some series late. Had a rough start, 1-9 early, then made a run. Great series against Arkansas. Great series against Tennessee. Then getting one against LSU. But there is a standard that we want to achieve to be to, that ties into our goal of being successful in every single season we have."
Brooks will be headed down to Destin next week for SEC Spring Meetings. He plans to meet with Stricklin being leaving town.
Brooks also discussed plans for renovations to Foley Field that are set to get underway this summer. The Georgia Board of Regents approved $45 million of funding in April to make improvements to the on-campus baseball facility. Plans include a 41,000-square-foot addition along the third base line with improved batting cages, a pitching lab, players lounge, coaches offices and other amenities. The team's existing locker room will also be renovated, and about 230 seats, and a new entry gate on Rutherford Street, will be added to the stadium that's housed the team since 1966.
"When we started this it was going to focus on student-athlete amenities first and foremost. So we're talking about the locker room, the lounge, the hitting facility, the lab, the areas that they spend 365 in. We know when this project is done it still won't be as big as Mississippi State or some other facilities that have larger capacities. And we may grow one day to larger points. But our first focus has to be on student-athlete amenities," Brooks said. "So when they're recruiting they can see where they're going to spend their time. And I think when this project is complete it will be in line with all of our peers in terms of the student-athlete's basis. And look if the project goes well and we manage the budget correctly, there may even be some other opportunities in right left and left field to keep providing dynamic opportunities for our fans. Because you know I'm always trying to improve the fan experience as well."
Georgia's 2023 season and Stricklin's time in Athens
Georgia finished this season with a 29-27 record overall and an 11-19 mark in the SEC. It's Georgia's fewest wins in a season since 2017 when the Bulldogs finished below .500 but with the same record in SEC play. The last time UGA finished with fewer wins in the league was in 2015.
Stricklin took over in 2014 after he led his alma mater Kent State to five NCAA Regionals and the 2012 College World Series. He led Georgia back to the SEC Tournament for the first time since 2012 that year. They did so again in 2016 and 2017. However, finishing below .500 in each of his first four years, Stricklin's time at Georgia didn't get off to too hot of a start.
Things changed in 2018. Georgia returned to prominence as a regular in the top 25. The Bulldogs earned a top eight national seed in the NCAA Tournament and hosted an NCAA Regional in Athens for the first time in a decade. Picked to finish fifth in the league, Georgia went 39-21 with an 18-12 mark in the SEC, tied for second-best. Individual honors included three players earning All-American honors and four on the All-SEC squads.
Georgia continued its excellence into 2019 and 2020. Going 42-14 in 2019 with a school-record 21-9 record in the SEC, the Bulldogs once again earned a national seed and hosted a second straight NCAA Regional in Athens, the first time in school history Georgia served as a host site in consecutive seasons. It was also just the third time in program history Georgia made back to back NCAA Tournament appearances.
Georgia finished the 2019 campaign with a 46-17 record, fourth-most wins in school history while the 42 regular season victories was second-most. Junior third baseman/closer Aaron Schunk was named the recipient of the John Olerud Award for the nation's top two-way player while junior shortstop Cam Shepherd was named a Gold Glover. Schunk and pitcher Emerson Hancock were consensus All-American selections.
Then, in 2020, Georgia got off to a hot start before COVID shut the season down. The Bulldogs were 14-4 and ranked No. 2 in the country having started 7-0 and swept rival Georgia Tech for the third time in four seasons. Shortened to five five rounds, Georgia had two players picked in the 2020 MLB Draft.
Georgia missed the NCAA Tournament in 2021 despite spending 11 weeks in the top 25 and reaching as high as No. 5 before several injuries set the team back. The Bulldogs did manage to win a road series over top-ranked Vanderbilt and take one from LSU in the SEC Tournament. Connor Tate, Corey Collins and Jaden Woods all earned individual honors such as ABCA/Rawlings All-Region, Freshman All-SEC and Freshman All-American.
Georgia returned to the NCAA Tournament in 2022, going 36-23 overall and 15-15 in the SEC before having to go on the road this time to Chapel Hill, N.C. Again, Bulldogs including Jonathan Cannon and Jack Gowen took home national individual honors.
As for those honors this season, Charlie Condon was named a semifinalist for the Golden Spikes Award, given to the top amateur baseball player in the country. Condon, who won the team's triple crown for batting average, home runs and RBI, hit an SEC freshman record 25 home runs to top the previous mark that stood for over a decade of Vanderbilt's Pedro Alvarez, eventually drafted No. 2 overall by the Pittsburgh Pirates. Condon was named SEC Freshman of the Year while catcher Fernando Gonzalez earned a spot on the All-Defensive Team.
Under Stricklin's watch, 38 players have been picked including 16 in the top 10 rounds. Pitchers Emerson Hancock (2020) and Robert Tyler (2016) were first round picks while other notable selections have included Aaron Schunk (second round, 2019), Cole Wilcox (third round, 2020) and MLB All-Star Jared Walsh (second round, 2015).
Stricklin agreed to a contract extension through the 2026 season in April of 2021. According to a report released on Tuesday by the USA TODAY Sports Network, Stricklin made $655,000 in 2023, the 10th highest salary out of 14 in the SEC with nine above the $1 million mark.