Georgia DB Tykee Smith out for season after tearing ACL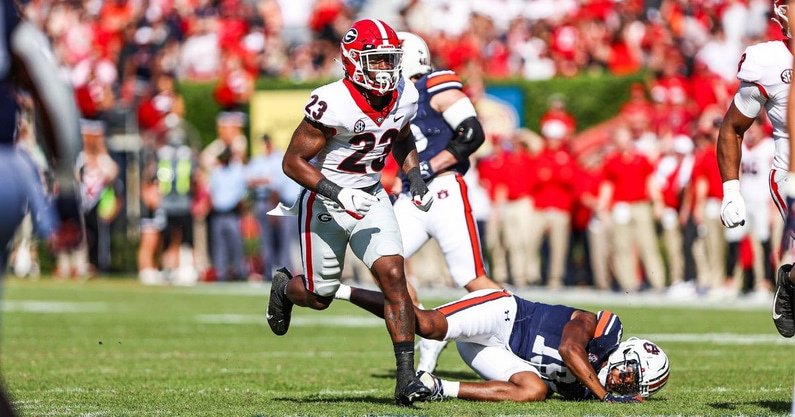 Georgia's secondary is going to be down yet another healthy body for the rest of the season. Sources have confirmed to DawgsHQ that junior defensive back Tykee Smith tore his ACL in practice this week. The injury will, of course, require surgery.
Second injury of the year for Smith
This isn't the first time that the West Virginia transfer has dealt with injury during his brief time on campus in Athens. During preseason practice, Smith suffered a foot injury. That injury kept him out of the first five games of the season. 
He made his Bulldog debut this past weekend against Auburn, appearing on kickoff coverage and just once on defense. When Lewis Cine was forced to exit the game for a play, Georgia's starter at STAR, Latavious Brini, bumped over to safety alongside Dan Jackson, allowing Smith to enter at STAR.
"Well he's a STAR that we rep at safety when we go regular and there's no nickel on the field, so he knows some of the safety stuff," Georgia head coach Kirby Smart said about Smith earlier this week. "But it wouldn't be fair to say coming off injury 'You'll learn this new position.' Brini is cross-trained and Brini works at safety, so both Brini and (Javon) Bullard give us flexibility because we think Javon Bullard is a really good football player, and he's growing up day by day.
"He was playing a good bit, and we're going to be able to work Brini and Bullard both at safety with Tykee (Smith) repping and starting as well. But that doesn't mean that Tykee's going to be the only STAR, because right now Dan (Jackson) is playing safety. So we have to cross-train. We got four safeties who we feel like can go in the game and play, and we feel like we got two or three STAR."
Smith's Success
Prior to his arrival in Athens, Smith was expected to be a major contributor for the Bulldogs. In two seasons at West Virginia, the Philadelphia, Pa. native earned All-American honors both years. 
As a freshman, Smith was named to the Freshman All-American team by the Football Writers Association. He was also an All-Big 12 Honorable Mention. Smith finished his first season with 53 tackles, one sack and a forced fumble. He also intercepted two passes, one of which he returned for a touchdown. Additionally, he played in 12 games, starting eight.
Then, as a sophomore, Smith earned All-American status in some capacity from Pro Football Focus, the Football Writers Association, Sports News, Phil Steele, and Associated Press. As a semifinalist for the Paycom Jim Thorpe Award, Smith played in all 10 games for the Mountaineers, starting nine. He finished the season with 61 tackles. He once again intercepted two passes, tied for the team-high.
Another Beat Up Bulldog
This is the second season-ending injury suffered in the secondary for Georgia so far in 2021. Jalen Kimber, a redshirt freshman cornerback, suffered a shoulder injury that required surgery. Senior safety Christopher Smith is currently dealing with a shoulder injury. His status is questionable for this weekend's game against Kentucky.