Georgia, Florida announce extension to series in Jacksonville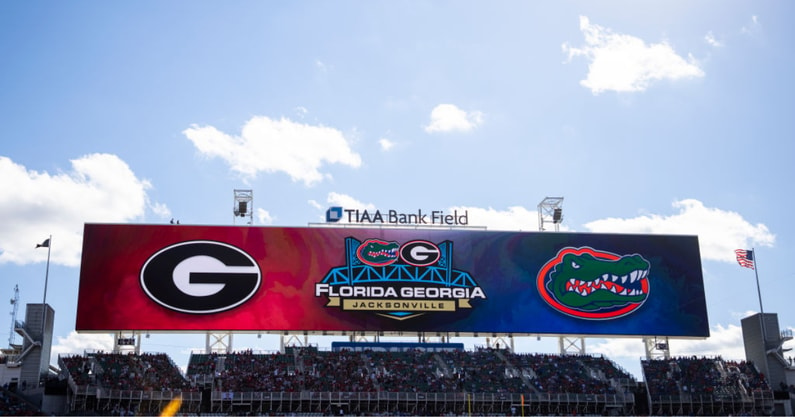 Word came down on Wednesday that Georgia and Florida have exercised the extension to continue playing their annual rivalry game in Jacksonville through the 2025 season. The most recent agreement, which kept the game in Duval County through 2023, gave the two schools until the end of June 2023 to decide on 2024 and 2025. The City of Jacksonville will be formally notified this week.
 "We are pleased with the decision to exercise the option that will keep the game in Jacksonville for 2024 and 2025," Georgia athletics director Josh Brooks shared in a statement.  "We look forward to discussions that I'm sure will continue over the next couple years exploring all the options for 2026 and beyond. We continue to be appreciative of the working relationship we have with the University of Florida and the City of Jacksonville." 
"The City of Jacksonville has been an historic host for one of the great rivalry games in all of college football," Florida A.D. Scott Stricklin added. "We are excited to have the game in Jacksonville for another two seasons."
Georgia-Florida, better known to many as The World's Largest Outdoor Cocktail Party, has been played in Jacksonville every year since 1933 with the exception of two. During the 1994 and 1995 seasons, the game was played on the school's two campuses as a result of construction to TIAA Bank Field.
Georgia and Florida will meet in Jacksonville on October 28th for this year's matchup. The Bulldogs hold an all-time series advantage of 55-44-2 over the Gators having played 101 times. Georgia won the 2022 matchup between the two teams 42-20 and holds a two-game winning streak having taken five of the last six in the series.
Uncertainty over 2025, 2026…
While the announcement of the extension is out there, reports surfaced earlier this month that the game may not be played in Jacksonville in 2025. That's because of potential renovations occurring to TIAA Bank Stadium during that football season.
According to Jacksonville mayor Lenny Curry, the "best-case" would be a project that only costs the city two years in the stadium. He added that the hope is for 2025 and 2026 football season to be the only affected. During those two years, The World's Largest Outdoor Cocktail Party would take place on campus with each school taking a turn to host a game.
"(The Jags) will have to play somewhere else," Curry said in an interview on 1010XL radio. "The goal would be to play somewhere in Jacksonville. Those discussions are happening, but two years is the goal. I do know that they are considering certain sites that are local that could accommodate them for at least two years."
It's the first time that any city official in Jacksonville has made mention of the $120 million renovation project putting TIAA Bank Field off limits to home games.
Opinions differ on the topic of continuing to play the contest at a neutral site after the current contract. Georgia head coach Kirby Smart has been a proponent of bringing it on campus for recruiting purposes.
"There's really quality benefits to both," Smart said this past October when asked about whether he would prefer playing the game in Jacksonville or on campus. "When it comes down to it, there's a very, very basic element of everything comes back to, number one money, and number two recruiting and getting good players. I firmly believe that we'll be able to sign better players by having it as a home-and-home because we'll have more opportunities to get them to campus. But, I also think there's a financial factor that factors into that, with having the game there, and being able to make more money for the university, possibly, there. You have to weigh both those and make really good decisions."
"It's really not a big debate for me. It's been made really big by the media because they've made it out to be a really big deal," he added. "I enjoy the pageantry of going down there and playing. I enjoyed playing there as a player, I enjoy tradition. I enjoy all those things. But, I promise you, I have not thought about that one second since the start of the season. And I'm not going to think about it for one second because I got to worry about coaching our team, and I'm not fighting the fight in the public forum. I'm not fighting the fight for anything. I'm worried about our team and us playing well and how we block and tackle of what plays we call it, how we play special teams. That's just not a priority for me, where that game is right now."
As for Georgia and Florida, the two schools released a joint statement on the future of the game in Jacksonville last October.
"The annual game between our two universities is an important tradition. At this time, both programs are focused on our current seasons," the statement read. "Typically both schools begin conversations regarding future games in the series as the last contracted game nears. We anticipate following that timeline. When those discussions take place, we will consider a multitude of factors including tradition, finances, future SEC scheduling models with the addition of Texas and Oklahoma, and what is best for both schools' football programs overall."