Kirby Smart weighs pros, cons of Georgia-Florida in Jacksonville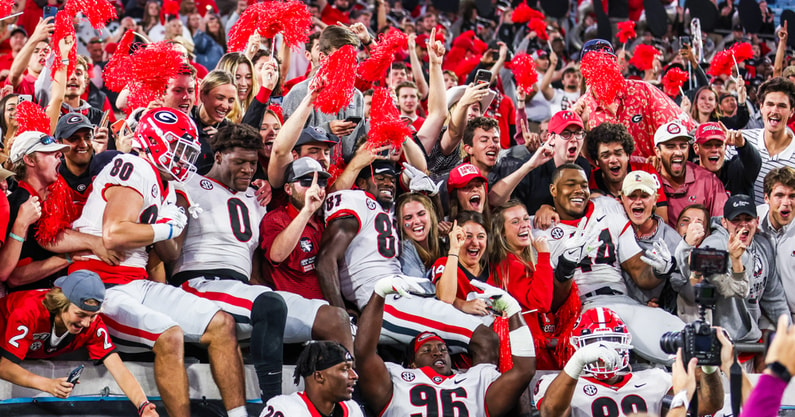 ATHENS, Ga. — The annual showdown between Georgia and Florida will be played in Jacksonville through the 2023 season. There's an option in place that could allow the game to stay on the banks of the St. John's River through 2025.
Kirby Smart has made a case for turning into a home-and-home game in the past. He has his reasons for that but with the two teams set to square off there in 11 days, Smart was again asked to share his thoughts on where that game is played.
"There's really quality benefits to both," Smart said on Tuesday. "You guys, I get it, you want to make a story. You need a story. Everybody wants to talk about it. It's really not a big debate for me. It's been made really big by the media because they've made it out to be a really big deal. I enjoy the pageantry of going down there and playing. I enjoyed it as a player. I enjoy tradition. I enjoy all those things.
When it comes down to it, the very very basic element of everything comes back to, number one, money, and number two, recruiting and getting good players. I firmly believe that we'll be able to sign better players by having home and home because we'll have more opportunities to get them to campus. But I also think there's a financial factor that factors into that with having the game there and being able to make more money for the university possibly there. So you have to weigh both of those and make really good decisions."
Georgia and Florida have done battle in Jacksonville since 1933 except for a two-year pause in 1994 and 1995. They went to a home-and-home for those two years due to stadium construction in Jacksonville.
Despite Jacksonville being a much shorter trip for the Gators, Georgia has had plenty of success in Jacksonville. The Bulldogs have won 45 of the 87 meetings played there. There has been one tie in Jacksonville and Florida has won 41 times.
The financials Smart mentioned are hard to ignore. The Bulldogs and Gators split the ticket revenue and they are guaranteed at least $1.25 million in 2022 and 2023. If the option is picked up for the following two years, then each team will be guaranteed $1.5 million. The city of Jacksonville also foots the bill for travel. Georgia gets $350,000 to charter a plane plus $60,000 in travel expenses.
But both Georgia and Florida do lose a recruiting weekend every other year and it's a recruiting weekend that could be quite fruitful. It's a high profile matchup regardless of the ranking each team carries into the game.
Georgia is doing what it can to get some recruiting value out of the neutral site game this season. It is opting to leave tickets for recruits who want to visit and watch the game, but the Bulldog coaching staff and players can't have contact with the prospects who attend.
One thing is certain. The debate on whether to stick with tradition or move to a home-and-home will rage on. But Smart says that it hasn't been on his mind and won't be for awhile.
"But I promise you I have not thought about that one second since the start of the season and I'm not going to think about it for one second because I've got to worry about coaching our team," Smart said. "I'm not fighting the fight in the public forum. I'm not fighting the fight for anything. I'm worried about our team and us playing well and how we block and tackle and what plays we call and how we play special teams. That's just not a priority for me where that game is right now."