Georgia freshman Nyland Green arrested on felony charges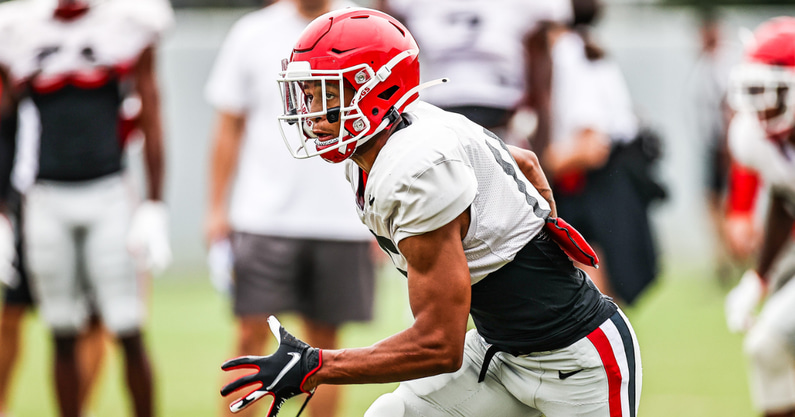 Georgia freshman cornerback Nyland Green was arrested on three felony counts on early Wednesday morning.
Charges included two counts of possessing a weapon in a school safety zone.
Green was booked into the Athens-Clarke County Jail at 2:49 AM on Wednesday morning.
Anthony Dasher of UGASports.com was the first to report.
Other counts include second-degree criminal damage to property, a felony, as well as two misdemeanor counts of reckless conduct.
According to the jail website, he has not been granted bond as of this writing.
Green has appeared in three contests for the Bulldogs this fall, featuring in contests versus UAB, Vanderbilt, and Charleston Southern.
He has posted two tackles on the season, a solo and an assist, both coming against UAB.

Green was ranked as a five-star prospect and No. 17 overall player in the Class of 2021, according to the 2021 On300, and was an industry consensus four-star, ranking as the No. 50 player overall.
A similar situation for the Dawgs
If Green's charges feel familiar, it's because the Dawgs have dealt with something similar during Kirby Smart's tenure.
Defensive tackle Julian Rochester and cornerback Chad Clay found themselves dealing with similar possession charges in 2017.
Those counts stemmed from an incident involving a BB gun on campus.
Per Marc Weiszer of the Athens Banner-Herald, Rochester entered a 12-month pre-trial diversion program, which resulted in charges being dropped.
Weiszer also reported that Rochester was to complete community service and avoid another arrest to complete the program.
Nyland Green not the first legal trouble in 2021
Georgia has already dealt with another situation regarding a player and police this season, as outside linebacker Adam Anderson was arrested over two weeks for rape charges.
Anderson has since been granted bond, though he is not expected to return to the team in 2021.
"We are aware of the report and we don't comment on law enforcement matters, but I've been clear about the high standards we have for our student-athletes on and off the field," Smart said after the news first broke. "I will be working closely with our administration to ensure we cooperate fully with all law enforcement and campus protocols."
Asked about Anderson following Georgia's contest with Missouri, Smart was quick to point to protocol.
"With it being an ongoing legal situation matter, I can't talk about it and I can't comment on it," Smart said. "I will tell you we are cooperating fully with all the law enforcement and campus organizations. That's all I can say about it. If you want to ask, I'm going to have to stick to that statement."
Are You Subscribed?
Ready to get all your latest Georgia football news in one place? Become a member of DawgsHQ today. With your DawgsHQ/On3+ membership, you'll not only have access to the goings on in Athens, but you'll be able to peruse other fan sites within the network to hear just how rivals are feeling about the Dawgs, as well. Make sure to follow along on Twitter (@DawgsHQ), on Facebook, and on YouTube for all the Dawg news you need now!