Georgia lands commitment from On3's top tight end Jaden Reddell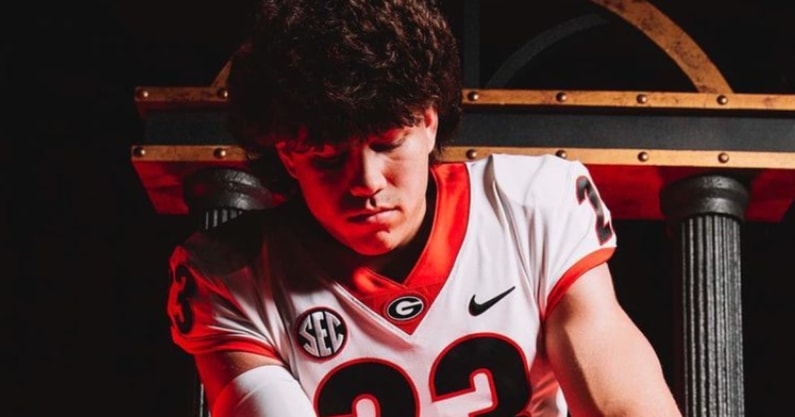 The Georgia Bulldogs are back on the board for the Class of 2024, with Jaden Reddell, the top-rated tight end in the On300, announcing his pledge to the Bulldogs today via social media.
A 6-foot-4, 230-pound prospect from Raymore, Missouri's Raymore-Peculiar High School, Reddell ranks as the No. 22 overall prospect in the On300.
He is the second commitment at the tight end position, joining Cardinal Gibbons three-star Colton Heinrich.
The Bulldogs were considered a heavy favorite for his services per the On3 Recruiting Prediction Machine, and he chose them over Alabama, Tennessee, Missouri, and Notre Dame among others.
It was what the Dawgs have done with his position that drew his attention most intensely, however.
"Georgia's production at tight end really stands out," Reddell told On3's Chad Simmons recently. "That and my relationship with Todd Hartley are big. Then Georgia is back-to-back national champions. The way they are winning is something I look at, too."
Reddell was in Athens for the scavenger hunt weekend recently, but it was a trip in March that gave him a deeper insight into what the Dawgs had to offer.
"I was able to watch practice and I loved the intensity they had. The speed they with at practice was great to see. Georgia goes high-intensity, high-tempo and they waste no time," he told Simmons following his first visit to Athens in March. "Coaches coach hard, players play hard and everyone gets reps. They were physical, fast and everything was all happening fast. It was great to see."
He is Georgia's sixteenth commit in the Class of 2024.
On3 Scouting Report on Jaden Reddell
"Gifted pass-catcher with wide receiver skills and athleticism in a tight end's body. Measured at around 6-foot-4, 230 pounds in the spring prior to his senior season. Has plus length and a big frame with 34-inch arms and 10-inch hands. Highly proficient as a receiving threat. Has some of the best ball skills in the 2024 cycle, regardless of position. Naturally plucks the ball out of the air and effortlessly tracks the ball over his shoulder, making difficult grabs look routine. Uses his strong hands, coordination and understanding of body positioning to consistently come down with contested catches in jump ball situations. Runs very well and has a unique long stride that aids in pulling away once in the open field. Can be a bully after the catch, using a stiff arm to neutralize defenders. Very productive as a junior, catching 49 passes for 1,002 yards and 12 touchdowns in 10 games. Primarily lines up as a wide receiver for his high school team. Will need to develop as a blocker in order to be an every down tight end as he moves up in level of play. Has also played basketball, showing some athleticism on the hardwood." – Charles Power, On3 Director of Scouting and Rankings