Josh Brooks expounds upon new Georgia-Florida agreement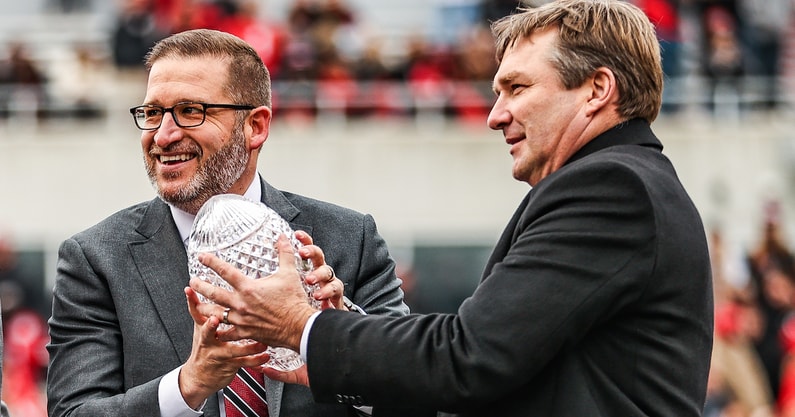 GREENSBORO, Ga. — Georgia and Florida agreed to an extension of their current contract with the City of Jacksonville on Wednesday, keeping the annual rivalry matchup between the Bulldogs and Gators in Duval County for another two years. Set to play there this season, the extension also adds in 2024 and 2025 to the deal.
"The first factor to that is it's a great financial situation for both schools," Georgia athletics director Josh Brooks told reporters on Thursday at the UGA Athletic Association Board of Directors meeting. "It also doesn't get reported enough but the City of Jacksonville is subsidizing this game. When you look at what they give to each school before a ticket is sold, it allows us to keep those tickets at a very fair price, probably the most inexpensive neutral site game of this magnitude by far. I think that's a big part of it, the way they operate and it's been great."
Georgia-Florida, better known to many as The World's Largest Outdoor Cocktail Party, has been played in Jacksonville every year since 1933 with the exception of two. During the 1994 and 1995 seasons, the game was played on the school's two campuses as a result of construction to TIAA Bank Field.
Reports surfaced earlier this month however that the game may not be able to be played in Jacksonville in the near future. That's because of renovation plans to TIAA Bank Stadium.
According to Jacksonville mayor Lenny Curry, the "best-case" would be a project that only costs the city two years in the stadium. He added that the hope is for 2025 and 2026 football season to be the only affected. Others have pointed to the renovations not starting until a point that would affect the 2026 and 2027 seasons after the current contract is up. Whenever they are, the expectation from the City of Jacksonville would be that the game would take place on the schools' campuses. The schools on the other hand seem open to other ideas.
"Moving forward, we're going to look at every option: different neutral sites, home and home," Brooks said. "We'll lay it all out there and evaluate. We have time to do that because that won't be until 2026 and 2027. I'm excited to look into what the possibilities are there and go from there."
Even with the extension in place, opinions differ on the topic of continuing to play the contest at a neutral site after the current contract. Georgia head coach Kirby Smart has been a proponent of bringing it on campus for recruiting purposes.
"There's really quality benefits to both," Smart said this past October when asked about whether he would prefer playing the game in Jacksonville or on campus. "When it comes down to it, there's a very, very basic element of everything comes back to, number one money, and number two recruiting and getting good players. I firmly believe that we'll be able to sign better players by having it as a home-and-home because we'll have more opportunities to get them to campus. But, I also think there's a financial factor that factors into that, with having the game there, and being able to make more money for the university, possibly, there. You have to weigh both those and make really good decisions."
"It's really not a big debate for me. It's been made really big by the media because they've made it out to be a really big deal," he added. "I enjoy the pageantry of going down there and playing. I enjoyed playing there as a player, I enjoy tradition. I enjoy all those things. But, I promise you, I have not thought about that one second since the start of the season. And I'm not going to think about it for one second because I got to worry about coaching our team, and I'm not fighting the fight in the public forum. I'm not fighting the fight for anything. I'm worried about our team and us playing well and how we block and tackle of what plays we call it, how we play special teams. That's just not a priority for me, where that game is right now."
As for the schools themselves, Georgia and Florida released a joint statement on the future of the game in Jacksonville last October.
"The annual game between our two universities is an important tradition. At this time, both programs are focused on our current seasons," the statement read. "Typically both schools begin conversations regarding future games in the series as the last contracted game nears. We anticipate following that timeline. When those discussions take place, we will consider a multitude of factors including tradition, finances, future SEC scheduling models with the addition of Texas and Oklahoma, and what is best for both schools' football programs overall."