Kirby Smart: Recruits who won state championships bring 'great value'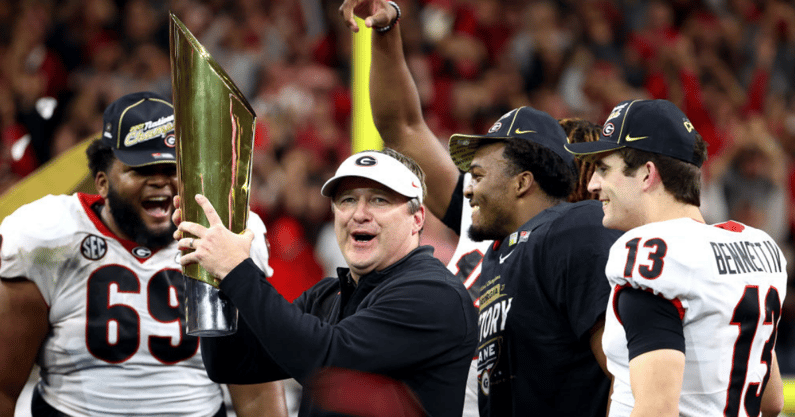 Kirby Smart's recruits that capped off the 2022 signing class bring some extra glow to Athens.
Not only do they join the defending National Champions, most of them won State Championships at the high school level as well. Obviously there are different state and classifications at play here.
There's no comparing a high school State Championship to a Natty. Kirby does think it's worth more than nothing, though.
He made a point to highlight how important it is for the Dawgs to recruit championship-caliber players in each class.
Kirby Smart's recruits in late '22 period got a shout-out on Signing Day
When speaking about late surprise running back addition Andrew Paul, Smart highlighted his accomplishments, and his fellow signees'.
"We think he's a really good football player with great academics. He won a state championship in high school," Smart said.

"If you look at these guys who joined us today, almost every one of them won a state championship in high school which is another indicator of success, and winning coming from good teams, which is great value for us."
Smart referred specifically to Paul (Parish Episcopal in Dallas) and Dillon Bell (The Kinkaid School in Houston), both state champions out of Texas – and Georgia's E.J. Lightsey (Fitzgerald) and Christen Miller (Cedar Grove).
A Texas State Championship football player is obviously a huge deal
Kirby Smart didn't hide his appreciation for the Lone Star State.
"Anytime you go across the state of Texas, there's a ton of really good football players – there's really good high school football in Texas. Dell (McGee) reached out to me and sent me (Paul's) Hudl link." Smart said.
"I got to watch him and I really liked him."
Smart also likes what Bell brings to the wide receiver position.
"(Bell) is a tremendous young man so when start to look for size and speed on the perimeter, he has really good size, he has really good speed. That was something that fired us up."
As for the other State Champs in Georgia…
E.J. Lightsey's Fitzgerald Purple Hurricanes snapped a streak of their own, with their first state title since 1948.
And y'all thought 1980 was tough.
"(Lightsey) did a great job at our camp, and is not afraid to work in this day and age of speed and space play, covering people. He's a tremendous athlete."
Christen Miller also closed out his high school career with a State Championship at Cedar Grove. Head coach John Adams told me that Miller's own character and leadership were huge parts of what made that state title possible.
"He just motivates himself. He wants to be the best," Adams said.
"And also with leadership, leadership on and off the field, he has the whole package. He has some God-given talent, and I think he's going to be a special player at the next level."
Smart's evaluation checks the same boxes.
"He's one of the most impressive kids in terms of leadership, that I've seen at this age. He willed and pushed that Cedar Grove team to success," Smart said.

"I value that. I value that seeing the kids leaving here that were just in the last class. I'm excited about what he can do."