Georgia Football: Kirby Smart shares on freshmen defensive backs, their development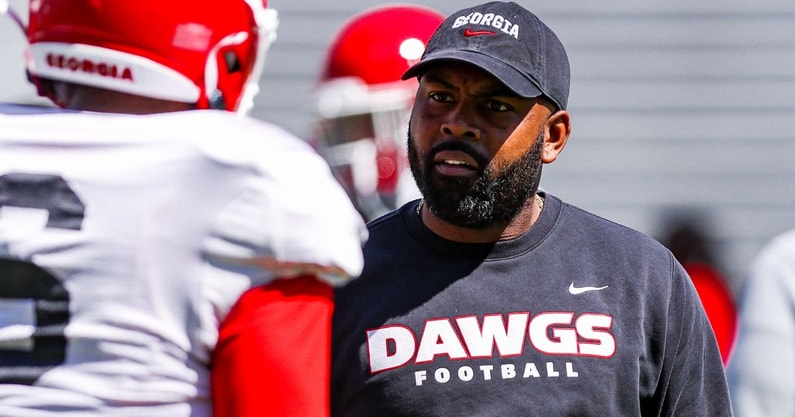 Like many positions, especially on defense, Georgia has a lot of production to replace in the secondary. Lewis Cine was a first round pick from the safety spot. Derion Kendrick got drafted later. And then guys left via the transfer portal too. That's why the secondary – both cornerback and safety – was such a big priority for the Bulldogs in the Class of 2022, signing six defensive backs, four of whom ranked in the top 100 in the class and another that was among the top prospects in the Class of 2023 before reclassifying.
Now that the recruiting process is over, it's time for the young defensive backs to make an impact. Georgia head coach Kirby Smart noted that it's not the best strategy to rely upon them early in their career, saying "You show me a freshman DB that played in the SEC, I'l show you a guy that gave up plays." Still, the former defensive back himself knows how important those same youngsters can be the success of his team throughout the season.
"I'm excited. I feel like most of them are not really freshmen. I guess a couple of them were with us in spring. So the two safeties, Malaki (Starks) and JaCorey (Thomas), got a lot of work, a lot of work in the spring. And they still got a long way to go to be a viable option to play this year," Smart said. "I mean, you show me a freshman DB that played in the SEC, I'll show you a guy that gave up plays. All right? That's the common denominator. Now, every now and then you have a guy that comes long who's just — I think of a couple of those guys (naming LSU star Derek Stingley and his special 2019 season) that had to play as freshman, they played really big. It happens from time to time. And if you're going to have a guy be an elite player as a freshman, it's usually at a skilled position like receiver, running back, or defensive back. I don't foresee one of those guys just coming in and dominating."
"A lot of the accolades that come with them, they dropped them at the door. And they go to sweating and they go to work," he continued. "We're not going to live off high-rankings and what people said about them, because there's a lot of good football players out there that you guys didn't rank high or did have high. So it goes both ways. We will need those guys to be core special teams players. We will need those guys to be ready to play in the case of, you know, injuries, targetings or whatever may be there. But we've got to get them ready by how we prepare in this training camp. And I'm excited about all those guys."
Malaki Starks was Georgia's second-highest rated signee, and he, along with JaCorey Thomas, enrolled early this spring to get his feet wet. That's helping both of them be factors at the safety position already. Starks was the No. 1 safety and the No. 9 player overall in the Class of 2022.
Daylen Everette, another highly touted recruit, also enrolled early, giving up a leg up on any competition that there is for playing time at cornerback. Everette was the No. 5 cornerback in the Class of 2022, just behind fellow signee Jaheim Singletary, who arrived on campus this summer alongside Julian Humphrey and Marcus Washington. Singletary, like Starks, was a five-star in the secondary at the No. 26 player overall while Humphrey cracked the top 10 at the position and top 100 overall. Smart has spoken about them individually at times, but more often than not kept it to the group as a whole, not wanting to keep everybody grounded and ready to work.
"I don't think you actually ever know what you have. You certainly feel great about them, but to tab anybody the next guy or the first guy to start, it's hard," Smart said back in December when five of the six signed with Georgia. "The length and the speed is what stood out the most. We missed some size in recent years. We like to have length; we like to have toughness. I like intelligence; I like ball skills. I think a lot of these qualities and traits show up. Your ability to play man-to-man—more in college football now than ever before, if you have a liability in coverage, it's easier to find it. It used to be we were all up in a little phone booth, now we're all out here, so your mistakes or your guys who can't cover, it's almost out of control. They spot it and they get you. I think this group, number one, has speed, they have man-to-man cover ability and they're going to help us."
Georgia's freshmen defensive backs will get their first taste of a fall camp scrimmage this weekend as the Bulldogs take the field at Sanford Stadium on Saturday.