Kirby Smart 'T-E-A-M' clip from 2019 making the rounds and firing up fans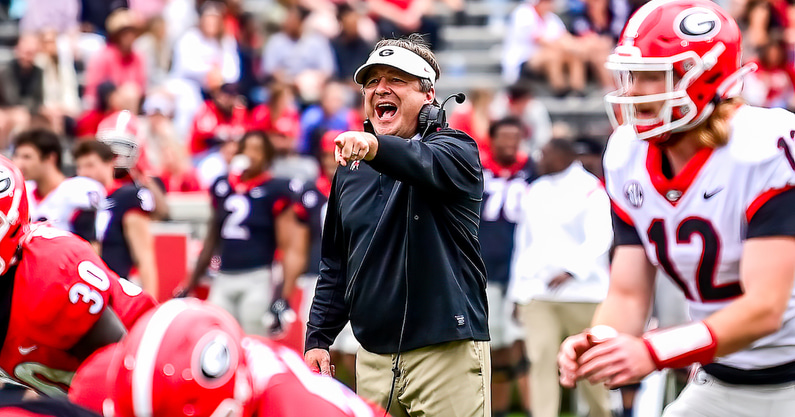 Kirby Smart made a trip to the Macon Touchdown Club in 2019 for its annual Spring Jamboree event. It's a large fundraiser that simultaneously benefits players in the community, and helps secure a massive guest each year.
Kirby Smart's made it a few times to taste the most legendary pork chops in Macon.
I used to work down there in local TV news. Man, do I miss that fried, golden brown chunk of sodium with a few pieces of spring mix lettuce on the side to make it "healthy."
A tradition unlike any other.
If you've been to your own community's version of a Touchdown Club or a Quarterback Club, you know exactly what I mean.
At 2019's version of this pigskin pilgrimage, Kirby Smart shared some insight into his passion for coaching. And it's going viral three years later thanks to this social media post from 'The Coaches' Journal.'
Kirby Smart had a future player and first-overall NFL Draft pick sitting on the stage with him
Upson-Lee senior and 2019 Macon Touchdown Club player of the year Travon Walker just so happened to be in one of the seats of honor for Kirby Smart's 'T-E-A-M' wisdom.
Walker had already committed to play for Georgia by this point, so Smart didn't necessarily need it to be a selling point for Walker's commitment.
Still, there's a chance it gave his future defensive lineman a taste of what to expect on a Kirby Smart-coached team. Georgia had just lost back-to-back SEC Championship games to Alabama and to LSU.
Maintaining an edge of positive coaching represented an evolution in Smart's coaching philosophy beyond just physical and mental domination.
It's part of the secret sauce – that isn't really secret anymore – that makes Georgia more than just a flash in the pan National Champion.
Kirby Smart's Dawgs are built from the inside out. Mentally, emotionally, physically and relationally.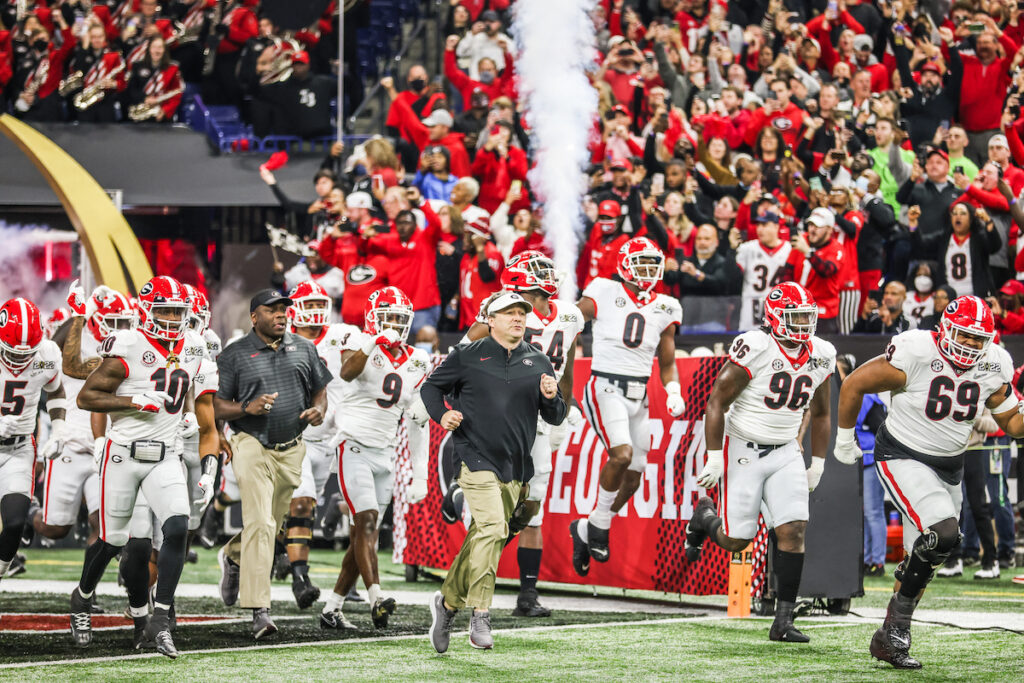 Does your blood run Red and Black?
Ready to get all your latest Georgia recruiting and team news in one place? Become a member of DawgsHQ today. With your DawgsHQ membership, you'll not only have access to the goings on in Athens, but you'll be able to peruse other fan sites within the On3 network to hear just how rivals are feeling about the Dawgs, as well. Make sure to follow along on Twitter (@DawgsHQ), on Facebook and on YouTube for all the Dawg news you need now! And listen to the DawgsHQ crew on our podcast Dawg Walk Talk on Spotify and Apple Podcasts.