Kirby Smart updates status of injured Bulldogs entering Georgia spring practice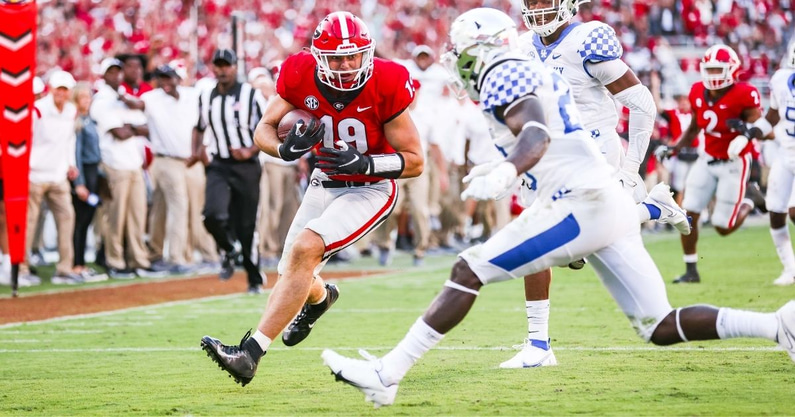 Georgia will begin spring practice later today, but the Bulldogs will be without a couple of bodies on the practice field. Head coach Kirby Smart shared updates on the status of those that will and won't be able to go this spring due to injury.
DawgsHQ was first to report the news of Alexander's offseason surgery to repair a torn labrum. A 6-foot-3, 315 pound defensive lineman out of IMG Academy by way of Texas, Alexander was ranked the No. 51 overall player and the No. 7 defensive lineman for the Class of 2022 according to the On3 Consensus. Given Georgia's needs on the defensive line as it replaces three NFL Draft prospects, Alexander could have a chance to earn himself a spot in Tray Scott's rotation this fall upon return.
Bowers led the team in receiving during 2021 with 56 catches for 882 yards and 13 touchdowns on his way to earning SEC Freshman of the Year. Three times did Bowers go for at least 100 yards and two scores (UAB, Kentucky and Georgia Tech), and he reached the end zone three times against Vanderbilt. He was named SEC Freshman of the Week twice for his performances against Vanderbilt and Kentucky. However, he underwent shoulder surgery during the offseason to repair a torn labrum. Kirby Smart told media members late in the season that Bowers was battling through the injury, so his surgery shouldn't come as a surprise.
There aren't many players on Georgia's roster bitten more by the injury bug than Davis. His season ended after a leg injury in September, just months after Kirby Smart said that he was making a push for playing time. Davis also missed the majority of his freshman season and even suffered a torn ACL in high school. However, with the likes of Nakobe Dean, Channing Tindall and Quay Walker gone, there is playing time to be had in the inside linebacker room, and Davis has an experience edge over almost anybody else.
A massive early enrolling tackle, Hood is considered a developmental prospect for the Bulldogs on the offensive front. That development will be put on hold until the fall when the former three-star is back to full health.
Georgia wouldn't have relied much on Madden in 2022, so him getting healthy is the first step towards a successful collegiate career. Madden, four-star prospect and the No. 36-ranked linebacker according to the On3 Consensus, comes to Athens from Cedar Grove High School just up the road in Ellenwood, Ga. He helped the Saints to a state championship in his senior season.
Much like his fellow redshirt junior Davis, Marshall has been bitten by the injury bug during his collegiate career. Marshall missed most of last season after a knee injury sidelined him five games in. It came just a year after he battled a shoulder injury in 2020, ultimately requiring surgery that caused him to miss last spring. Marshall, if healthy, has a chance to compete for a starting spot at inside linebacker.
One of Georgia's potential breakout stars for the spring, Mondon found himself with plenty of spot duty last season, featuring in every game at some point. He showed flashes of his potential against Charleston Southern, registering four tackles, including a sack. This is one of the biggest blows when it comes to injuries as Mondon was set to compete for a spot in the inside linebacker rotation trying to replace Nakobe Dean, Channing Tindall and Quay Walker.
Ratledge won the starting job at right guard for Georgia last fall coming out of camp. However, he played just a couple of snaps against Clemson, leaving the game on the first drive in pain. It turned out to be a foot injury that required surgery and kept him out for the rest of the season. Ratledge was seen on a scooter all through last season but eventually worked his way to be able to put weight on the injured foot. As he continues to work his way back, he'll certainly be a part of any competition there is for the starting guard spots, just as he was last season.
Projecting as a center at the next level, Scroggs was an early enrollee in December. He underwent offseason shoulder surgery and will miss the spring. Scroggs was a three-star coming out of Grayson High School in Loganville, Ga.
Smith being on the injury report has unfortunately become commonplace in his two seasons at Georgia. He redshirted as a freshman after a meniscus injury. Then a wrist injury limited him last spring and a lower-leg contusion kept him out of six games in 2021. Now it's a leg injury that he suffered in practice after making his return – one that included a touchdown reception – against Missouri. Smith, known for his speed, is capable of contributing if he's healthy, but that's been a big if so far in his career. Changing that in 2022 could be big for the Bulldogs.
DawgsHQ broke the news of Smith tearing his ACL last season after he made his Georgia debut against Auburn. That came in mid-October after the West Virginia transfer suffered a foot injury during fall camp that kept him out the first five games. So, with the exception of a couple of plays in the win over the Tigers, Smith hasn't really played. When he's able to get healthy, he should have that opportunity afforded to him given the Bulldogs' depth concerns in the secondary. Smith, an All-American and All-Big 12 player during his two seasons with the Mountaineers, is capable of helping both at STAR and safety, two positions where Georgia saw players leave for the NFL Draft and the transfer portal.
CJ Smith (Limited – Meniscus)
Smith is an early enrolling wideout with some great size and speed to boot. He showcased that this winter with a blazing 22.3 miles per hour in one of the Bulldogs workouts. A four-star prospect according to the On3 Consensus, Smith comes in ranked the No. 51 wide receiver in the Class of 2022. The injury limited Smith is one that occurred in high school and ended his senior season after just two games. Prior to that, he had eight receptions for 126 yards plus another 16 yards on the ground on three carries.
Washington was expected to be a beneficiary of Brock Bowers being out. Now he's out, giving even more opportunities to early enrollee Oscar Delp and delaying his development until the fall. Washington, entering his third season at Georgia, started seven of the Bulldogs' 10 games in 2020, finishing with seven catches and 166 yards. It wasn't until 2021, when he started six and played in 11, that he caught his first career collegiate touchdown pass. After missing the first four games of the season with a foot injury, he caught 10 passes for 154 yards.
Are you subscribed?
Ready to get all your latest Georgia athletics news in one place? Become a member of DawgsHQ today. With your DawgsHQ membership, you'll not only have access to the goings on in Athens, but you'll be able to peruse other fan sites within the On3 network to hear just how rivals are feeling about the Dawgs, as well. Make sure to follow along on Twitter (@DawgsHQ), on Facebook and on YouTube for all the Dawg news you need now! And listen to the DawgsHQ crew on our podcast Dawg Walk Talk on Spotify and Apple Podcasts.