Stetson Bennett explains importance of Buster Faulkner in UGA offense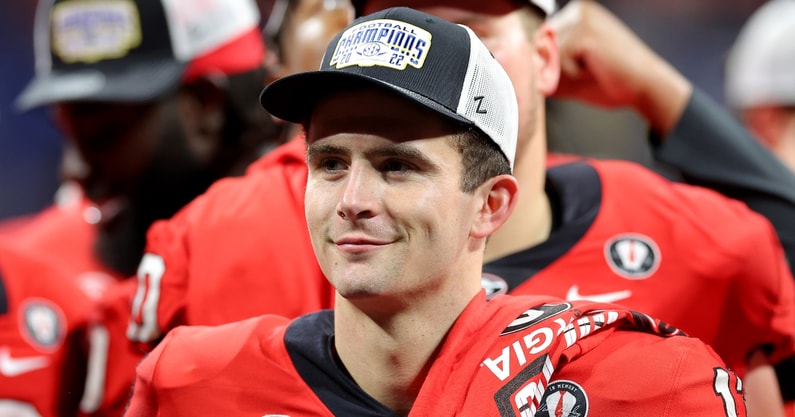 NEW YORK — Georgia offensive coordinator Todd Monken gets the bulk of the credit for the Bulldogs' offensive success. He was up for the Broyles Award for the nation's best assistant and according to USA Today is the highest paid assistant in the sport. However, according to Georgia quarterback and Heisman Trophy finalist Stetson Bennett, there's one name that gets lost in the shuffle sometimes: offensive analyst Buster Faulkner.
Faulkner arrived at Georgia from Southern Miss where – ironically – he was the offensive coordinator in the regime after Monken's departure to be an NFL offensive coordinator. The two hadn't worked together before 2020 in Athens, but things have worked well in that time.
Bennett first spoke about Faulkner on Monday during his acceptance speech for the Burlsworth. Faulkner was there while Monken was elsewhere in Arkansas for his own individual award. Bennett gave credit to Faulkner for being "the voice of reason on a crazy sideline," and saying that they had both been through and seen it all together. He expounded upon those thoughts at the Heisman Trophy finalists media availability on Friday.
"He's been extremely important. He's the one that runs us through drills and just talks ball," Bennett said. "I think probably the main thing that he's helped at is on the sidelines. He is the mediator between me and Monk. Me and Monk don't really talk during the games, which I think is probably a good thing because we're both so passionate."
"Buster listens to what Monk says and filters it out," he continued. "Obviously he doesn't tell me everything. People say stuff in the heat of the moment, and I don't need to hear all of that it. Just because it's the nature of the job. He doesn't need to hear everything I have to say. It's just not important. Buster keeps me sane, keeps me in the moment, helps me out with what he might be seeing here on this play. His presence is comforting and he's a damn good football coach."
Speaking specifically about the growth that he's made as a quarterback during the large amount of time he's spent doing drills run by Faulkner, mechanics was the one thing that stood out the most.
"I think my mechanics have gotten shored up. Sometimes they're off still, but I think I know how to get them back to being right quicker whereas maybe a little bit last year it was more so 'I'm throwing pretty good today, I don't know why, but it's coming out pretty nice.' Now I know why that is and how to get back if I do now," Bennett said. "I can't think too much about it or I really screw myself up. One of those happy mediums. And then just thinking about the game, understanding the game, what are we actually trying to accomplish here? That was in the summer just breaking it down. What is the game of football? 11-on-11 with these kind of rules. It's 100 yards by 53 and a quarter or whatever, the hashes are here. Man, zone, first down. Just boil it down so I can understand what we're trying to accomplish each play better so I think I've got that."
Bennett might want to keep his mouth shut on Faulkner from now on before the secret gets out that he's a huge part of the reason Georgia's offense has been so successful. The Bulldogs are one of the most efficient units in the country ranking No. 1 in red zone offense, fifth in third down percentage and second when they go for it on fourth down. They are also one of the least penalized offenses and hold the ball well, ranking No. 8 nationally. And as has been said before, the job of an offensive coaching staff is to move the ball and put up points, and Georgia ranks highly there too: No. 7 in total offense and No. 11 in scoring offense.
So, while Monken might have his name attached to the offense and the steps forward that it – and its quarterback – has made, there's no doubt in Bennett's mind that Faulkner plays a huge part.