WATCH: Georgia surprises family with tickets to Peach Bowl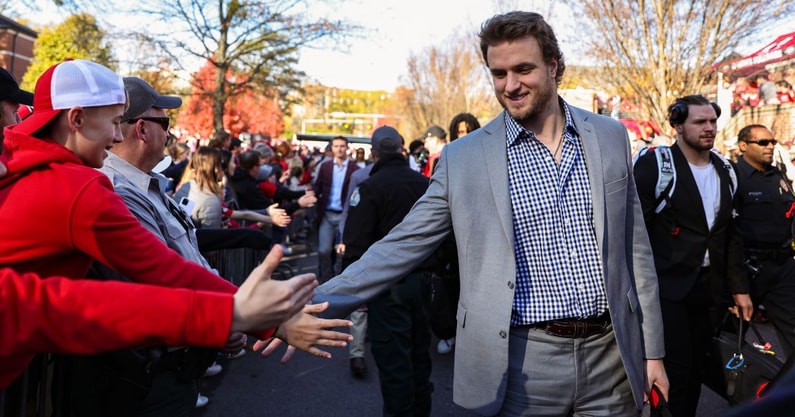 Georgia Football has helped make the holiday season brighter for several families already and did so again on Tuesday. Partnering with Team IMPACT, a national non-profit organization that signs children facing serious illness and disabilities onto college athletic teams across the country through a unique multiyear program, the Bulldogs gifted Kyler, an 8-year-old from Kathleen, Georgia, with tickets to the Chick-fil-A Peach Bowl on December 31st where he will watch Georgia take on Ohio State in the College Football Playoffs.
Kyler, who battled Leukemia, became a part of the team earlier in the season after years of treatment and patiently waiting for the perfect match. He was welcomed in Athens by getting a behind the scenes tour of the facilities, attending games and texting regularly with some of his favorite players including tight ends Ryland Goede and Drew Sheehan. Then, on Tuesday, Goede and Sheehan helped surprise Kyler and his family.
The Peach Bowl marks just the second time ever that Georgia and Ohio State have met before on the football field. The first came back in 1993 at the Citrus Bowl when the Bulldogs beat the Buckeyes 21-14 behind a big day from running back Garrison Hearst, who ran for 163 yards and a pair of touchdowns on his way to earning MVP honors.
As for the matchup that Kyler and company will see on December 31st, there's more on the line than just the Citrus Bowl. The winner will head to Los Angeles for the 2023 National Championship Game at Sofi Stadium against the winner of the Michigan-TCU semifinal matchup at the Fiesta Bowl. Stetson Bennett and company take on fellow Heisman Trophy finalist CJ Stroud with a second straight National Championship in sight as they seek to become just the seventh team in the poll era (since 1936) to go back to back. Since 1957, it's only happened twice.
"Happy and fired up to have an opportunity to play in what I always thought is one of the best bowls in the country because Atlanta is home to so much of college football, especially when you've been part of the SEC. So it makes for an awesome opportunity," Georgia head coach Kirby Smart said about the Ohio State matchup. "Our players are excited for the opportunity to play in a CFP Semifinal against an opponent that we all have immense respect for. Ohio State is one of the premier teams in the country. Coach Day has done a fabulous job with his team, in terms of recruiting across the country, putting out NFL talent, and playing in the CFP over recent history. So the challenge lays in front of us, and our guys are excited to do it. We're honored to be in this game."