Clark and Czinano make Wooden late season list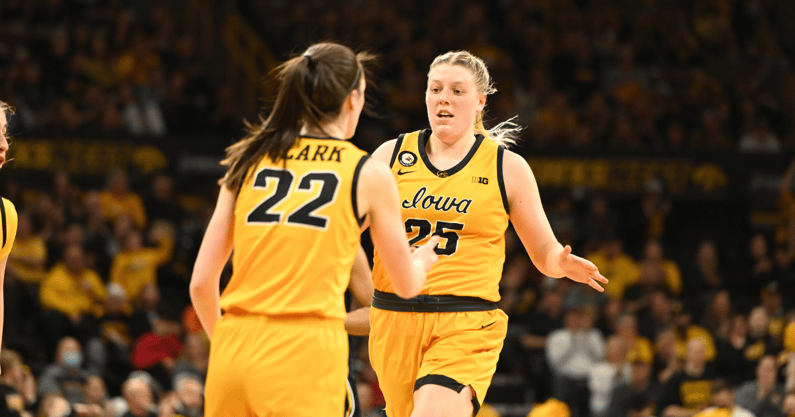 The Iowa women's basketball team has a pair of 2,000 point scorers on their roster. On Monday, both players were named to the late season John R. Wooden Award list. Caitlin Clark and Monika Czinano were named to the list, which was trimmed down from 25 at mid-season.
Iowa is one of three schools to have multiple players on the list. The other two schools are South Carolina and Stanford.
Clark has been tabbed as the Big Ten Preseason Player of the Year, All-Big Ten by coaches and media (unanimous), Nancy Lieberman Preseason Watch List, AP All-American (unanimous), Naismith, Wooden Preseason Watch List, and The Athletic Player of the Year.
This season, Clark is leading the Hawkeyes with 27.1 points, 7.9 rebounds and 7.9 assists per game. Clark was also the fourth Iowa women's basketball player to eclipse 2,000 career points and tied Elena Delle Donne as that fastest players to reach that milestone in 75 career games. Clark has registered a double-double in five straight games.
She also recently had her eight triple-double of her career, which is a Big Ten record and third most in NCAA history. Also, Iowa is undefeated when Clark posts a triple-double.
Czinano was the fifth Hawkeye to surpass 2,000 career points and 38th all-time in Big Ten Conference history. Czinano and Clark were the first pair of teammates to accomplish those feats in the same season in Big Ten women's basketball history. Czinano is averaging 18.1 points per game and is shooting 66% from the floor this year. She has shot 70% or better from the floor in five out of last six games.
A season ago, she earned All-Big Ten accolades, was named a semifinalist for the Lisa Leslie Center of the Year and was an Associated Press and Women's Basketball Coaches Association All-America honorable mention. For the second time in her career, she was named to both of the preseason all-conference teams.