Everything SE Louisiana said ahead of their matchup against the Hawkeyes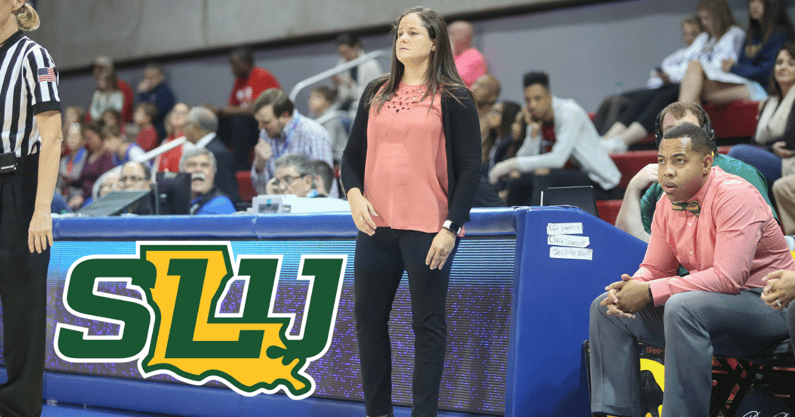 Southeastern Louisiana Head Coach Ayla Guzzardo
Q. Is your guard, Horne, going to be able to play?
AYLA GUZZARDO: She is not. She's out with a knee injury. She will not be playing tomorrow.
Q. How does that change things for you guys?
AYLA GUZZARDO: I don't want to say it changed our whole dynamic. Throughout this whole season, we have had players really step up, different variety of players. Lex being one of those people that had been consistent pretty much all year; she's had rough games, but Hailey has stepped up in her role. Jalencia has stepped up in her role. Taylor Bell stepped up really big in our Conference Championship game. So everybody has really stepped up and taken over everyone else's slack.
Q. You guys have been one of the better defensive teams in the country, a plus 5.5 turnover margin. Against a team like this had a loves to push the tempo, how critical will it be to get those stops early and force a decent amount of turnovers within the first quarter?
AYLA GUZZARDO: Yeah, we have been blessed. Been starting on transition in defense since June. So we have been working on transition defense since we got here this summer. It's been a key to our defense; we have to stop the ball in transition. Luckily for us, we got matched up with Iowa who loves to push.
So finding them big early in transition is going to be big, making sure we protect that rim, because they do run the rim really, really well. We have got to do it on both ends of the floor, and it starts with our defense.
Q. We've mentioned how fast Iowa likes to play. Is your guys' plan to slow that down? Is going up and down the court something you feel you guys can do? Looking at your box scores, you normally like to play a lower-scoring game.
AYLA GUZZARDO: For us, we try to keep it as low as possible. You know, we are trying to keep teams within 55, 50, when we are facing an Iowa we are going to try to keep them a lot lower than their average.
Playing fast with them is not going to be what we're going to be looking for necessarily. We are going to play our speed, our style of the game. We are going to push when it's available.
But as far as running with them, that's going to be tough to run with them. You know they are at the too much of the lead, top of the nation for a reason. You have to play smart and you have to be able to game plan versus them, and I think our coaching staff has done a great job with executing game plan for Iowa.
Q. There was mention of the sellout crowd; the biggest stage you've seen this year. How do you handle that and have you talked about it?
AYLA GUZZARDO: We have talked it. But we've also played LSU; we've played Utah; we've played Alabama. So we have played in big environment, Power Five schools.
Now this is going to be a little bit bigger than everything else because this is a way bigger stage than playing at Alabama and Tuscaloosa. We really focus on us, what we do well. Luckily for us, we have a veteran group. Jen Pierre is probably our most, newest player for our team. Everybody else is a veteran, veteran group, so they have played in those big moments, those big stages versus those great competition opponents, such as Iowa.
Playing Caitlin Clark is going to be fun for them. They are ready for the challenge. They are not necessarily starstruck. They want to compete and they want to defend and that's what they do on a daily basis. So it's just another day for us.
Q. You mentioned going up against Alabama and LSU. You held Alabama 15 points below they are normal average and LSU 21 points below. Are there things you did in those games unfortunately like could carry over to?
AYLA GUZZARDO: Oh, yeah, versus Angel Reece you have to be extra attentive to her. Touching her a little bit more, making her uncomfortable. Everything that she does is going to be tough. It's going to be the same type of game plan there. Everything they do on the opposite end, we have to make sure it's tough. They are going to make shots. She is going to hit outside shots. They are going to finish around the rim, but everything they do is going to have to be tough through us.
We are going to have to make sure and be physical team, and that's us. That's who we are. We do it on a daily basis. Our players talked about being blue collar players; that's because that's who they are; that's who we recruit.
Q. Have you guys always, even during the summer or even parts of last year, have you guys always identified as that blue collar, gritty defend team that's going to grind their teeth and not make it easy for anybody to play?
AYLA GUZZARDO: Hands down. If you ask anybody in our league, that's who we are. Anybody who plays us each year, that's who we are. They know that we are not going to just roll over. In the past we have been down 15, 20, and we really have not came back.
This year, last year, we are starting to be where we are down ten points with two minutes left and came back. We are not going to give up. I think that's one thing that our team does and that they believe; until the clock hits zero, they are going to believe they have got a shot to win.
Q. Have you tried to address the fact, this is the first NCAA Tournament for your school and these kids, how do you get them in the moment without it being to big?
AYLA GUZZARDO: We tell them to take all of this in the moment. When we step foot on the floor and we're in between those lines, we have a job to do. But they are enjoying this. They need to enjoy this.
I got to experience this at my last school and this is something that you really, really need to take in. It's a lot of logistical stuff that the coaches have to deal with but as far as the players, they are just enjoying it. A lot of them have been reaching for this goal since they stepped foot on campus, and I'm so happy they can achieve it together with this group.
Q. Obviously you guys were able to beat Lamar for the third time when you guys won the conference championship. Do you think that game and that win has allowed a lot of momentum heading into tomorrow; knowing that you guys are playing with kind of nothing to lose; no one really expects you guys to win outside of your own locker room?
AYLA GUZZARDO: Wait, you don't expect us to win? I'm just kidding.
Q. Does winning that conference allow you guys to have a lot of momentum heading no tomorrow?
AYLA GUZZARDO: I think I know what you're saying. It does. It gives us faith that we can win.
You know, we were down pretty much most of the game. We came back. We have done things that we didn't really expect we could do. Beginning the year, we played without Natalie Kelly in the post, so we played five guards on the floor. We won big games during that time. We competed with LSU during that time. We didn't have our post player. We played with five guards and lost to them by eight.
We know what we can do even when we are down. Losing Alexius Horne, that was tough but that only propels us a little bit harder. We are playing for a little bit more because she deserves to be on the court tomorrow. We would love her to be on the court tomorrow, but her teammates are going to play extremely hard for her.
Southeastern Louisiana players: G Hailey Giaratano, F Natalie Kelly and G Jalencia Pierre
Q. Just what is the last week or so been like, your first time in the NCAA Tournament, what's it been like down there?
NATALIE KELLY: It's been a surreal feeling coming back from, we made history earlier in the week to now being here at the NCAA Tournament. It's been an amazing experience for me and the team. We are trying to enjoy it but also low being in for the game.
HAILEY GIARATANO: I feel like we've been on a real high lately. Played our best basketball, won the basketball championship but got to come down and focus on this game.
JALENCIA PIERRE: Winning two championships that was a blessing, but as we come over here, we are trying to make a statement for ourselves, even bigger than what it is now. So we just have to come out here and play our best ball.
Q. Iowa likes to go at a really fast pace getting up and down and scoring a lot of points. What do you guys have to do to try to slow the game a little bit and not let them get out and run as much as they do?
HAILEY GIARATANO: Yeah, I think one we have to pick up early in transition, and of course, know where those players are and know where Caitlin is and really pressure them all the way down the court so they don't feel so comfortable.
Q. How would you guys describe your style as a team offensively and defensively?
JALENCIA PIERRE: Defensively we are a great team. Our defense come off our offense. As we come down, it's like, we are a good defensive team. So pressuring the ball and making them, like, I know they are a fast team but we can like really slow them down as far as Caitlin Clark, pushing the ball up the floor and stuff like that.
NATALIE KELLY: Coming into the beginning of this year, I feel like our defense has really carried us.
When we are in the locker room talking with our coaches, a lot of them always have the saying, if you guys are a hard working blue collar team, and that's something we adopted as a team and grew to make that our identity. We are definitely a gritty team and love to play physical but we can definitely get up and down the court as well.
Q. The first two rounds are a sellout and you are not accustomed to playing in front of big crowds. How do you think you'll handle the atmosphere and what are your thoughts about 14 thousand?
HAILEY GIARATANO: Yeah, this past week we have been focusing on talking loud, being able to hear each other and just focusing on that. I think if we really focus in and hear each other, hear our play calls, hear what our coaches are saying, I think we'll be okay.
NATALIE KELLY: Yeah, I think our biggest thing, like I talked about earlier is also just like kind of enjoying the moment.
So yeah, it's definitely a bigger stage than we are used to, but I think if we just take our time and just relax, not let the whole stage get to us, we'll be okay.
Q. You guys have played some really good teams, LSU, for example. What do you take away from those kind of games against Power Five teams that can help you tomorrow?
HAILEY GIARATANO: I just think knowing, having that confidence, knowing that we did compete with them. Having that confidence in each other and knowing that it doesn't really matter who we play as long as we play together.
Q. For Natalie, Monika Czinano has had a wonderful five years here. What do you see in her and what do you guys have to do to handle her in the post?
NATALIE KELLY: Yeah, much respect to her. She's a great post player. For me, I feel like it's just being physical with her.
Obviously you know when it comes to being in the post, it's always a battle each and every night for 40 minutes, so it's definitely a task that I know is going to be a big one for me. You know, I welcome it. Defense is our thing, so it's always a challenge.
But at the end of the day, why not take on the challenge of trying to, you know, guard one of the best post players that the team has, and it's one I'm definitely going to step up to.