Everything Lisa Bluder and the Hawkeyes said ahead of their second round game against Georgia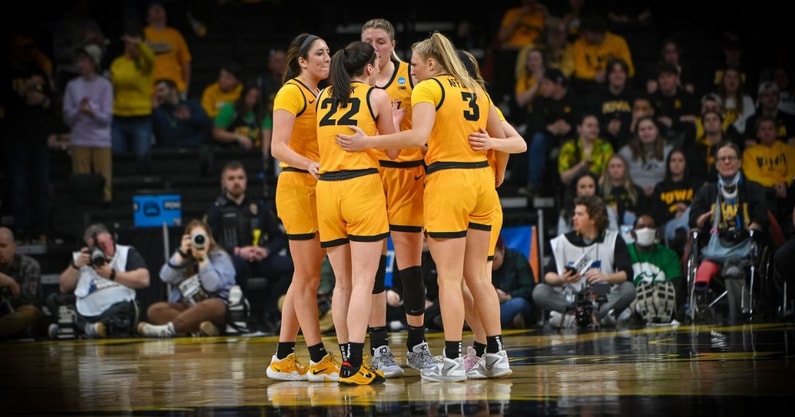 HEAD COACH LISA BLUDER
OPENING STATEMENT: Obviously glad to be in the field of 32, playing Georgia tomorrow. We know Georgia, tremendous team. Great depth. Zone defense they're known for. Battles and Warren are excellent players. They're posts. They have lots of depth at the post. So they're going to be a real difficult challenge.
Q. You guys got a chance to play UCF last year when Coach Abrahamson was there, and then they brought some of those same players to Georgia now. What kind of similarities do you see from them offensively and defensively, and how nice was it to kind of see them last year, I guess?
LISA BLUDER: Yeah. I think that was a really blessing to be able to see them last year because with a one-day prep, you don't have as much time to prepare for an opponent as you usually would during the year. So I think it was a real advantage for us to play against UCF. Now, they have the same advantage against but, though, right? So kind of cancels each other out. I do think they're a little bit more different to prepare for just because of their zone defense, and so I'm glad that we had that. They're very similar to last year.
Q. I asked the players the same kind of question. Just going into tomorrow, how important is it to defensively rebound against a team that can probably shoot better and score more second-chance points than they did yesterday?
LISA BLUDER: Yeah. Rebounding it's seven percent of their offense. So it's really, really important that we box out and don't let them have too many of those second shots.
Q. Offensively they don't shoot a whole lot from outside. I know they made a few yesterday, but what do you see from them offensively that they can do inside the three-point line that makes them so tough to guard?
LISA BLUDER: I think it's the double post option they have, having 4 and 5 down there low. We've seen a lot more 4-out-1-in-type teams throughout the year. So having just the depth of the post position and having two in there that are really strong, big posts at the same time. I think Battles is also extremely fast getting downhill. She does a great job of penetrating and getting downhill.
Q. Do you have to change up the way that you're going to rotate players tomorrow knowing that they have two post players, just to make sure that you're able to match up with them when they go bigger or if they decide to go smaller?
LISA BLUDER: You know, we're not going to be changing up at this point in the season. It's a bad time in my mind to experiment. So we're going to just stick with what we've been doing.
IOWA PLAYERS CAITLIN CLARK, GABBIE MARSHALL AND HANNAH STUELKE
Q. After going back and looking at the film from yesterday, what did you guys really feel like you guys did well?
CAITLIN CLARK: I thought our defense was really good. I thought they made some tough contested jump shots to start the game, and that's kind of what we pride ourselves on is like we want to force people to take hard twos. And then I think in the second half, we played all zone, and our zone caused them a lot of problems, and I think that's something we can feed off going into Georgia. I think our zone defense could be really good playing them. Obviously we're going to try a lot of different things, but I think there's a lot we can take away from our zone defense being really good.
Q. Hannah, the Georgia looks really big. Not only just on TV, but they looked really big. How are you guys going to handle their size? I mean they have more big kids than probably any other team you may have played.
HANNAH STUELKE: I think just like any other team, we're just going to do the best that we can. We're going to do some extra stuff on the post. They are very athletic and a very good team, but I think we got it in the bag.
Q. For any of the players, what do you see in their defense and what they can do in their zone?
GABBIE MARSHALL: They do play zone pretty much the whole game. We've been working against it, and we saw it last year actually, so I think we'll be prepared and just trusting that the coaches have the right game plan. And, I mean, I think getting the ball inside and valuing the ball and using shot fakes and just being strong with the ball in general will really help us tomorrow.
CAITLIN CLARK: I think valuing the ball will be very important. Shot fakes against a team that is more athletic, bigger, longer than us, but at the same time, I'm not sure they've seen a team that has as many shooters as we do on the perimeter. So being able to use that to the best of our ability.
It's hard to play zone when you have four people on the perimeter that can really spread the floor out and shoot it like we do. So we need to be able to do that, but at the same time, when we have people making shots on the perimeter, it's pretty easy to get the ball inside to Monika, or if Monika is scoring on the block pretty easily, it's going to open things up. So it's hard to pick your poison with this team. There's only so much you can do, but I don't know if they've really seen a team that has four consistent shooters on the perimeter like we do.
Q. Georgia struck me as being not like any other BIG TEN team. Are they maybe like — well, like Central Florida last year, but can you compare them to somebody that you've played and how you dealt with the size and strength?
CAITLIN CLARK: Yeah. I'm not sure if there's anybody that's like as big as them. I think, you know, Maryland is a super physical, athletic team that kind of was playing us similar, box in one, zone-ish defense, so I think in that regard it kind of relates, super physical on defense, want to disrupt you, things like that. But obviously nobody really stays in a zone defense in the BIG TEN for the entire game like this team will. But the SEC is a lot different than the BIG TEN in a lot of areas.
So they match up pretty well with teams in the SEC, because you know, you're going up against South Carolina, who has two really big posts as well, or things like that. So it's hard to compare in a way, but if I had to pick one, I'd probably go Maryland. I think their physicality on the defensive end is pretty similar to what they're going to show us, too.
Q. For either of the veterans, is this team more equipped to handle a physical brand of opponent that maybe you would have been a year or two ago?
GABBIE MARSHALL: I would say for sure. I mean, obviously that experience helps, and just playing together for so long. And we've been in these situations before. We've faced teams that are physical and tough, and I think just going in with that mindset that we won't probably get many calls, and we're just going to have to play through it and play through the toughness and be gritty on defense. I mean, that's really the mindset you have to go into that game and any game in the tournament really. So I think, yeah, that experience and just having been here before will help.
Q. Question for either Gabbie or Caitlin. You guys played against UCF last year. Obviously same coach here at Georgia, a few of the same players from UCF. What similarities do you see in the way they play more on the defensive ball, but altogether what similarities do you see from last year's team at UCF?
CAITLIN CLARK: Yeah, I think obviously the defense is the exact same defense that they run. So I think we have that going for us. Shout to Coach Abby for scheduling UCF last year, predicting the future a little bit for us. So I think having that familiarity gives us a bit of some confidence that we have gone up against this before. We were able to get the ball inside when we played them last year quite a bit. We have quite a few zone offenses that we'll run, and we'll try to switch it up as much as we can.
But, yeah, I think just understanding we have gone up against it. We've been working on Georgia since we saw the selection show, so we've been working on them since we saw that. So I think just finding confidence in those areas. And they're not a team that's going to shoot a ton of threes. They have two really strong post players that play on the block. I think they only average making over three threes a game. So I think that's also going to be a key for us is boxing out, you know, making them take hard, contested twos or forcing them into hard threes because they don't really want to shoot them.
Q. Going into tomorrow, how important is it for you guys to defensively rebound against a team that can shoot better and have the opportunity to get more second-chance points than they did yesterday?
CAITLIN CLARK: Super important. I think that's something we always preach. All five people need to box out. Whether you're on the block, whether you're in the paint, whatever it is, giving up second-chance opportunities is huge. We always preach, we want to get those on the offensive glass. So they're definitely a team that hangs their hat on getting second-chance opportunities, crashing the boards hard, so it's definitely a key to the game.