Hawkeyes roll to a first round win over SE Louisiana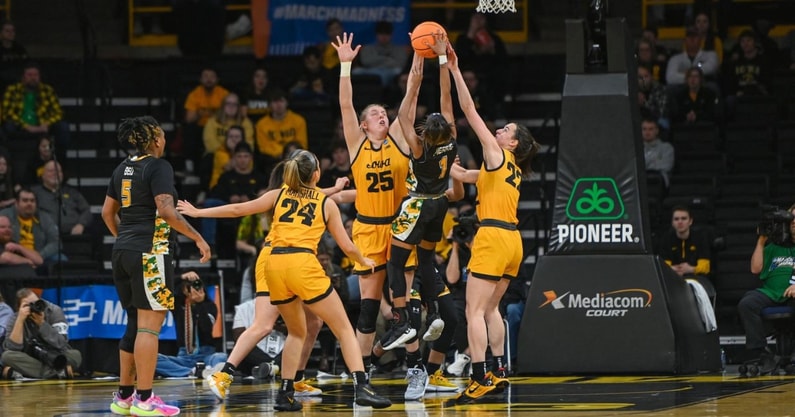 Since the Women's NCAA Tournament expanded to 64 teams in 1994, a 15 seed has never defeated a 2 seed. They are 0-112. The Southeastern Louisiana Lady Lions arrived to play in front of a sold out Carver-Hawkeye Arena, with hopes of breaking the nearly 30 year streak. They came away empty handed, as the Hawkeyes flexed their offensive muscle and rolled to a 95-43 victory.
After going 11 days between their win in the Big Ten Tournament Final over Ohio State to today's first round game, the Hawkeyes picked up right where they left off.
"Sitting out for a couple weeks, you can feel like a little bit rusty, but we scrimmaged our practice squad to try to keep them in that game plan mentality," said head coach Lisa Bluder. "I think we really needed the time because when you win the tournament, you're on such a high and it takes awhile to come down from that."
SE Louisiana had held their opponents below their scoring average 22 times in 28 games and had allowed 70+ points in just one game all year. The Lady Lions, who hang their hat on their defense, never found a way to slow down the top ranked Iowa offense.
"I think that we've seen just about anything you can do in the game of basketball at this point. We've seen box in one, triangle in two, we've seen zone, we've seen everything," said Caitlin Clark. "They were physical. They were a scrappy team, picking up full court man-to-man, but I really don't know what there is out there that you can do to us that we really haven't seen."
Clark, herself, had a fast start to the game, including a stepback three-pointer and a layup to put the Hawkeyes up 10-4. Caitlin started 4/4 from the field and knocked down a pair from behind the arc.
"I thought it felt really good, to come out and start like that," said Clark. "It's huge, especially when you have had time off not playing games. It's different. We come to practice every day and scrimmage but it doesn't quite give you that real game simulation."
Credit to SE Louisiana, they hung around for a little bit. Cierria Cunningham and Taylor Bell hit a couple of tough shots in the first 15 minutes, while a turnaround jumper from Bell cut the lead to 40-29 midway through the second quarter. Lisa Bluder decided to switch things up on the defensive and moved into a zone defense. That forced an undersized Lions team to either shoot from outside or drive into an area where they did not have any advantages height wise.
"Great game plan because we don't shoot the three-ball well," said SELA head coach Ayla Guzzardo. "In our league, if we are making four threes, it's a good game for us. We can't make four threes going against Iowa. We have to be able to shoot the ball consistently from the three-point line and that would help open up our inside dame a little bit more."
From that point on, the Hawkeyes turned on the jets and pulled away from the Lady Lions. Baskets from Hannah Stuelke and Caitlin Clark got the crowd to their feet, while a Molly Davis transition finish, plus a hard contact foul added to the energy in the building. Taylor Bell was slapped with a flagrant foul, which turned into a pair of free throws for Iowa and then possession of the ball. A Hannah Stuelke layup made it 50-29.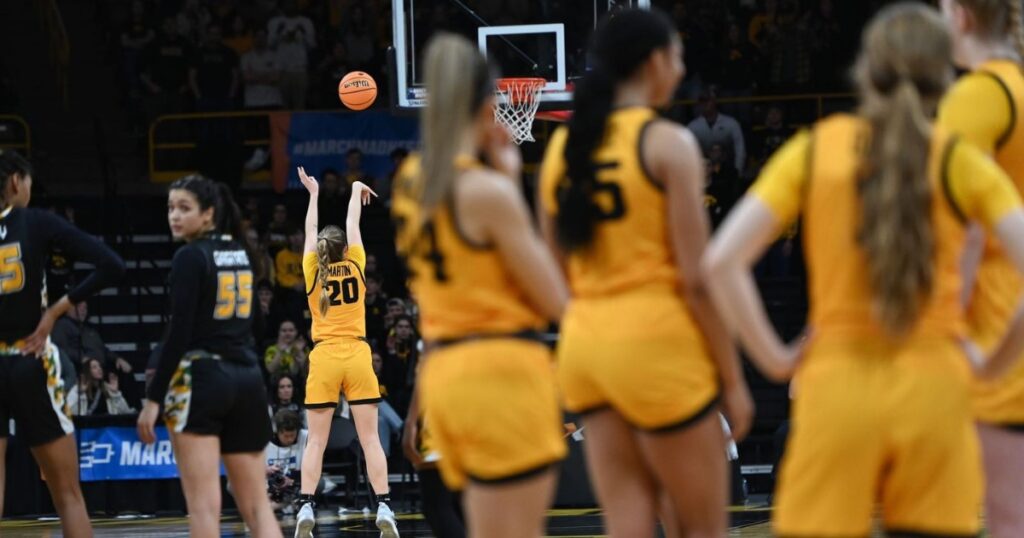 "That was a huge possession. Any time you go down the court and get six points, that's basically unheard of," said Caitlin Clark.
That was the turning point. A six-point possession that turned a reasonably close game into cruise control for the Hawkeyes. They led 54-32 at the halftime break.
In the second half, the Iowa defensive tightened up and SE Louisiana could not buy a basket. The Lady Lions shot just 2/18 from the floor in the third quarter, while Monika Czinano had five baskets of her own. The lead ballooned to 77-41, but the damage was not yet finished.
SE Louisiana's shooting struggles continued into the fourth quarter. They missed their first ten shots and went scoreless for the first 7:27 of the final quarter. A basket from Jalencia Pierre finally stopped the bleeding, but Iowa was up 90-43. The Hawkeyes outscored the Lions 41-11 in the second half and held them to just 3/32 (9.4%) shooting from the floor.
"I think our player to player, it was okay, but it wasn't working as what we would have liked. They made many tough shots, contested twos, and those are hard shots we want people to take on us, but when we went to the zone defense, they seem to get no penetration," said Caitlin Clark.
We were just moving really well, talking in it," said Monika Czinano. "The first quarter our defense wasn't working very well, so it was nice to finally get it to click going into that zone. It's all about moving hard, talking, communicating well."
Caitlin Clark finished just shy of a triple-double with 26 points, seven rebounds and 12 assists. She shot 9/14 from the floor and knocked down three three-pointers. Monika Czinano added 22 points on 10/12 shooting, while Hannah Stuelke finished 13 points on 5/5 shooting off the bench. Czinano and McKenna Warnock each grabbed eight rebounds, while six Hawkeyes pulled down at least four boards. They outrebounded SE Louisiana 45-31 and dominated the paint points, 54-18.
WHAT THE HAWKEYES DID WELL
1. Played defense. SE Louisiana players made some comments during the week that the Hawkeyes were not fond of playing defense. It appears that message found its way to Iowa City, as they held the Lady Lions to 43 points, including just 11 in the second half. Iowa forced 15 turnovers and turned it into 20 points.
2. Put the game away early. The last thing you want to do when facing a lower seed that has nothing to lose is let them hang around. They scored 28 points in the first quarter, which was the second most points in a quarter the Lions allowed all year and built a 54-32 lead at halftime.
UP NEXT FOR THE HAWKEYES…
With the win, Iowa moves to 27-6 on the season and more importantly punches a ticket into the second round of the NCAA Tournament. The Hawkeyes will take on 10 seed Georgia on Sunday, with a spot in the Sweet 16 on the line. The Bulldogs defeated 7 seed Florida State Seminoles 66-54 to open the day at Carver. Tipoff is set for 2:00pm and will be nationally televised on ABC.