Hawkeyes run rule Michigan, win in Omaha opener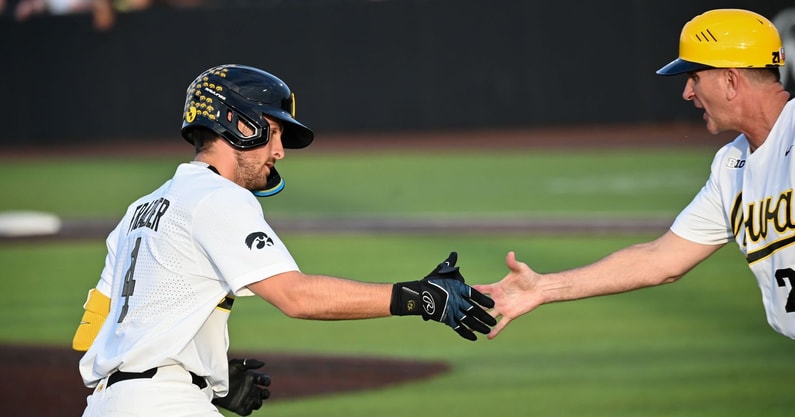 Last season, the Iowa Baseball season came to an end in Omaha with a 13-1 run-rule loss to the eventual champion Michigan Wolverines. Nearly a year later and the Hawkeyes got their revenge. The offense put up six runs in the fifth inning to break a 1-1 tie and kept adding on until the game ended with a 13-3 run-rule final in 8 innings.
"Really proud of our guys. Thought we fought hard all day long. The first five innings, we hit some balls hard, didn't get reward and had some stuff go against us," said head coach Rick Heller. "We didn't play the victim, just found a way to get it done, kept scrapping and kept the plan on O'Halloran and we finally broke through.
Marcus Morgan took the mound on short rest for the third straight week and battled hard despite not having his best stuff. A single, a walk and a wild pitch put runners in scoring position for the Wolverines in the second inning, while an infield single from Mitch Voit made it 1-0.
The lead for Michigan, however, was short lived. Sam Hojnar led off the bottom of the second with a single that got past RF Joey Velazquez, allowing Hojnar to get all the way to third base. Later in the inning, Kyle Huckstorf drove him in with a sacrifice fly to make it a 1-1 game.
While Marcus got out of the jam with just one run in the second inning, he got himself in trouble again in the fifth inning. A couple of close pitches that were called balls kept at-bats going and back-to-back walks knocked Morgan out of the game with nobody out. Although he threw just 45 of his 85 (52.9%) pitches and walked five, Marcus held the Wolverines to just one run.
"He's gone on short rest three straigth weeks and he went out there and competed," said Heller. "He wasn't as sharp as he's been and I felt like if a couple of pitches go his way, it would have changed his outing considerably…he did exactly what we needed him to do today in game one on a Tuedsay. He went out and gave us a chance to win."
The stress of the fifth inning was just getting underway when Marcus left the game. Jack Whitlock entered and walked the first batter he faced to load the bases with nobody out. Ted Burton appeared to be hit by a pitch in the ensuing at-bat, but the home plate umpire ruled that he leaned into it, which kept the at-bat alive. It also gave Whitlock a chance to settle in on the mound.
"I got in there and could feel the heart reate up a little bit and walked the first guy and then a guy leaned into that slider," said Whitlock ."It was just a good reset to throw some more pitches during the review and lock in."
The inning could still have went in any direction at that point, but Whitlock buckled down and struck out three straight Wolverine hitters to end the inning. He made his emotions very clear as he walked off the mound, something he hasn't done much of this season.
"I probably haven't done that this year, but it felt good to do it just because it was a big moment and that was a big momentum switch there,"
"Just a gutsy performance by Jack in a tough, almost no win situation and didn't even give up a run," said Coach Heller.
If getting out of the bases loaded jam wasn't enough of a momentum switch, the offense put up a big number to turn the tides.
A two out single from Raider Tello kept the bottom of the fifth alive and put runners on the corners. Sam Hojnar came up next and quickly fell down 0-2 in the count after swinging at two pitches out of the zone. But that's why you get three strikes for a reason. Hojnar took the 1-2 offering from O'Halloran and slashed it into left field for a two-run single to put the Hawkeyes on top 3-1.
"All of us have seen Sam play enough to know that he can look bad on a couple of pitches and hit the next one 110 out of the yard or line drive to the backside," said Heller. "He didn't let those chase pitches affect the next one and that was a big blow."
The inning continued on and Brayden Frazier found himself at the plate with the bases loaded. Frazier has been the beneficiary of extra playing time since Keaton Anthony went out of the lineup and extended his stretch of hot hitting. He blasted 1-2 slider from O'Halloran into the Iowa bullpen for a grand slam to bust the game open.
"The pitch right before that, I kind of missed one honestly," said Frazier. "I knew that he might try and come back with that again because that's his game plan. He's going to go to that slider with two strikes."
The Michigan offense got a run in the sixth on a solo home run from Tito Flores and tacked on another in the eighth inning, but the Iowa offense was feeling it after scoring just one run in the first four innings.
Kyle Huckstorf got the run back in the bottom of the sixth with an RBI single to drive in Michael Seegers. Later in the inning, Sam Petersen lit up a 2-1 pitch from reliever Walker Cleveland and took it 398 ft to the concourse in left field for a three-run home run to make it 11-2 Hawkeyes.
"We've done that pretty much all year. Up and down the lineup. It doesn't really matter who's in, who's out," said Frazier. "We're going to find ways to get it done and that's been our mantra this whole year."
"We were talking in the dugout, just keep grinding on O'Halloran and we're going to get some runs on him," said Heller. "Don't be a victim, we just have to find a way and that's what these guys do. That's what they've believed in and bought into and that's why we're in the place that we're in getting our 40th win today."
In the eighth inning, the Hawkeyes had a chance end things three outs early and got the job done. A passed ball brought in a run, while an RBI single from Cade Moss gave Iowa the 13-3 run-rule victory in 8 innings.
Jack Whitlock, Luke Llewellyn and Zach Voelker combined for 4.0 innings out of they bullpen. They allowed two runs on two hits, while they struck out seven and walked four.
At the plate, the Hawkeyes racked up 14 hits, including a game-high three from Brayden Frazier. He also led the way with four RBI's.
"I'm just really happy for Brayden because he comes out every single day, if he's in the lineup, you're going to get a great effort. If he's not in the lineup, he's not pouting, he's not complaining, he's leading," said Heller. "He's leading guys. He's getting guys ready to go."
Sam Petersen, Sam Hojnar, Michael Seegers and Cade Moss all had multiple hits on the day.
Up next for the Hawkeyes…
With the win, Iowa moves to 40-13 on the season and has now certainly locked up a spot in the NCAA Tournament. The Hawkeyes move on to the second round, where they will face the winner of Indiana and Illinois on Thursday. First pitch is set for approximately 2:00pm on the Big Ten Network.