Iowa Baseball: South Dakota State Preview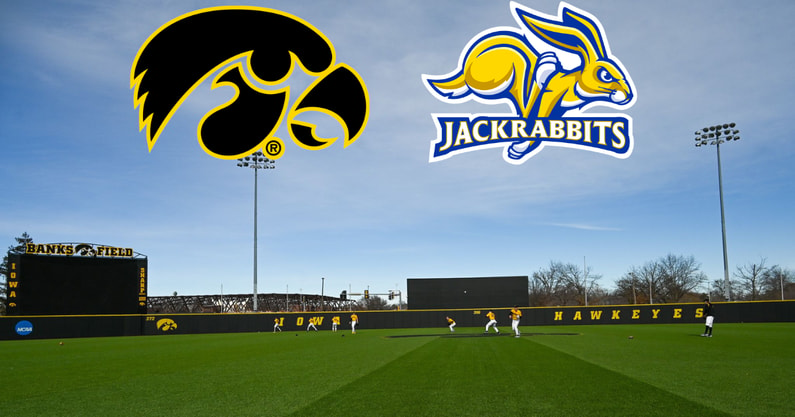 The Hawkeyes are coming off of their first losing series of the season. They traveled to Lubbock last weekend and dropped two of three against a really good Texas Tech squad. Iowa picked up a midweek win over St Thomas to move to 12-3 on the season.
Now, the Hawkeyes will take on the South Dakota State Jackrabbits in a three game series that will be played in a couple of locations. Due to forecasted cold temperatures, the series opener will be played in Kansas City. The teams will return to Iowa City for doubleheader on Sunday to wrap up the weekend.
The Jackrabbits come into the series owning a 4-9 record. They got off to a 3-4 start against Little Rock and Utah Tech over the first two weekends, but a loss to Minnesota started a five game losing streak. SDSU took down Saint Louis 5-1 on Wednesday to break the losing streak.
THE NUMBERS
OFFENSE: IOWA: 8.1 runs (61st) 10.1 hits (73rd) .292 AVG (77th) SDSU: 5.2 runs (234th), 9.4 hits (131st), .270 AVG (154th)
PITCHING: IOWA: 4.9 runs (54th) 7.5 hits (34th) 11.0 SO/9 (27th) SDSU: 6.8 runs (168th), 8.8 hits (123rd), 10.1 SO/9 (63rd)
DEFENSE: IOWA: 0.9 errors per game (71st) .979 fielding percentage (44th) SDSU: 1.2 errors per game (172nd), .965 fielding percentage (172nd)
PROJECTED PITCHING MATCHUPS
FRIDAY- Soph RHP Brody Brecht vs Soph RHP Alex Clemons
Through four starts this season, Brody Brecht has put up some good numbers. He has a 2.50 ERA over 18.0 innings and has racked up 29 strikeouts. Last weekend against Texas Tech, the final score was no an indication of how Brecht pitched. He allowed just two runs on five hits over 5.2 innings, while he had seven strikeouts to three walks.
The Bettendorf, Iowa native Alex Clemons will take the mound for the Jackrabbits. Clemons has not made a start this season, but has made three appearances out of the bullpen. His first appearance against Little Rock went well, but his last two outings have been rough. Over his last 4.0 innings, Clemons has allowed ten runs on eight hits. The Hawkeye offense will look to jump on him early and put runs on the scoreboard to help Brody Brecht on the mound.
SUNDAY GAME #1- Soph RHP Marcus Morgan vs Sr RHP Blake Kunz
Marcus Morgan will take the mound for the first game of the doubleheader on Sunday. He has had an up and down start to the season with good starts against Quinnipiac and South Alabama, but rough starts against Kansas State and Texas Tech. Last time out against the Red Raiders, Morgan allowed five runs on three hits, while walking four over 4.0 innings.
Blake Kunz is making his fourth start of the season and is coming off his best start of the year. His first two outings were very rough, as he put 14 baserunners on via walk/hit by pitch. That led to nine runs allowed over 5.0 innings. He calmed down a bit against Western Kentucky and allowed just two runs on five hits over 4.2 innings. He struck out five and walked just one.
SUNDAY GAME #2- TBA vs Soph RHP Brady Hawkins
The Hawkeyes have not announced a starter for Sunday, but it is safe to assume that it will be Ty Langenberg or Jared Simpson. Both had rough outings last weekend in Lubbock, but each put up a scoreless inning during the midweek game against St Thomas. Whoever doesn't get the start will likely come out of the bullpen.
Brady Hawkins will be making his fourth start of the season and much like his other counterparts in the starting rotation. He has allowed 11 runs on 16 hits over 9.1 innings of work. Last time out against Western Kentucky, Hawkins allowed four runs on nine hits over 2.2 innings.
JACKRABBITS PLAYERS TO WATCH
1. C Ryan McDonald- A Second Team All-Summit selection a year ago, Ryan McDonald is the most dangerous bat in the Jackrabbits lineup. He tied for the team lead in home runs last year with ten and had a team-leading 23 extra base hits. So far this season, McDonald has been just as good. He has four doubles and six home runs through 13 games. His .816 slugging percentage ranks 51st in the entire country.
2. 1B Dawson Parry– Dawson Parry was a Second Team All-Summit selection a year ago and tied for the team lead in home runs with ten. In 13 starts this season, Parry has a team-leading .404 batting average, as well as 19 hits, three home runs and 11 RBI's. He has five multi-hit games and has registered a hit in 12 of 13 games.
3. 2B Cade Stuff- The Miles CC transfer played in just five games last season for the Jackrabbits due to an injury, but has gotten off to a good start at the plate this season. Stuff is batting .340, with a team-leading five doubles. He has five multi-hit games.
4. SS Luke Ira- Last season, Luke Ira led the team in total bases (93), while tying for the team lead in home runs (10) and finishing second with 20 extra base hits. So far in 13 starts this year, the batting average is down a bit, but he is still dangerous. Ira has hit four home runs and is second on the team with 11 RBI's. He has been cold as of late, as he has just one hit in his last 14 at bats.
5. RHP Ryan Bourassa- The First Team All-Summit selection last season is the best arm the Hawkeyes will face this weekend. Bourassa posted a 2.13 ERA in 17 appearanes out of the bullpen last season. He racked up 64 strikeouts to 26 walks in 42.1 innings of work. This season, Bourassa has picked up right where he left off. In five appearances, he has 23 strikeouts to four walks over just 11.2 innings.
6. RHP Dylan Driessen- The true freshman out of Omaha, Nebraska has gotten off to a good start on the mound. He has appeared in four games out of the bullpen, posting a 3.18 ERA over 5.2 innings. Driessen has recorded 11 strikeouts to four walks.
FINAL THOUGHT
Set the over/under for the weekend at 2.5 wins. Yes, it is going to be a bit of a weird series with the travel to Kansas City, the doubleheader Sunday back in Iowa City and the weather that is forecasted. However, the Hawkeyes really needs to take care of business in these games. The weather will not be conducive to hitting, which means the Iowa pitching staff cannot afford to give up free bases and help things along for the Jackrabbits. The South Dakota State starting pitchers have struggled mightly, so if the Hawkye bats are on, they should be able to put up a lot of runs.
"It's going to be windy and wind chills are going to be in the 30's pretty much wherever you go and those aren't fun conditions to play in," said Heller. "If we're going to do it then we better go in with the right attitude, right approach and give great effort."
First pitch on Friday is set for 2:00pm. Sunday's doubleheader will start at 12:00pm and both games will be streamed on BTN+.