Fran McCaffery on the loss to Michigan State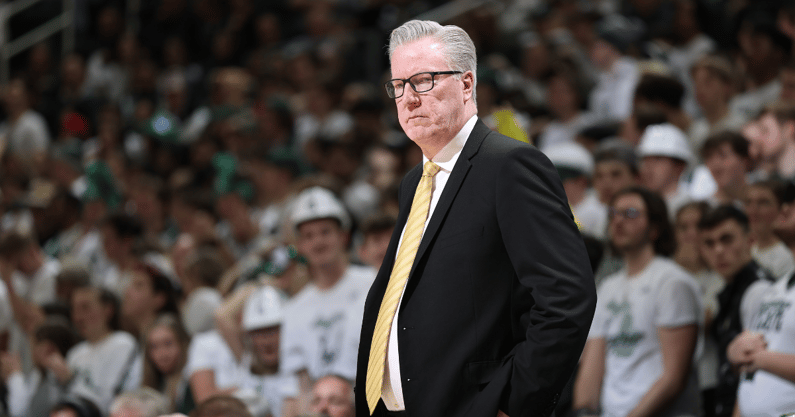 Fran McCaffery said that the Hawkeyes got the shot they were looking for in the final seconds and unfortunately for Iowa it didn't fall. The result was a tough to swallow two point road loss to Michigan State on Thursday evening.
Following the defeat, McCaffery met with the media in East Lansing to discuss the final seconds of the game and if that was the shot they were looking for and was Iowa looking to get a three? He also discusses the play of Kris Murray.
Q: It looked like you got a great shot at the end?
McCaffery: It was. The kids executed the play. You want to get a second shot if you don't make it, which we did. Connor was thinking about a timeout, but he saw Payton open again and he hit him. If we had to do it over again, we would take those two shots and try and win the game.
Q: You only scored four points in the last six minutes of the game. Was that a lack of execution or something else going on?
McCaffery: We got some good shots that we didn't make, but we also missed free throws. Then we had a few turnovers. It's hard to come in here and turn the ball over 13 times and expect to win. That's too many. Even then, we had good shots and we didn't make them and we missed free throws. You have to make your free throws. Ulis is usually money from the line. He got fouled and I can't remember if it was tied or we were down two, but he missed.
Q: You mentioned trying to win the game at the end. Was that the goal to get a three at the end?
McCaffery: I don't think we addressed that we were going for three here. We would have been fine tying the game and going to overtime. We had an opportunity with a good look at a three and the second good look you are going to take it. If you think about it, when Connor threw the ball to Payton, he is probably wondering if he can even get this thing off. He is running to get open and looked for the ball and not looking at the clock, so the last thing you want to do is drive the ball and have the horn go off in that situation.
Q: Kris Murray had one point in the last 19 plus minutes of the game. Was he off in any way or were they just playing really good defense on him?
McCaffery: They were playing him tight. A couple of times I thought he was going to shoot the ball anyway, by driving and do a pull-up or shoot a stepback. He is a pretty efficient guy. He doesn't hunt shots or take bad shots. So if he feels like he's not open, then he won't shoot. He was moving in a couple of situations where I thought he might shoot it. I am ok with him shooting it whenever he wants to.
Q: You got off to a 10-0 start. You had to be happy with that, but as you know it's hard to win here. How did you feel about the start and what do you need to be better at the finish?
McCaffery: I thought we played well in the first half. They made a run back. We held on to the lead for a good portion of time and had a shot at the end of the half and it didn't go. It wasn't like we thought we were going to get up 30 or anything like that. They are just too good and they maintained their composure. Then it went right down to the wire.