Hawkeyes fall at Ohio State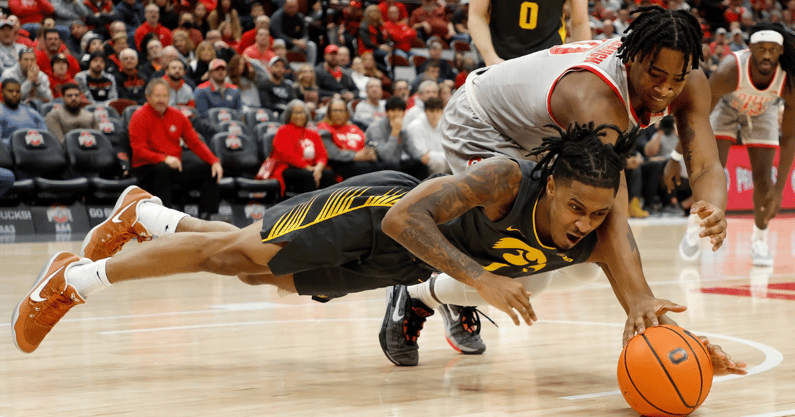 Ohio State came into Saturday's game against Iowa desperate for a win. The Buckeyes got what they needed, ending a five game losing skid after beating the Hawkeyes 93-77 in Columbus.
The Hawkeyes were led by 22 points from Kris Murray. Filip Rebraca had 15 points and Ahron Ulis chipped in with 12. Iowa falls to 12-7 on the season and 4-4 in conference play. The loss also snapped Iowa's four game conference win streak.
Iowa, who had won their last two games at Ohio State, got off to a strong start. After a five point flurry from Murray, including a three pointer, the Hawkeyes opened up an 8-2 led. But, the Buckeyes kept chipping away in the first half, eventually taking the lead on an Isaac Likekle bucket. He had 18 points for the Buckeyes.
Sean McNeil, who did not start for Ohio State after missing a few days due to a dental procedure, came off the bench and provided a further spark for the Buckeyes. He hit back to back three pointers during a 12-0 run to push the Ohio State lead to ten points, 25-15.
Iowa then made a push in the first half to rally. The Hawkeyes countered with a 16-7 run of their own to pull within two at 35-33 after a pair of free throws by Filip Rebraca. The game went to the halftime break at 37-35 in favor of Ohio State.
The Hawkeyes hoped to make a push in the second half, but that never really came. Ohio State came out fast to start the second twenty minutes. Brice Sensabaugh, who had a game high 27 points, opened the second half with a three pointer.
During that first four minute stretch, Ohio State outscored Iowa 12-4 and the lead was back up to double figures at 49-39. Iowa would cut the lead to eight points on a couple of occasions, but they could never generate the necessary stops to threaten the Buckeyes.
One of the key stats in the game was paint scores. The Buckeyes lived in the paint, outscoring Iowa 50-32 there. Overall, Ohio State ended up shooting 56% for the game and a blazing 64% in the second half. Meanwhile, Iowa turned the ball over 14 times, some of them very careless, and shot 48% for the game. Iowa did make 11 three pointers and this marks the first time this season that the Hawkeyes made more than nine triples in a game and lost.
Iowa will be back in action on Thursday night when they travel to East Lansing to face Michigan State. That game is schedule to tip at 6:00 p.m. (central) and will air on FS1.